Breakdown: Chris Bosh gives dominating defensive performance
The Miami Heat needed a big contribution from Chris Bosh in Game 4 of the NBA Finals. The 20 and 13 was nice but the defensive was spectacular.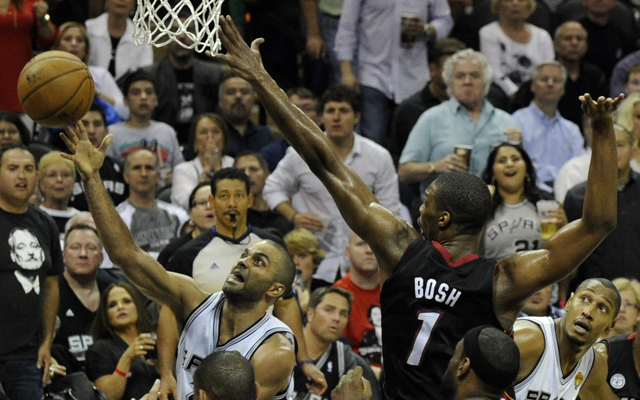 Chris Bosh is one of the better big men in the league. This tends to be something we forget.
Despite the sniping nature of trying to discredit him as a player because it makes the Miami Heat seem like less of a threat if you trick yourself into believing it, Bosh is one of the most versatile and dangerous players in the NBA. Because he's been willing to accept his role of spacing the floor and being a bailout option for LeBron James and Dwyane Wade when the lane collapses, it's weakened the appearance of his raw statistical contributions.
He's asked to shoot jumpers so his terrifying teammates can have room to operate getting into the paint. He's asked to swarm the pick-and-roll with his rangy reach on the perimeter and then recover to the paint where he's out of position to rebound and in need of help on the boards. We seem to forget that this guy averaged 10.0 rebounds over his last four seasons with the Toronto Raptors. Could he be a tougher, more physical big man? That's debatable. He's asked to do things traditional centers and power forwards aren't asked to do. It's not that he's incapable of rebounding anymore because he's on the Heat; it's just that it's really hard to do what he does defensively and still be back in rebounding position every time.
When the Heat get attacked by a great pick-and-roll offense like the San Antonio Spurs are able to utilize in the NBA Finals, Bosh's responsibilities go from fighting in the post to hedging on screens that take away driving angles to recovering and going back into the post. He has to cut off the quickness of Tony Parker and Manu Ginobili while heading back to fight against Tim Duncan for post position while his defensive chores have take him out of any sort of position battle advantage. 
In Game 4, he managed to do both the defensive work and the rebounding work in the same game. The result was a devastating defensive performance that neutralized the attack of the Spurs' offense without hurting his team on the boards. And when that happens, the Heat usually find themselves with double-digit wins like their 109-93 Game 4 victory. 
As you watch Chris Bosh roam around his team's halfcourt defense like a junkyard dog keeping watch, you'll notice that he is always doing the work of staying low. It may not sound like a lot but go move around in a low defensive stance like you're sitting in a chair for 60 seconds and let me know how your thighs feel. For a big man, this is even harder because they have more body to bend, more weight to drop down onto the quads, and have to be quicker than normal in their movements.
Bosh remains low in his stance because he uses his wingspan to present the threat of knocking away a crossover dribble and it allows him to cut off most driving angles the guard might try to manufacture with a quick step. Once the threat of the drive has been neutralized, he quickly recovers to his man, who has been picked up by help defense. Now, the defense can reset like it's the beginning of a possession.
After blocking the shot, the Spurs recover the ball and get to take a crack at the Heat's defense one more time. As Tony Parker drives, Chris Bosh cuts off his path once again, widens his reach, and is essentially defending the drive to the hoop and the dump-off pass to Tim Duncan at the same time. He eventually uses his wingspan to force Parker into a wild shot.
For Bosh's other recorded blocked shot on the night, it's just a case of great help defense in the paint by Bosh and his teammates. Parker has probably the best spin move in the NBA, but on this one he uncharacteristically twirls toward the basket without his usual balance on the play. His lack of balance and LeBron helping down to take away any passes to Duncan allows Bosh to attack the shot and send it in the other direction. 
As nice as the blocked shots are, that's not really a big part of Chris Bosh's game. Where he makes his defensive money is by moving his feet, taking away pick-and-roll breakdowns, and recovering to keep his team from constantly scrambling after the ball movement. Because he's so good on the perimeter against guards and wings, you don't really have to worry about switching everything.
This is what the Heat love to do. If they're able to constantly switch and the match up again if a guard ends up having to defend a big man, then you never really have them at a disadvantage when they're able to pressure the ball. With Gary Neal trying to take Bosh one-on-one, the Heat big man uses his length to knock the ball off Neal's knee and it turns into a turnover for the Spurs.
The quickness of Bosh's movements here allow him to instantly go from fronting the post-entry pass to cutting off Parker's drive to the baseline without getting caught up in Duncan battling him for position. Duncan and Parker reset the two-man action by running Parker back around Duncan to the middle, where Bosh rotates to cut off penetration and take away the easy pass. Bosh is allowed to recover because Wade flashes over to the rolling Duncan before retreating to Kawhi Leonard.
With so much of the shot clock used up on an ineffective Duncan-Parker two-man game, Danny Green is forced to drive on Ray Allen. Wade takes a swipe at the ball and Bosh is in position to challenge the shot. Oddly enough, Duncan being so close to the basket ends up being something that hurts the Spurs here. If he's a couple steps back, Green has room to either drive or dump it down to Duncan when Bosh rotates. Instead, Duncan is battling Bosh for position on a possible offensive rebound and letting him be closer to cutting off the drive.
The weak side help defense by Bosh here is so good because as Manu Ginobili approaches him with the drive, Bosh squares up to the offensive player. What this does is takes away a lot of angles that Ginobili can usually get against slow-reacting big men inside. Even though Ginobili is able to go up with his left hand, he doesn't have a very good angle on the shot because of the base of Bosh, the challenge of the shot, and Bosh's reach.
This is my favorite defensive possession that Bosh had in Game 4. It showed everything he does so well on defense in one play. First and foremost, he cuts off Parker from attacking with the pick-and-roll and doesn't really allow him to advance the ball quickly. If you notice, the Spurs typically get stopped by the Heat when they take away the drive on the PnR and make that first pass either slow or non-existent. 
Bosh defends four different Spurs players on this play. He's defending Duncan to start out, then he hedges against Parker's drive on the pick-and-roll. He recovers back to Duncan to give a soft double team with Ray Allen. At this point, Neal is the only person for Duncan to pass to and he's 30 feet from the basket. Duncan tosses the ball out to him and Bosh rotates over to take Leonard.
LeBron gives a bad closeout on Neal, allowing Neal to drive into the paint as Leonard flares out to the side. Bosh steps up and briefly defends both Neal and Leonard, except Leonard's back is practically point toward the basket so he's not in any position to receive the pass and shoot. Neal thinks he has an opening for a second for the pull-up jumper, only to see Bosh go straight up to take away the idea of an uncontested shot.
Neal is foolishly in the air without a decision made on what he wants to do. His only options are to get blocked by Bosh or to attempt a pass to Leonard near the corner. He only has enough balance and strength to toss a looping pass that never gets to its intended target. James picked it off and the Heat are headed the other way. Bosh defended four different players on one play and did it perfectly. 
I included this clip of Bosh fronting the post against Duncan to show his willingness to do the dirty work on defense. Fronting the post takes a lot of trust in the primary post defender to put in the necessary work to keep the big man off-balance as he fights for position and it takes a lot of trust in the backside help to be there in case the lob is thrown. If you can get good ball pressure on the post-entry passer like Wade provides, it helps defend it immensely. 
The first thing to take note of in this play is Bosh basically sitting down in a defensive stance on Duncan's thigh. This gives him leverage to root Duncan away from creating space between him and the basket and it takes away any explosiveness Duncan can muster out of his legs if the lob is thrown. As the ball gets positioned for the pass, Bosh slowly moves around Duncan to take away easy passing lanes.
When the ball swings to the top, Bosh orbits back around to Duncan's right shoulder to keep giving passing angles that Ginobili has to mentally recalibrate before he lets go of the pass. Any hesitation allows Wade to put more pressure on the ball. He eventually tips the entry lob from Ginobili and gets credit for the steal, but Bosh's defense and the backside help created that turnover.
This final steal was Bosh putting his defensive stamp on the night. Cory Joseph provided a semi-lazy bounce pass to Tim Duncan. Like he did all night, Bosh fought for every inch on the defensive end of the court. He moved around Duncan on this play, outworked him for yet another loose ball, and dove to the ground.
It's not that Duncan didn't work in Game 4; he just didn't work as hard as Bosh did. Whether that's circumstance, age, help from teammates, execution, or whatever reason there may be, the fact remains that Bosh's defense has helped carry this team all season long. Yes, LeBron James is the best defensive player on the court and the system Erik Spoelstra is something that works and he can get players to buy into. 
But it doesn't work unless Bosh is willing to go from being a stretch-4 on one end of the court to trying to emulate Marc Gasol on the other end of the court. Because Bosh buys into his defensive role with this team, they work defensively. He's constantly moving, constantly fighting. He doesn't always win that fight, but he helps the Heat win the majority of their fights.
Gregg Popovich has never seen an injury lead to the issues that Kawhi Leonard has been fac...

Kobe Bryant, of course, had his 81-point game against Rose and the Raptors back in 2006

Keep it right here for all your Wednesday NBA scores, updates and highlights
A season-ending injury kept the Celtics guard's time at Duke very brief before he jumped to...

Here's a look at what has brought fans the most joy so far this season

Kevin Mackey says he gave Manute Bol a birthday because they didn't know how old he was