Charles Oakley: Orlando Magic needed to put 'crying' Dwight Howard 'in timeout'
Former NBA player Charles Oakley believes that the Orlando Magic needed to put a "crying" Dwight Howard into "timeout" instead of letting him get what he wanted.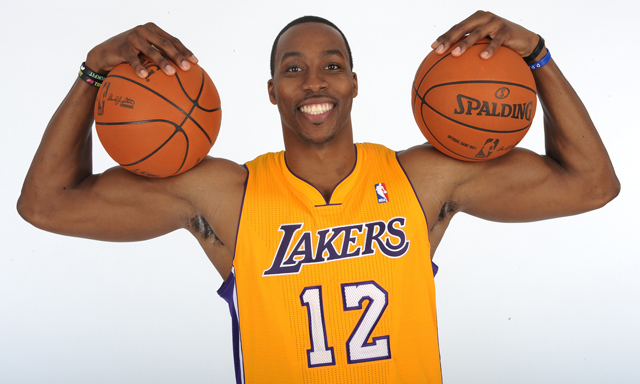 Dwight Howard is all smiles... now that he's out of Orlando.
(Getty Images)
Former NBA enforcer Charles Oakley has proven time after time over the years that he suffers no fools. Dwight Howard, meanwhile, has always had a bit of goofiness to his showmanship, and his clown act went totally off the rails last season, amidst trade demands, awkward confrontations with his coach, a press conference where he professed his so-called "loyalty," more trade demands, a season-ending back surgery, hiding out in Los Angeles and, finally, a long-awaited trade to the Lakers that freed the Orlando Magic from his child-like indecision and neediness.
Surprise, surprise, the hard-headed Oakley didn't like how the "Dwightmare" played out. In a recent ESPN Radio interview, Oakley got a few digs in on Howard and took the Magic to task for their appeasement of their former franchise center. 
"A lot of guys cry in this league these days. I try not to get caught up in that. The management in Orlando let him get away with it. Most times, they put kids in timeout. They never put him in timeout. He just kept crying and got his way. Now he's in LA with Kobe so they got a chance to win a couple championships in the next two or three years.

"They could have traded him and got something better for him last year. I think they just tried to play along. They just pleased him anyway they could but he never did anything to please them."
Hard to argue with any of that. The Magic bungled the entire mess badly, settling for pennies on the dollar years after it became clear a future was untenable, while also losing former coach Stan Van Gundy in the process. 
What's interesting is that Oakley was actually way out in front of the bubbling Howard mess. Back in June 2010, he questioned Howard's commitment to the game during a Florida radio interview. 
The Orlando Sentinel captured the relevant quotes.
"Dwight Howard is embarrassing Patrick (Ewing) if you ask me," Oakley said in the interview. "He doesn't have a ball player's mind. And they tell me he is one of the best centers in the game. He wouldn't have even made the league 10 years ago. He would be on the bench. They say he won't listen. Dwight won't listen. How can you not listen to Patrick Ewing?"
Ewing, of course, was a Magic assistant coach and Oakley's long-time former teammate with the New York Knicks.
What's funny here is that no one was really listening back in 2010. The Sentinel completely backed Howard's side in response to Oakley's comments, writing off Oakley as a "bitter" over-the-hill former player and arguing that Howard was simply facing too many expectations. Needless to say, local opinion in Central Florida regarding Howard has shifted considerably over the last two years.
While Oakley resorted to a bit of hyperbole two years ago, his underlying argument -- that Howard wasn't open to feedback from the coaching staff that would improve his game -- really foreshadowed the eventual rift between Howard and Van Gundy that caused Orlando's entire house of cards to come tumbling down. 
The question for the Lakers is whether Howard has changed. Or, as Oakley believes now, all the coddling and giving in to Howard has only emboldened him. How Howard fits is the single biggest question for the Lakers next season. If he stays healthy and does what he does (defend, rebound, finish at the rim) and manages to avoid his most obvious flaws (off-court distractions, frustration with teammates, clashing with the coaching staff, playing with less than 100 percent commitment), the Lakers will be darn near impossible to beat.
If not, Oakley will have a whole box of new ammunition.
LeBron and Durant both responded to a newswoman's recent comments, telling them to 'shut up...

Mitchell's Slam Dunk Contest win was the icing on the cake of an incredible run of success

Dennis Smith Jr. had a great dunk contest, but the judges didn't feel the same way
Mitchell was awesome, but Larry Nance Jr. and Dennis Smith Jr. had some serious moves of their...

Silver noted that there are many factors at play with the issue affecting both the NBA and...

Jazz rookie Donovan Mitchell came in as a replacement and ended up winning the whole thing