Despite rap sheet, Shawne Williams gets another chance
With too many arrests to keep track of in the sports world, Shawne Williams' return to the NBA barely gets noticed.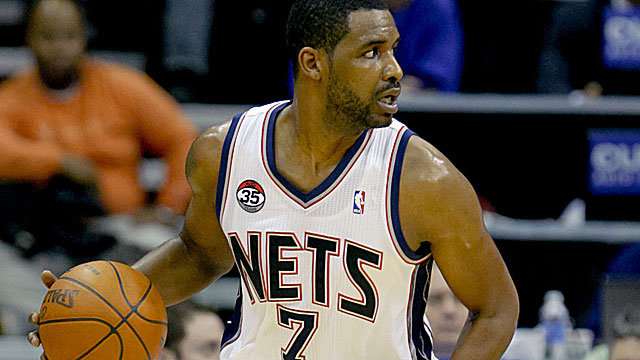 We've hit the point in the NBA offseason when the headlines are getting worrisome. Michael Beasley gets waived after another run-in with the law over marijuana. Jared Sullinger gets arrested on a domestic violence charge. 
I don't think I need to repeat or further embellish the sad tale of Lamar Odom, whose diminished talent and toxic back story have him so far off NBA teams' radar that he may never play again.
So it's understandable, I suppose, that a feel-good story like this could slip through the cracks -- that a story of second chances like Shawne Williams being welcomed back into the NBA could go largely unnoticed.
Wait, a player twice charged with felony drug offenses getting another chance passes for a feel-good story in today's sports world? Sad, but true.
In the grand scheme of big-time pro sports, the NBA's offseason scrapes with the law barely require a Band-Aid compared to the Big Kahuna of criminality, the NFL. Maybe that's why none of the news stories announcing Williams' one-year deal with the Lakers even bothered to mention his intimate familiarity with the criminal justice system.
In 2010, shortly after he was waived by the then-New Jersey Nets, Williams was arrested in Memphis and charged with four counts of possession of a controlled substance with intent to manufacture, deliver or sell and four counts of conspiracy to manufacture, deliver or sell a controlled substance, a codeine-based syrup. Both were felonies. Williams pleaded guilty to misdemeanor charges and served six months probation.
The following season, Williams had his best year in the NBA, shooting 40 percent from 3-point range for the Knicks -- who were coached by Mike D'Antoni, who now coaches the Lakers. As the story goes, Williams chose to sign with the Knicks in honor of his brother, Ramone, who last saw him play in a college tournament at Madison Square Garden before he was murdered.
Williams bolted for the rival Nets in 2011 and was traded to Portland in 2012. He never played a minute for the Trail Blazers, though; in December 2012 he was arrested again on drug charges. Again it was in Memphis, and again marijuana and codeine-based syrup were involved. He pleaded guilty to marijuana possession and was sentenced to one day in jail and a $500 fine.
(With all that public money that went to pay for Memphis' NBA arena, you'll excuse that fair city if prison space was at a premium.)
With Google and your wandering fingertips, you can read up on Williams' 2007 arrest in Indianapolis on four charges, including marijuana possession. The Pacers, who picked Williams 17th overall in the 2006 draft, could ill-afford any more bad publicity after the infamous 2004 Palace brawl. They traded Williams to the Mavericks in 2008. 
Now Williams, 27, who hasn't appeared in an NBA game since Feb. 11, 2012, is back in the league -- having signed a one-year, partially guaranteed deal for the league minimum with the Lakers. He is back with the coach, D'Antoni, for whom he enjoyed his most productive season. Hopefully, for all involved, Los Angeles is far enough away from his native Memphis so that no more mug shots are in his future. The issue with Williams, more than anything else, seemed to be the company he kept when he was home.
This is a free country, and Williams is a free man. So there are no laws preventing the Lakers or anyone else from employing him. And if Williams can knock down 3-pointers with the same regularity with which he did so with D'Antoni in New York, then he will stay employed.
This is sports, so he'll keep his job as long as he keeps putting the ball in the basket -- or until he winds up in handcuffs again.
Not that there's anything wrong with any of that; it's simply worth noting.
Also, there apparently are no collectively bargained restrictions on Williams' employment in the NBA, either. Though he has been arrested three times on drug charges during his six-year NBA career, a league source said Williams is not in the after-care program for offenders of the anti-drug policy. Evidently, Williams has never tested positive for a banned substance despite the NBA's policy of administering up to six random drug tests a year for each player.
So for now, this is what passes for a feel-good story in the twisted world of pro sports offseasons. In a way, it signifies how the NBA will never measure up to the NFL in one way it doesn't (and shouldn't) want to.
When Patriots tight end Aaron Hernandez was arrested on murder and weapons charges on June 26, he became the 30th NFL player arrested since the Super Bowl, according to an extensive database compiled by the Union-Tribune in San Diego. Six more NFL players have been arrested since then, including two for DUI.
(To be fair, it isn't just players. Two front office executives with the Denver Broncos, Tom Heckert and Matt Russell, also have been arrested and charged with DUI, as was Atlanta Hawks coach Mike Budenholzer.) 
The NBA's legal encounters don't even scratch the surface of what comes across our phones and televisions and sports apps on any given day. That's both good news and bad. It's both encouraging and discouraging. It's the sports world in which we live.
Trail Blazers guards Damian Lillard and C.J. McCollum have been pushing for Anthony to join...

Anthony reportedly gave the Knicks an expanded list of teams he'd waive his no-trade clause...

The Suns will also receive a second-round pick in the deal
Kerr noted Warriors are deeper than the NBA championship team of last season

The Dubs will make a decision as a team on visiting the White House, but Steph would vote...

Wolves are an up-and-coming NBA squad, but this region knows heartache too well