Kobe Bryant back at practice, starting the clock on his return
Kobe Bryant has been operating without a timetable in his comeback from a torn Achilles' tendon. With a return to Lakers practice on Saturday, the clock officially started ticking.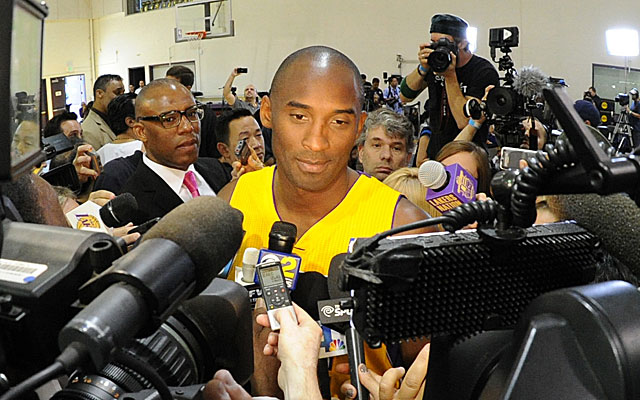 Barely seven months after tearing his Achilles tendon as he tried to push the Lakers into the playoffs, Kobe Bryant is back on the practice floor.
Of course he is.
Bryant, 35, had warned us that when he's in a fight with a bear, pray for the bear. And in case you didn't already know, Kobe is no ordinary bear.
Operating without a timetable thus far has been a necessity, because every day was an unknown. But by returning to practice on Saturday, Bryant started the clock ticking in earnest toward his return to game action.
"Surprisingly good," one person who saw Bryant practice said of his first day back on the court. "Sharp and explosive, relatively speaking."
Given that he's been ramping up his conditioning for a few weeks and can now move laterally, by my estimation, the window for Bryant's return opens at the earliest around Nov. 27 in Brooklyn against the Nets. Bryant flourished in his first game at Barclays Center this past February, thrilling the crowd with the kind of high-flying dunk he hadn't done in years and saying after his Brooklyn debut, "It was pretty damn cool. I enjoyed it immensely."
Kobe has always been all about the big moments, the big stage.
Realistically, it's sometime between Thanksgiving and Christmas -- with a lot of wiggle room in between. Lakers coach Mike D'Antoni, who wants Bryant back as much as anyone, admitted this week that it would be "tough" for Bryant to make it back in the lineup by Thanksgiving. Many questions remain about how Bryant's leg will respond to the lateral movement and stop-and-go demands of five-on-five basketball activities. 
In a recent interview with CBSSports.com, Bryant said he was entering a critical phase of his rehab -- progressing from more intense straight-line sprinting to lateral movement. 
"You continue to elevate it until you get to a point where you can come back and perform at a high level," Bryant said.
Asked how he'll know when it's time to return to the practice floor, Bryant said, "Once I get out there and start moving side-to-side and start doing more change-of-direction things."
This was on Nov. 7 in Houston, where the Lakers had beaten Dwight Howard's Rockets. Nine days later, Bryant is off on the next leg of his journey.
"A lot of people with Achilles injuries lose their explosiveness," Bryant said. "They try to make a move and now that's giving on them and they can't maintain that. So you lose that pop. And that last bit is where you really fight to make sure the muscle is strong enough to be able to maintain that. ... The explosiveness for the Achilles is always the most challenging, the most tedious part of the deal."
Tedious and worrisome, to those who fear Bryant is hell bent on coming back too soon. According to a person who knows Bryant well, there is serious concern among some members of his circle about rushing back before the surgically repaired tendon is stable and flexible enough. The track record of recent NBA stars who tried to come back from ruptured Achilles' tendons -- Elton Brand, Chauncey Billups -- has not been good.
Then again, those guys aren't Kobe Bryant. Nobody is.
"Yeah, I get that a lot," Bryant said. "To me, that's just support. People want to make sure they're looking after you and have your best interests at heart. The organization has been great. The fans have been great."
Taking Bryant's feeling of invincibility and his longevity out of the equation for a moment, here's the sobering reality: He didn't have his usual offseason to rest, recover and refuel his body in the weight room and on the training floor. He didn't have a training camp or preseason to get himself in basketball shape. The wise, conservative, careful approach would be for Bryant to endure at least three weeks -- maybe more -- of basketball activity before suiting up for a game. And that's only if there are no setbacks.
Wise? Conservative? Careful? Those words don't describe Kobe Bryant. He'll be back when he says he's ready, and that's probably going to be sooner than anyone thought possible.
Keep it right here for all of the news, notes, scores, and highlights from around the Asso...

LeBron has a player option for next season, and is expected to opt out and become a free a...

The Pistons will be looking to snap a five-game losing streak when they host the Celtics on...
Bryant offers some advice for Ball and other rookies about having a sense of urgency in the...

Burks has stepped up in a big way for the Jazz, averaging over 20 points per game since Rodney...

Nooooooo James Harden don't do Noah Vonleh like that