LeBron and Wade competing for numbers ... in efficiency
LeBron James and Dwyane Wade are competing to see who can shoot more than 50 percent each game.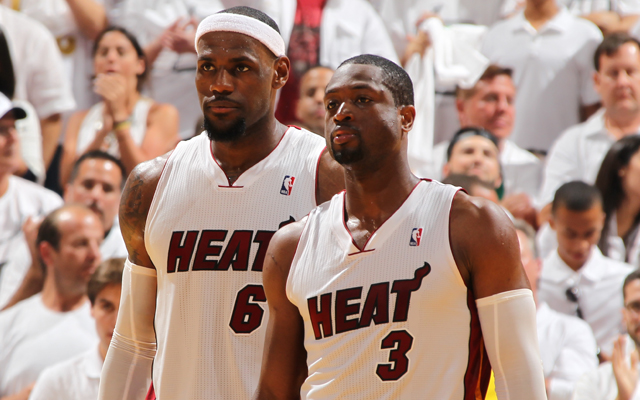 James and Wade are locked in a battle over being careful.
(Getty Images)
Competitions between NBA players are pretty typical. I mean, they compete every night; they're athletes. Competition is their life. So you hear about epic gambling turns on the planes, about video-game battles and about shooting competitions in practice.
But the Heat's two biggest stars have an unconventional one. It's not full of swagger; it's not based on points or dunks. LeBron James and Dwyane Wade have a competition based on efficiency, and it shows the players' transition to the modern NBA concepts. From the Palm Beach Post:
"It's like a competition me and D-Wade are having right now about who can shoot 50 percent, in each and every game," James said, when asked a couple of days later. "I had no idea, because I don't know what's going on throughout the game as far as stats. I came in after the game, I saw 9-for-19 and I missed that last long three, I felt I could have gotten into the lane and got a layup. I've got to make up for it.

"Early in my career, I didn't take every shot as seriously as I do now, to be more efficient," James said. "It comes with age, it comes with experience. You know, when you're an 18-year-old rookie, or a 21-year-old, third year in the league, you can get away with a lot of mistakes, and not looking at numbers as much. But as I've gotten older, I've been more efficient, taking care of the ball. I value possessions more."

"We're both so conscious of wanting to shoot 50 percent that sometimes you wish you had that Kobe [Bryant] thought, where you just don't care," Wade said. "We talk about it all the time. It sucks at times, but it's who we are."
The Post notes both Wade and James have done something a lot this season. When there are only a few seconds on the clock at the end of the quarter and they get the inbounds, they'll start to take a shot and restrain themselves.
Is that good for themselves? I mean, that's one possession, and it's essentially a free one, where the defense is unlikely to contest. It's a low-percentage free throw, essentially. Isn't scrapping for every point important? After all, it is a possession. It's a zero for the possession, essentially resulting in a turnover due to the clock expiring. 
If you're going to value every possession, you should value every possession. But at the same time, if caring about their shooting percentage helps keep them focused throughout the season on the rest of those possessions? Maybe it's worth it. 
Either way, in a league that has seen the disappearance of the volume shooter, two of the league's best are leading the charge for valuing the way they use possessions. And doing so makes sure a team so loaded with stars doesn't get lazy. 
The Heat lead the league in points per possession via Synergy Sports. Wade has 20 games shooting over 50 percent from the field this season, James has 32.
We've got all the scores, highlights and news from all of Sunday's games

The Rockets beat the Warriors 116-108 on Saturday night

The Cavaliers gave up 148 points in their loss Saturday afternoon to the Thunder
Blatt made the comment before coaching in the All-Star Game in Turkey

Is this rock bottom for the Cavaliers because it sure feels like it is

Wade, as he's done so many times in his career, threw it up to LeBron for the thunderous f...