Linsanity returns: A roundtable on Jeremy Lin vs. the Knicks
The CBSSports.com Eye on Basketball writers reflect on Jeremy Lin's meteoric rise in New York, his departure, and how the move has worked out for the Rockets and Knicks.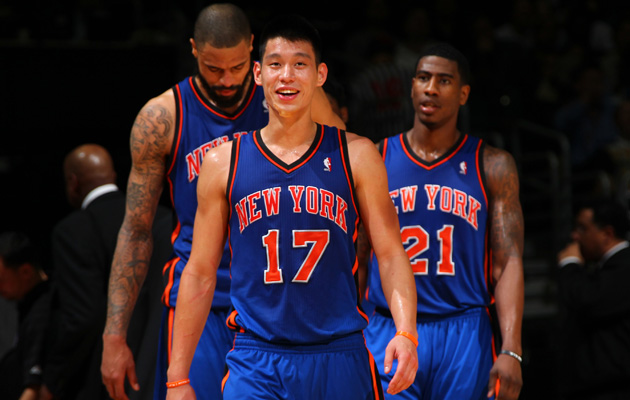 Jeremy Lin returns to the Garden on Monday night.
(Getty Images)
The CBSSports.com Eye on Basketball writers reflect on Jeremy Lin's meteoric rise in New York, his departure, and how the move has worked out for the Rockets and Knicks. 
Matt Moore: So Jeremy Lin and his sanity returns to New York tonight, and there's at least a little bit of fan and team emotion built up inside this game. Some fans (and a lot of media) are vindictive towards Lin for leaving and feeling pretty good that the Knicks, at least over the first month of the season, won the decision to jettison Lin and bring in Raymond Felton. Others are still kind of sad that they let Lin go and wonder what Lin would be like on a team with as much talent as the Knicks. It's a sticky situation all over and yet more pressure for Lin to try and play through.

I'm still left remembering that insane month a year ago and everything that erupted within it. That run, brief as it was, was genuinely amazing. I put it up there with the Rockets' 22-game win streak in terms of a regular-season run that captured the imagination of the sports world. More so honestly, just because of all the context of his story, going from two days from being waived to phenomenon. And that word's really what I'm left with. Whatever it was that happened over that month was a phenomenon, and there's little way of understanding it. And yet he had a brief moment of showing that ability the other night. But I miss the excitement of that time. I'm excited to watch games every night, but Lin made it to where you were re-arranging your schedule each and every time he hit the floor.

In the beginning, it was a "Oh, that's kind of cool. He did it again." But then, starting with the Lakers game, it became "Where are you? Get to a TV now! Lin is doing his thing again!" And it was just fun.

Now the Knicks should destroy the Rockets on Monday night, they're the best team in the East and the Rockets are incredibly inconsistent, and have already taken the first meeting in Houston, which you'd think would prompt New York to put the pedal to the floor. But maybe the lasting value of Linsanity is that you remember that anything can happen in this league, and at least a small, tiny part of me wonders "What if he went off tonight, one more time for the Garden?"

Meanwhile, Tom Haberstroh at ESPN has a pretty convincing argument for why Lin should come off the bench, and it makes me wonder if Lin's actually a little like Melo. He can do great things, but he can't necessarily just be part of a unit. It's all or nothing with Lin. It's Linsanity or Linpression. See, that's like depression, only with Lin in it. That works, right?
Zach Harper: Linpressionism is actually my favorite wing at most art museums.

I guess I don't understand why a guy has to be so categorized with so little evidence. Jeremy Lin was certainly a phenomenon that captured the country and the basketball world for a reason. You don't see "small" Asian NBA players. You might get a glimpse at the occasional Yuta Tabuse, but really the Wang Zhi Zhis, Yi Jianlins and Yao Mings of the Asian NBA world are in the NBA because they're big. Jeremy Lin isn't a small guy unless you're comparing him to NBA athletes, which is typically the type of guy you have to figure out how to best in an NBA game. And because of this, it was a fad, a phenomenon, an outlier of immense proportions.

It was a sight to see a 6-foot-3 Asian-American NBA player setting historic scoring marks for a first-time starter. There was the NBA aspect of it -- "This guy came out of nowhere, and now he's dominating for the New York Knicks!" It was like watching an "Eddie" remake. The bigger aspect of it was roughly 1/6th of this world got to relate to an NBA player for once. It didn't take genetics hit with gamma rays to get him to be an acceptable size to dominate. This is a guy you would see walking the streets of any country and not think twice about until he broke out. Is it awkward racial ground to assume a Taiwanese-American player represents dozens of Asian cultures? Yeah, kind of. But looking at the returns at the box office, it seems like this phenomenon really took.

What hasn't taken so far is the second chapter of this story. Or maybe it's the third chapter? Jeremy Lin isn't fitting in so hot with James Harden and the Houston Rockets. Stylistically, it looks like a bit of a burden to have them both out there. They both certainly need the ball in their hands to get things going. But what we don't seem to hear about or care about enough is that they were thrown together at the last second before the season started. I can't help but think a full training camp with Harden being a member of the Rockets would change everything we're seeing with them. And it makes me think we discount just how much of an adjustment period the NBA takes sometimes.

I think they can and ultimately will work together. It doesn't mean they'll be a Westbrook-Durant type of scoring duo, but they can certainly find common ground to work both skill sets into an offensive flow. I mean, that's what coaching is supposed to do, right? Just look at Gregg Popovich. If you don't conform your system to what your players do well, what are you doing out there?

Do you think a full training camp would have mattered and that it's better to judge them seeing a full season together and then a full training camp together next fall? Or is this mashup just too hard to make it all work?
Royce Young: I honestly don't see how it was possible to not be entirely captivated by Linsanity. It was the Tebow phenomenon for basketball, except that Lin was actually good and putting up seriously excellent numbers. His game-winner against the Raptors remains one of 2011-12's best moments, hands down.

The Knicks have clearly been validated in letting Lin go, though. It made sense. The money was unreasonable, his fit wasn't guaranteed and the jury is still not completely unanimous about Lin's potential. The Knicks are winning, are popular and Raymond Felton has worked out as a cheaper and potentially better replacement.

Still, we'll love sports mostly for the stories, and Linsanity is at the top of that pile. It still lives, but it's different now. Without the magic of the Garden and the spotlight of New York, it's just not the same.

As for Lin's role: It's obvious -- he's a very ball-dominant guard. He's at his best running pick-and-roll and doing it over and over and over. Problem is, so is James Harden. And seeing as Harden's better at it, Lin's left to be essentially a secondary option, a combo guard and spot-up shooter. It doesn't work.

Lin's caught in an awkward no-man's land. He's not good enough to be an alpha dog star, but he's also too good to waste. Lin needs to be in an offense where he controls it, with the focus being interior players and a big man to run pick-and-roll with.

Like Zach wisely notes, though, Lin and Harden didn't have preseason games, didn't have a training camp together and have only played in about 20 games as teammates. There's still time to figure out how to use one another as sort of a my-turn-your-turn type of thing.

But there's always a reality in basketball that players sometimes just don't work together.
KD is still battling online critics, while the new Celtics guard is openly disregarding LeBron...

Collins has been working as a broadcaster, and previously coached the Bulls from 1986-89

Before accounting for revenue-sharing payouts, 14 of league's 30 teams reportedly lost money...
Howard considered calling it quits after his second season with the Houston Rockets

Bogut, coming off a broken leg he suffered with the Cavs last season, reunites with Luke Walton...

The incident occurred in Phoenix when the twins were both playing for the Suns