Report: Rockets, Lakers could make push for Kyle Lowry
Assuming they don't land LeBron James or Carmelo Anthony, Houston and Los Angeles would reportedly try to sign Kyle Lowry in free agency.
• 2 min read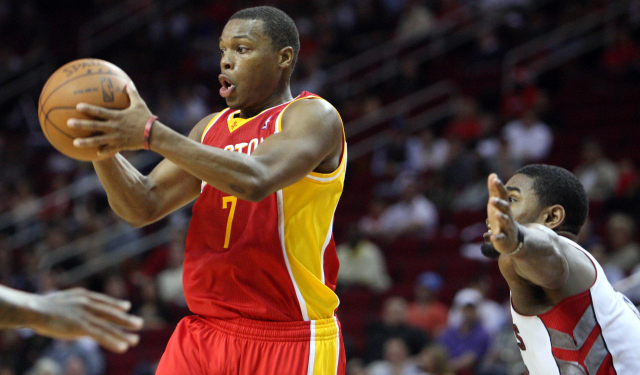 More Offseason Analysis: Coaching changes, news | Free Agency | Draft
Free-agent-to-be Kyle Lowry is bound to garner interest in free agency after a career season with the Toronto Raptors, and both the Houston Rockets and Los Angeles Lakers will make a push for him if they aren't able to land LeBron James or Carmelo Anthony, according to Sam Amick of USA Today Sports:
It's not inconceivable that Lowry could wind up playing with James if he re-ups with the Miami Heat, but the economics in that equation would make it extremely challenging. The more likely scenario, by far, involves Lowry getting paid handsomely by a team that wasn't able to convince the four-time MVP to come its way.

According to two people with knowledge of the situation, the Houston Rockets — whom Lowry played for from 2009 to 2012 — are one of those teams. While Rockets general manager Daryl Morey will woo free agents like James, Anthony and Heat center Chris Bosh (if he opts out of his deal), he also will pursue Lowry if those initial options are no longer in play. It would be quite the full-circle kind of story, as the Rockets' decision to trade Lowry to the Raptors in July 2012 played a vital part in their eventual acquisition of shooting guard James Harden just a few months later (the Oklahoma City Thunder received the lottery-protected first-round pick Houston had received from Toronto in that Oct. 2012 deal). The Los Angeles Lakers, who also plan to pursue both James and Anthony, are also known to be on Lowry's short list of prospective landing spots.
These are the two teams that fans in Toronto have feared all year. There aren't a lot of franchises with cap space desperate for a point guard, but both of these options make some sense. The Rockets can clear space for him by trading Omer Asik and Jeremy Lin, and then move Patrick Beverley to a sixth-man role. The Lakers have all the financial flexibility in the world, Kobe Bryant and a big market. 
Raptors general manager Masai Ujiri has been clear that re-signing Lowry is his No. 1 priority. Lowry has spoken only positively about the organization and the chemistry in the locker room, but his return isn't set in stone. There's no word on whether or not Lowry would like to be reunited with Rockets head coach Kevin McHale -- the two had their differences when McHale played Goran Dragic over him in 2012 -- and there's no indication how he'd feel about trying to bring the Lakers back to the playoffs in a loaded Western Conference.
Since Houston would arguably be a title contender with Lowry in the mix, it's probably a bigger threat than Los Angeles. The Miami Heat might be a possibility, too, but he'd almost certainly have to take a pay cut to go there. It would be disastrous for Toronto if Lowry left.
The Cavaliers are ready to reset everything if they have to. Their interest in Lou Williams...

It sounds like the Cavaliers are going to be active before the NBA trade deadline on Feb....

We've got all the scores, highlights and news for Friday night
George Hill, who is unhappy in Sacramento, could be a solution to Cleveland's backcourt si...

Shaquille O'Neal and Sir Charles cruise to an easy victory over some hot peppers

If Charlotte indeed moves its star guard, there's going to be more people impacted than just...