Russ Smith's new challenge
First-team All-American Russ Smith had all the success you could ask for at Louisville. The next step might be his toughest task.
• 3 min read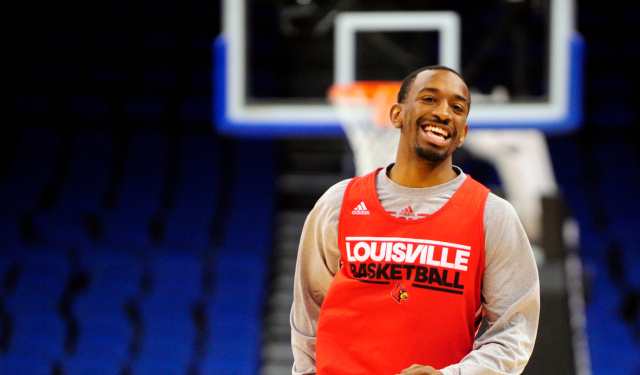 More Offseason Analysis: Coaching changes, news | Free Agency | Draft
TORONTO -- At predraft workouts, Russ Smith is not Russdiculous. Going through drills at the Air Canada Centre on Tuesday, he doesn't stand out. Having played on college basketball's biggest stage won't help him here. Neither will his national championship. 
Speaking to reporters after fellow probable second-round picks Jordan Clarkson and Nick Johnson, Smith's small scrum is nothing like what he saw with Louisville. He's more than prepared when lobbed a softball about his experience.
"I feel like it's an advantage, especially when going into summer league and when it's time to hit adversity," Smith said. "Not a lot of guys can hit adversity. A lot of guys are frontrunners. Every day will be good and upbeat when things start to go bad and stuff starts to break down, guys can mentally break down. And I've been conditioned not to break down, good or bad, and I think that's my advantage over a lot of people."
Stuck on the bench in January of 2011, a freshman Smith packed his bags to leave the team and go home to Brooklyn. His roommate persuaded him to stay. After the season, his father, Russ Smith Sr., talked him out of transferring. Smith earned his nickname as a sophomore and won the NCAA Tournament as a junior. Mere minutes after the buzzer, Russ Sr. told a radio station his son was turning pro.
Smith's stock wasn't high enough to follow through on that, so he returned for his senior year. The decision can be questioned now, though he hasn't expressed any regret. Following his final game for the Cardinals, he went into the Kentucky locker room and shook the winners' hands. He expressed gratitude for his teammates, his trainers and especially head coach Rick Pitino. Smith has indeed overcome adversity, and he improved his field goal percentage and assist rate this past season.
"It helped me in a five-on-five set get a lot of guys involved," Smith said. "It helped me get better court and offensive awareness, so I know where guys are at all times, I know how to get guys the ball and if I know the strengths and weaknesses of my teammates, my team personnel, it's even better. I've just become a great shooter, just everything just elevated. So I'm happy where I'm at."
Despite his development, the knocks on Smith are the same they've always been. He's small, slight and prone to playing out of control. He has a hell of a resume, but there is doubt about how he'll fit as a pro. He said he wants to show teams how competitive and coachable he is, and that off the court he's easygoing.
"They can see me up close," Smith said. "A lot of people might have this perception that I'm 5-11 or just wild and crazy, but just come in and just show guys that I can get my teammates involved, knock down shots and be composed and keep a positive attitude. I think that's important."
Confidence is not a concern. Smith recently told the Boston Globe that he was unguardable and people were underestimating him. CBSSports.com projects him to be selected in the 40s, as does DraftExpress, but he's visiting team after team to try to prove a point. Playing the role of a distributor, he made a good impression at the "mini-combine" at the Los Angeles Clippers practice facility after the lottery, and he has worked out for the Heat, Thunder, Suns and Celtics. Before Smith left Boston for Toronto, Rajon Rondo — a divisive prospect himself eight years ago — told him he hit just about half the league when going through this process. Smith appeared a bit tired on Tuesday, but said he was in good enough condition to handle it.
ESPN reported that the speedy Smith "seems to be moving into the discussion as a possible late-first round pick," but that's hardly guaranteed. For players in his position, nothing is. While he talks about being a winner and his body of work, others remain apprehensive about his decision-making and shot selection. Due to his popularity at Louisville, he'll likely get a warm reception from fans wherever he goes. Then he'll have to fight for a roster spot and playing time. 
Smith is fond of saying he won't back down from any challenge. This might be his biggest one yet.
The third member of the club might come as a surprise

LaVar said Lonzo won't lose again this week, and Marcin Gortat found that pretty funny

Eric Bledsoe is going to be traded at some point and these tweets will explain how it got...
Curry's outburst will cost him some money, but he won't miss any games

A look at the ups and downs for various suitors as Bledsoe has left the team.

Mike McClure, a DFS pro with more than $1M in winnings, gives optimal DraftKings and FanDuel...