Udonis Haslem played on a torn meniscus, needs surgery
Udonis Haslem played last season through a torn meniscus, the Heat forward revealed Friday.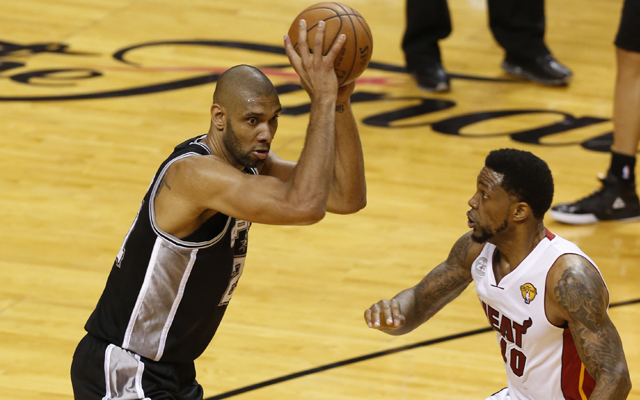 Heat forward Udonis Haslem came up big in the Heat's Eastern Conference Finals series vs. the Pacers, and then was used less and less in the Finals vs. the Spurs despite tremendous defense vs. Tim Duncan. It turns out there was a reason for his struggles for most of the second half of the year, as the starting forward/center has been playing on a bad wheel. From the Associated Press: 
Heat forward Udonis Haslem played through much of the second half of Miami's season with a torn right meniscus, and told The Associated Press that surgery will be required to repair the previously undisclosed injury.

Haslem made the revelation Saturday after a promotional appearance where hundreds of Heat fans began lining up to see the Miami native five hours before he arrived. Surgery will occur soon, he said, and Haslem expects to be ready for training camp this fall.

"It forces me to be smart and take my time with recovery this summer," said Haslem, who just completed his 10th NBA season, all with Miami. "Obviously, I don't heal like I used to so I've got to be a lot smarter and this forces me to be smart. My body's a little weary right now, a lot more weary than it was after last year."
via Haslem played through injury, needs knee surgery.
This makes what Haslem did vs. the Pacers and in the early going vs. the Spurs even more impressive as he was playing on a torn knee. Haslem is often singled out as a weakpoint for the Heat but his defense is consistent, his effort undeniable, and when he's hitting his jumper, there's just not a lot you can do vs. the Heat. 
Haslem's talk about taking his time makes you think it could be quite a while before we see him. He's got to recover from playing late into June, and then surgery. It could be a few months into the season before we see him. That's where the Heat have gotten to. They don't need their guys to play much during the regular season, because they know they can show up in the playoffs and win a title. Just ask Mike Miller. 
Haslem took a pay cut to remain with the Heat, and they've stayed loyal to him. That he continues to play through tough injuries shows you why. 
Kris Dunn somehow took a chunk of the Bulls court out with his teeth, but didn't lose any in...

The fallout from the Rockets-Clippers tussle continues; no Clippers were disciplined

DH12 is picked for free throws after a teammate gets ejected. He makes both, and lets Scott...
Bell was injured defending a Robin Lopez dunk and had to be taken off the floor in a wheel...

Trevor Ariza and Gerald Green are reportedly both suspended two games

We've got all the scores, highlights and news from Wednesday night