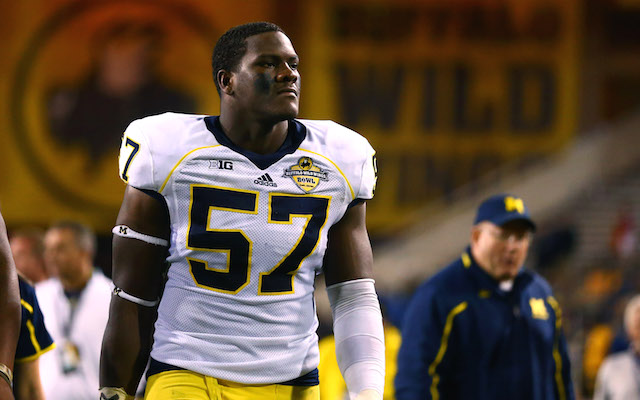 Michigan defensive end Frank Clark has been dismissed from the program following an arrest over the weekend. The school announced the decision via a release Monday morning.
"Frank Clark has been dismissed for violating team rules from the Michigan football program," Michigan coach Brady Hoke said in a statement. "This is a tragic situation. Our student-athletes will be held accountable when their actions fail to meet the standard we have at Michigan. There is a legal process that will occur and we respect that process."
Clark was arrested Saturday on suspiscion of domestic violence. The incident occurred in a hotel room in Sandusky, Ohio, between Clark and his girlfriend. According to the police report, via the Detroit Free Press, Clark allegedly punched his girlfriend in the face and witnesses -- the woman's brothers -- say Clark grabbed her by the throat, picked her up against the wall and then slammed her down. There were also a 3-year-old and a 5-year-old present at the time of the alleged assault.
Clark, a senior, has 42 tackles and 4.5 sacks with the Wolverines this season, leading the team in tackles for a loss with 13.5.