Morrison, Magic synonymous with HIV; that's where similarity ends
While Magic Johnson continues to show the world how to live with HIV, boxer Tommy Morrison's dangerous message about the disease that likely killed him only created confusion.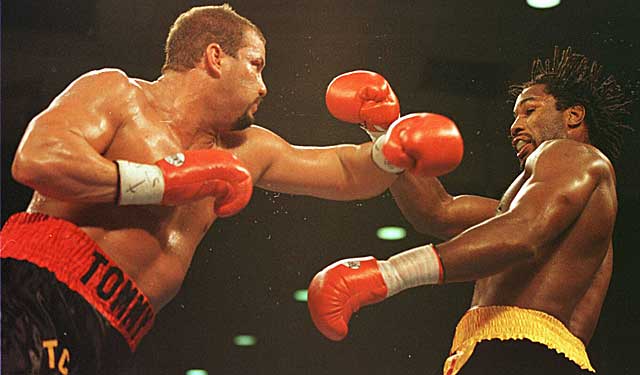 AIDS was the executioner that wouldn't look you in the face. It hid itself in a lover's embrace and by the time you knew it was there, it was too late. You had AIDS. You were going to die. The executioner had claimed another.
That's how lots of people like me, adolescents during the AIDS outbreak of the 1980s, entered adulthood. We were scared to die. We were scared to death.
And then Magic Johnson came along and made it better.
He didn't make it good. AIDS is not good. What happened to Magic, coming down with this disease, was not good. But when HIV infected Magic, it infected the wrong guy. The virus that causes AIDS infected someone with the finances to fight it, the belief he could win, and the platform and personality to spread his message.
Magic was not Tommy Morrison.
And god bless Tommy Morrison, who died Sunday. He was a heavyweight boxer on the rise with matinee looks, a starring role in a Rocky movie and a possible Mike Tyson bout on the horizon when he was diagnosed with HIV in 1996. From the outset of his diagnosis Morrison said things the rest of society needed to hear, that "this disease does not discriminate ... This is something that can jump up and bite you no matter where you are at. And it doesn't matter what color you are."
Morrison also said on that day in 1996: "If getting up here and confronting this problem out in the open can get just one person out there to take a more responsible attitude toward sex, then I would feel I scored my biggest knockout ever."
That was a great message to send but soon he stopped sending it, which was his choice. He retreated from the spotlight for years, only to emerge in 2006 with a different message:
Tommy Morrison never had HIV. His diagnosis in 1996 was the result of a false positive. That's how his message started, but then it mutated over the years, becoming uglier and more dangerous. By 2011 Morrison was telling reporters that he's not the only person who has been misdiagnosed with HIV, that nobody has HIV. The whole disease is a concoction, Morrison said. Meant to control people.
In 2011 Morrison was dating a woman named Trisha, who later became his wife.
"We have unprotected sex," Trisha told the Kansas City Star.
"Every day," Morrison said. "We're wild."
That was a dangerous message, but it wasn't taken seriously because the messenger was such a broken man. He was a boxer, a veteran of 172 professional rounds spread over 52 fights in the heavyweight division. He was knocked out three times, knocked down five other times. He suffered a broken jaw in victory, he went 12 rounds with George Foreman and he went six rounds with Lennox Lewis. Did Tommy Morrison suffer from brain damage? Does that explain how a man with HIV can say he doesn't have HIV? How a man explains away the telltale lesions on his hand by blaming the marks on his dog, or on mosquitoes?
The autopsy will show whether he had brain damage, just as it will show whether he had HIV, though his mother told ESPN.com last month that her son was dying from full-blown AIDS. By then Morrison was confined to a bed, breathing through a tube, unable to speak.
Even now, even after it has apparently added Tommy Morrison to the estimated number of 35 million people it has killed, AIDS isn't as terrifying as it once was. It remains scary, make no mistake about that. AIDS still hides in a lover's embrace or a needle's prick and it is deadly -- but while it is not curable, it is treatable.
Magic Johnson taught us that.
Magic wasn't the first to successfully combat HIV, but he was the first to do it so publicly. Already we knew that HIV was an indiscriminate killer, but his diagnosis was horrifying because it was so real. If Magic Johnson can get HIV, who's next? You? Me? I was 21 when Magic announced he had HIV on Nov. 7, 1991. I was a senior in college. College kids have sex, sometimes with multiple partners. Sometimes unprotected. This was the loudest in a series of wakeup calls for my generation. Magic Johnson was dying.
But then the most amazing thing happened: Magic Johnson kept living. He came out of retirement to play in the 1992 NBA All-Star Game, and wouldn't you know it? He finished the game with 25 points, nine assists and five rebounds. He hit a 3-pointer in the final seconds, for kicks. He won the MVP. Magic did that. With HIV.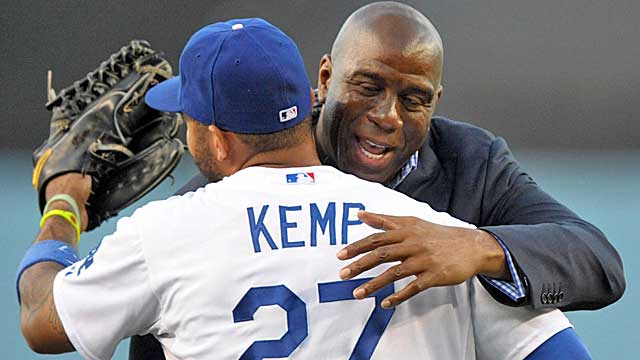 What else can you do with HIV? Well, Magic kept living. He won a gold medal with the Dream Team in the 1992 Olympics, he became a wildly successful businessman and entrepreneur, he coached the Lakers for a time in 1994, and he came out of retirement to play 32 games for the Lakers in 1996. Five years after announcing he had HIV, Magic averaged 14.6 points, 6.9 assists and 5.7 rebounds.
He stopped playing, but kept living. It has been 21 years since his diagnosis, and Magic Johnson lives on. He has staved off full-blown AIDS with a diet of preventative medicine that has become affordable even to those without Magic's millions. Spencer Lieb, research coordinator for the Florida Consortium for HIV/AIDS Research, has called it a "myth" that only rich patients can afford the medicine to fight off AIDS.
This is what people like me know now, because of someone like Magic Johnson. AIDS is still deadly, still terrifying, but not what it was. It is something that can be managed. Something that can be lived with.
For whatever reason Tommy Morrison wasn't able to deliver that message. He delivered a message of denial and ultimately of death, but he didn't make the epidemic scarier. He just reminded us of what we already knew -- that HIV can kill.
But it doesn't have to. Magic Johnson reminds us of that every day.
The NASCAR Playoffs Round of 8 field has been decided

Kyle Busch is in danger of being eliminated just weeks after dominating the Round of 16

Talk about covering ground on the court: You've never seen anything like this
Kevin Harvick and Joey Logano will have a chance to tie Jimmie Johnson's wins record at Ka...

This is good parenting, folks

He's the most glamorous defensive coordinator to ever step foot on Earth