2013 Team Preview: Minnesota Twins
Our team preview series continues on Monday with the Minnesota Twins.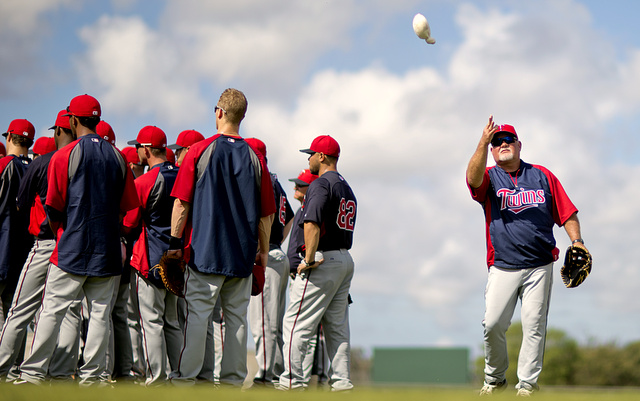 Full spring training coverage
The Twins lost 95-plus games in consecutive seasons for the first time since arriving in Minnesota back in 1961, and the result was a minor fire sale that saw starting outfielders Denard Span and Ben Revere traded for young pitching this winter. The club is caught in a weird spot because it's not yet ready to contend -- and won't be for another year or three -- but its franchise player is in the prime of his career.
Probable lineup
1. Darin Mastroianni, CF
2. Jamey Carroll, 2B
3. Joe Mauer, C
4. Josh Willingham, LF
5. Justin Morneau, 1B
6. Ryan Doumit, DH
7. Chris Parmelee, RF
8. Trevor Plouffe, 3B
9. Pedro Florimon, SS
Probable rotation
1. Vance Worley
2. Kevin Correia
3. Liam Hendriks
4. Cole De Vries
5. Brian Duensing
Right-hander Mike Pelfrey and left-hander Scott Diamond are both returning from elbow surgery and might not be ready in time for opening day. They are expected to return shortly thereafter and would step right into the rotation. Top pitching prospect Kyle Gibson is as close to big-league ready as it gets.
Bullpen construction
Closer: Glen Perkins
Righties: Jared Burton, Casey Fien
Lefties: Tyler Robertson, Rafael Perez
Notable bench players
C Drew Butera, IF Brian Dozier, IF Eduardo Escobar, OF Brian Dinkelman
Under-the-radar offseason transaction
The Twins had a fairly inactive winter, but they did dig up a potential useful piece in Perez. The 30-year-old lefty reliever missed most of last season with a shoulder issue, though he did hold left-handed batters to a .235/.289/.305 batting line while with the Indians in 2011. The bad news? Perez had shoulder surgery in September and isn't expected to be ready in time for opening day. He signed a minor-league contract and is unlikely to join the bullpen until a few weeks into the season.
Fantasy risk: Trevor Plouffe
Any time a 26-year-old hits 24 home runs, there's reason to be excited. But Plouffe hit 11 of those home runs during an insane hot streak in June and didn't see more than five in any other month. Additionally, he had just two months with an OPS above .800 and his average wallowed below .200 in three separate months. There's a school of thought that will say Plouffe faded in the second half of the year -- with just five home runs -- and he should be able to adjust in 2013. But there's an equally strong theory that Plouffe just got into a zone in June and was unable to replicate that early success. -- Nando Di Fino [Full Twins fantasy preview]
Biggest strength
Although they only scored 701 runs last season -- 16th most in MLB -- the Twins do boast a strong middle of the lineup. Mauer remains one of baseball's premier hitters, bouncing back from a subpar 2011 (102 OPS+) to be an absolute force in 2012 (141 OPS+). Willingham is coming off a similarly dominant performance (35 HR and 144 OPS+) while Morneau was solidly above-average (113 OPS+). Those three give manager Ron Gardenhire a strong 3-4-5 trio with two lefties sandwiched around a righty.
Biggest weakness
It has to be the pitching staff as a whole. The Twins had the third-worst ERA in baseball last season (4.77) and their two big free-agent signings own a career 88 ERA+ (Correia) and a career 92 ERA+ (Pelfrey). Neither guy misses many bats and that is a problem that plagues basically the entire staff outside of Perkins. GM Terry Ryan did change course and acquire some strikeout pitchers in Worley and prospects Trevor May and Alex Meyer this offseason, but it'll take more than those three (plus Gibson) to correct this staff.
Best-case scenario
I have a hard time thinking the Twins could qualify for the postseason even if almost everything breaks right, so maybe a more modest best-case scenario would be a .500 record. That would require a full, healthy season of the good version of Pelfrey and a strong rookie campaign from Gibson to fortify the rotation. Mauer and Willingham would have to continue to mash while Morneau returns to his healthy, pre-July 2010 concussion ways. Some young position players (Mastroianni and Parmelee) would need to step up while some veterans (Carroll and Correia) put up surprising years better than their track records. Minnesota would need lots to go right to be something more than respectable.
Worst-case scenario
The Twins had the fourth-worst record in baseball last year, so they don't have very far to fall to finish as the worst team in MLB in 2013, especially after trading two productive players in Span and Revere. Rather than focus on win-loss record, the absolute worst-case scenario for Minnesota this year would involve something happening to Mauer. If he got hurt or otherwise saw his performance decline drastically, his contract -- owed $138 million through 2018 -- would hamstring the franchise for the next half-decade.
Most likely scenario
Ryan seemed to accept that the Twins will stink in 2013, hence his decision to move Span and Revere for some sorely-needed young arms. The most-likely scenario is a repeat of the last two years, meaning a frustratingly underwhelming performance and another year of Mauer's prime wasted.
Minnesota is not one or two strategic veteran free-agent signings away from contention, but the good news is they have a desirable trade piece in Willingham and Morneau's salary ($15 million) coming off the books following the season. Ryan could continue to tear things down and add young talent at the trade deadline, or he could continue to tread water and hope for the best.
For more baseball news, rumors and analysis, follow @EyeOnBaseball on Twitter, subscribe to the RSS feed and "like" us on Facebook. Also, individually interact with us on Twitter: @MattSnyder27, @daynperry and @mikeaxisa.
The Tigers asking price is supposedly very high, though

Your one-stop shop for all things MLB Winter Meetings-related

Bryan Mitchell also heads to San Diego in the reported deal
The super agent is aiming high for free-agent starting pitcher Jake Arrieta's payday

Marcell Ozuna figures to be the next Marlins star on the move

Several relievers have signed in the last two days