2014 over/unders: Oakland Athletics
As part of our preview of the 2014 A's, let's lay some numbers on Yoenis Cespedes's homers and other things Oakland.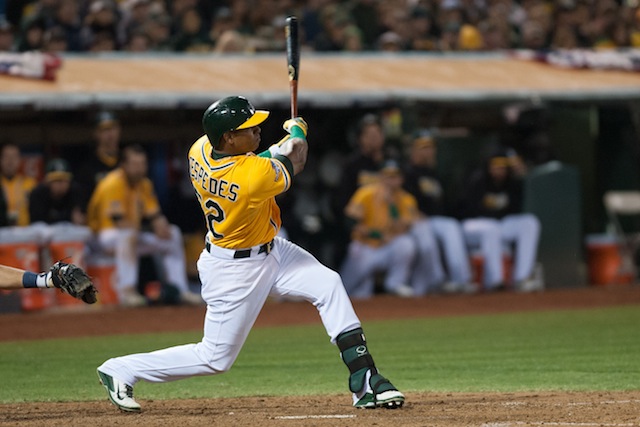 More Athletics: Team preview | Likes, dislikes
Another day, another team preview, another round of over/unders. Here's a recap of what we're doing:
As part of our preview of the 2014 season to come, let's roll out a few "over/unders" for each team. That is, we'll assign a number to 10 different categories that, in their own way, will predict one facet of the season ahead. In turn, you, the loyal commenter, will let us know whether you take the "over" or "under" for each category. Stated another way, will the actual figure be higher or lower than the one we've presented? Remember, we're talking 2014 season and 2014 season only.
Today we're covering the Oakland Athletics, who last season barged to 96 wins and a second straight division title ... 
---
Wins: 91.5
Finish in AL West: 1.5
Playoff series won: 0.5
Yoenis Cespedes's home runs: 27.5
Wins by staff leader in wins: 14.5
Addison Russell's games played at MLB level: 10
John Jaso's games caught: 30
Scott Kazmir's innings pitched: 170
Josh Donaldson's batting average: .287
Home games delayed or postponed because of plumbing issues: 1.5