All-Snub Team: American League
What does an All-Star team made up of non-All-Stars in the American League look like? Here it is.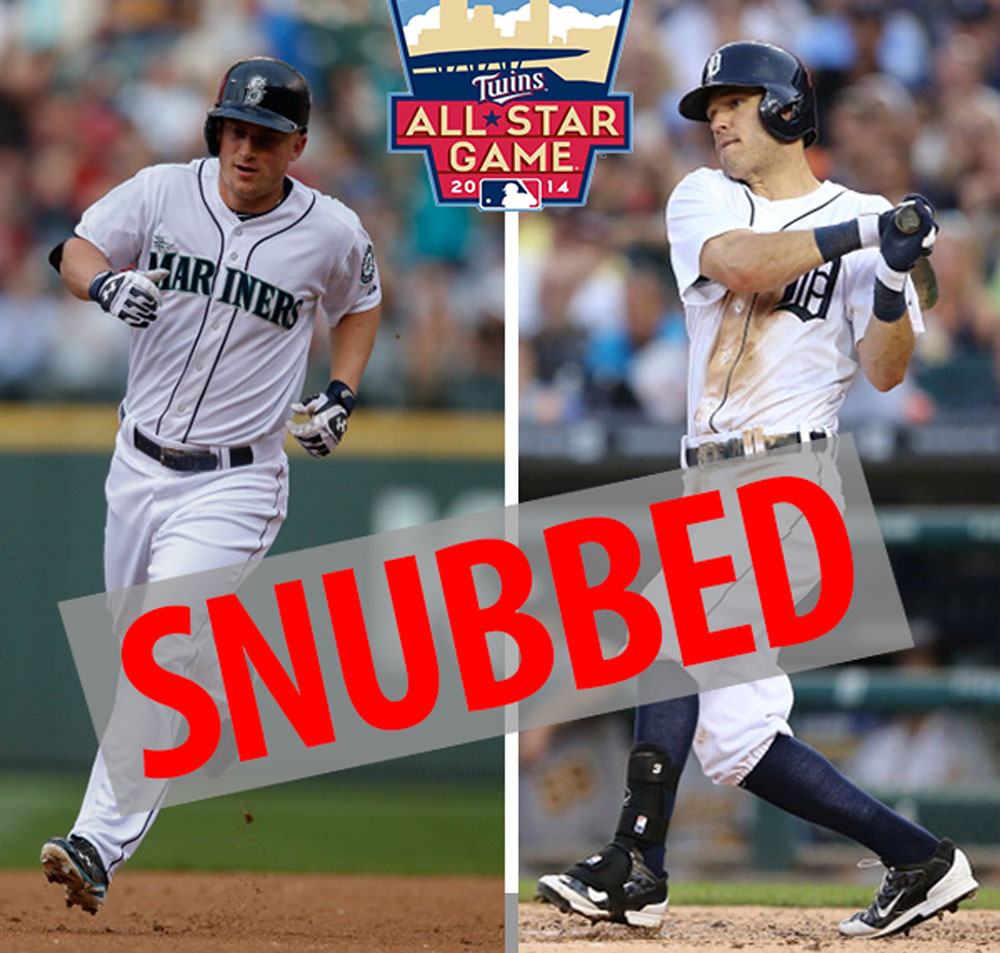 More All-Star Game: Full AL and NL Rosters | Final Vote | NL Snubs
The initial rosters for the 2014 MLB All-Star Game were revealed Sunday evening and, as always, there's a notable list of players having a very good season that were left off either roster for whatever reason. Let's throw together a lineup of the biggest snubs, just for fun. We'll leave out the guys on the final vote ballot and please take note that some of these guys could be added to the roster eventually due to injuries and/or starting pitchers being unavailable for the game. 
To reiterate, the selections below do not include players voted in as starters, players selected to the All-Star team either by their fellow players or by Red Sox manager John Farrell or those included in the "Final Vote."
The American League All-Snub team (click here for the NL All-Snub Team)

The 26-year-old backstop is hitting .269/.312/.436 with 12 doubles and 10 homers. He also works very well with his pitching staff and is a great overall defensive catcher.
Also considered: Chris Iannetta, Angels
First base - Steve Pearce, Orioles

Perhaps some don't think Pearce has played enough (189 plate appearances in 51 games), but he's done an outstanding job when in the lineup. He's hitting .326/.381/.581 with 10 homers and 30 RBI. He has spent more time in the outfield, yes, but I liked him better here than the alternative picks.
Also considered: Albert Pujols, Angels; Adam Lind, Blue Jays
Second base - Ian Kinsler, Tigers

To this point, the Tigers won the Prince Fielder for Kinsler trade in a landslide, as Kinsler is hitting .306/.342/.486 with 26 doubles, 11 homers, nine steals and 60 runs scored (heading into Sunday night's game against Tampa Bay).
Also considered: Brian Dozier, Twins
Shorstop - Erick Aybar, Angels

If not for the sentiment around Derek Jeter, Alexei Ramirez would have been the AL starter while Aybar his backup, but such is life. Aybar to this point has posted a .278/.315/.414 line with 21 doubles, three triples, six homers, 43 RBI, 45 runs and 11 steals.
Also considered: Alcides Escbar, Royals
Third base - Kyle Seager, Mariners

Despite the Mariners finally being in contention, Seager continues to be criminally underrated, even by his peers. He plays very good defense at the hot corner while slashing .274/.347/.483 with 21 doubles, 13 homers and 59 RBI -- all while playing his home games in one of baseball's most pitcher-friendly yards.
As can be seen from looking below, third base in the AL was awfully crowded. None of these three guys would be the wrong pick.
Also considered: Evan Longoria, Rays; Lonnie Chisenhall, Indians
Outfield - Melky Cabrera, Blue Jays; Coco Crisp, Athletics; J.D. Martinez, Tigers

The former All-Star Game MVP Cabrera has been rejuvenated this season now that he's healthy, hitting .299/.344/.462 with 21 doubles, 11 homers and 44 RBI.
Crisp was a tough selection over Gardner, but I gave him the nod. He plays solid defense in center while hitting .291/.383/.451 with 16 doubles, seven homers, 30 RBI, 46 runs and 14 steals.
Martinez has been a revelation for the Tigers. After being picked up off the scrap heap, he's hitting (heading into Sunday night) .325/.362/.631 with 11 homers and 37 RBI in just 48 games.
Also considered: Brett Gardner, Yankees; Lorenzo Cain, Royals; George Springer, Astros
Starting pitchers - Jason Vargas, Royals; Sonny Gray, Athletics

The offseason acquistion, Vargas, has been great for the Royals, going 8-3 with a 3.32 ERA and 1.22 WHIP in 18 starts. He's worked 119 1/3 innings.
Gray is only 24 and surely has many All-Star Games in his future. So far this season, he's 8-3 with a 3.08 ERA, 1.21 WHIP and 95 strikeouts in 111 innings for the best team in baseball (at least according to record).
Also considered: Well, whatever four guys lose the Final Vote, because all five of them (Chris Sale, Garrett Richards, Corey Kluber, Dallas Keuchel and Rick Porcello) are deserving.
Relief pitchers - Wade Davis, Royals; Zach Britton, Orioles

Davis is one of baseball's best setup men, sitting with a 1.23 ERA, 0.85 WHIP and 58 strikeouts in 36 2/3 innings. He has 16 holds against two blown saves. Get this: He hasn't allowed a single extra-base hit all season and is holding opposing hitters to a .120/.234/.120 line.
Britton took over the closer role after Tommy Hunter was removed, and Britton has 14 saves and seven holds against two blown saves. He has a 1.36 ERA and 0.88 WHIP for the first-place Orioles.
Also considered: Koji Uehara; Fernando Rodney, Mariners; David Robertson, Yankees; Jake McGee, Rays
The Nats will host the All-Star Game in 2018

The Orioles are looking to trade Machado heading into his walk year

The Cardinals have been linked for a while to the Baltimore star
Gallardo spent the first eight years of his career in Milwaukee

MLB revenues are at a record high right now, but teams aren't spending it on players

Chicago added Tyler Chatwood earlier this offseason but might not be done adding to the ro...