All-Time Single-Season Team: Cincinnati Reds
Our series on All-Time Single-Season teams continues with the Cincinnati Reds. You may (read: will) see names like Johnny Bench, Joe Morgan and Barry Larkin.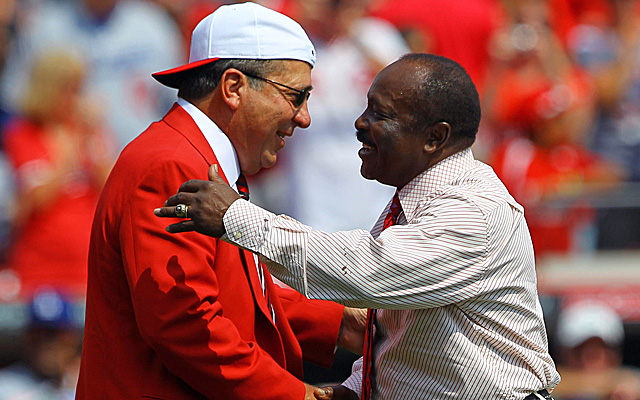 More All-time Single-Season Teams: CHC | STL | MIL
As we move forward with our 30-part (wow, it really sound painstaking when I put it like that, no?) series, it's time to check out our fourth team from the five-team NL Central.
For those unaware what we're doing with the All-Time Single-Season teams, it's pretty much as straight-forward as the name sounds. We're finding the best individual single-season at each position per franchise and making an All-Star team of those seasons. See the previous three entries above for more information.
A few quick housekeeping items:
1. Many of the pre-1900 years included underhanded pitching and several other stark contrasts from today's game, so it's unlikely we'll include many, if any, players from the very early era.
2. We're only going to use an individual player once, even if he jumped positions and still may have qualified in several places.
Time for the Big Red Machine ...
CATCHER - Johnny Bench, 1972
The only decision here was which Bench season to use and we're going with his second MVP campaign. That time around, he hit .270/.379/.541 (166 OPS+) with 40 homers and 125 RBI. He walked 100 times compared to just 84 strikeouts, led the majors in sacrifice flies and intentional walks -- in addition to homers and RBI -- and posted the best single-season WAR for a catcher in baseball history (Fangraphs version).
Not only that, Bench won a Gold Glove in part because he was stellar in working with the pitching staff but also in part due to him throwing out a whopping 56 percent of would-be basestealers (league average was 37 percent). In 1,139 2/3 innings behind the plate, he allowed only two passed balls.
Also under consideration were about five to eight other Bench seasons, most strongly his 1970 MVP season and Ernie Lombardi's 1938 season.
FIRST BASE - Joey Votto, 2010
This was awfully tough. Hall of Famers Tony Perez and Frank Robinson (who had two strong seasons with more appearances at first than in the outfield) weren't even the runners up. That honor went to the man with Popeye-like forearms (seriously, go check 'em out!), my fellew Indiana Hoosier Ted Kluszewski.
In 1954, Big Klu hit .326/.407/.642 (167 OPS+) with 28 doubles, 49 homers, 141 RBI and 104 runs, finishing second in MVP voting.
Here's Votto's line in 2010: .324/.424/.600 (171 OPS+), 36 doubles, 37 homers, 113 RBI, 106 runs and 16 stolen bases to boot.
I'm open to either pick, but I'm going Votto by the slimmest of margins.
Other than the four names listed above, Frank McCormick, Lee May, Sean Casey and Hal Morris got a quick glance -- but not much more than that.
SECOND BASE - Joe Morgan, 1976
Much like Bench, the only real decision here was which Morgan season to choose. Though WAR shows the first of Morgan's two MVP seasons (1975) as superior, that's mostly due to the defensive component and I'm still finding it difficult to fully trust backdated defensive metrics. I'm fine with those who do, but this is my decision here.
And while he still obviously played stellar defense (winning a Gold Glove), Morgan put together his best offensive season ever in 1976. He hit .320/.444/.576 (186 OPS+) with 30 doubles, five triples, 27 homers, 111 RBI, 113 runs and 60 stolen bases. Not only that, but he walked 114 times against only 41 strikeouts and led the majors in sac flies. Wow.
Aside from more than a handful of Morgan seasons, we also looked at a few Brandon Phillips campaigns (2011 in particular), Pete Rose in 1965 (we'll see him in a few other spots, too) and, hey, why not throwing a little Ron Oester, Lonny Frey, Miller Huggins and Bip Roberts?
SHORTSTOP - Barry Larkin, 1996
Dave Concepcion was very good for a long time and even finished with two top-10 finishes in MVP voting. His performance in those two seasons, 1979 and 1981, are certainly worthy of mention.
However, this is all Hall of Famer Barry Larkin. 
Larkin actually won his MVP in 1995, but he was better in 1996. Take a look.
1995: .319/.394/.492, 134 OPS+, 29 2B, 6 3B, 15 HR, 66 RBI, 98 R, 51 SB, 61 BB, 49 K
1996: .298/.410/.567, 155 OPS+, 32 2B, 4 3B, 33 HR, 89 RBI, 117 R, 36 SB, 96 BB, 52 K
Larkin won both the Gold Glove and Silver Slugger in both respective seasons. His WAR in both baseball-reference.com and Fangraphs.com versions was higher in 1996.
Of course, in 1995, Larkin played 21 fewer games due to the strike-shortened season. I'm good with picking either season. This is subjective.
Few aside from Larkin and Concepcion were considered, but remember Felipe Lopez in 2005?
THIRD BASE - Tony Perez, 1970
Wait, what? Yes, Perez manned third base until a permanent move across the diamond in 1972. In '70, 153 of his 157 starts came at the hot corner and he was stellar, hitting .317/.401/.589 (158 OPS+) with 28 doubles, six triples, 40 homers, 129 RBI, 107 runs and eight stolen bases. He checked in at third in a crowded MVP field behind Bench and Billy Williams and in front of the likes of Bob Gibson, Rose, Roberto Clemente, Willie Stargell, Hank Aaron and Willie McCovey.
Perez barely tops Pete Rose (1975-78 this time, and this is a common theme we'll cover in a bit). There were a few other Perez seasons in the mix, as well as some Ray Knight, Chris Sabo and Scott Rolen. And don't forget about Heinie Groh!
LEFT FIELD - George Foster, 1977
In an eight-year span in the 1970s, four different Reds accounted for six NL MVPs. Foster was the last of the group, exploding in 1977 to take home the hardware.
Foster hit .320/.382/.631 (165 OPS+) with 52 homers, 149 RBI, 124 runs and 31 doubles. He led the majors in home runs, RBI, slugging percentage and total bases while also pacing the NL in runs and OPS.
Again, Pete Rose was the runner up, as his 1973 MVP award came when he was a left fielder. Also in the mix were a handful of Foster, Rose and Frank Robinson seasons. Don't forget about 1988 Kal Daniels or 2004 Adam Dunn, either.
CENTER FIELD - Eric Davis, 1987
From the late 1950s to the early 1970s there were some good seasons from the likes of Vada Pinson and Bobby Tolan. Shin-Soo Choo was outstanding this past season, too, and we can't forget that Ken Griffey Jr. had 40 homers and 118 RBI in 2000.
Eric Davis in 1987, though, was a Tour De Force of all-around excellence. He hit .293/.399/.593 (155 OPS+) with 37 homers, 100 RBI, 120 runs and 50 stolen bases while also playing outstanding defense at a premium position. He took home both a Gold Glove and Silver Slugger that season and should have finished much higher than ninth in MVP voting. Amazingly, this season is relatively underrated in the history of baseball.
In addition to the names above, some of Davis' chief competition here came from the 1917-1924 seasons provided by Hall of Famer Edd Roush.
RIGHT FIELD - Frank Robinson, 1962
Well what do you know, another Hall of Famer.
Robinson won his NL MVP in 1961 (as we know, he is the only player to win one in each league, as he took home AL honors for the Orioles in 1966), but sometimes circumstances mean a better season doesn't grab the hardware. That was the case with Robinson's MVP encore in 1962, as he had better numbers almost across the board.
Robinson played in all 162 games in 1962, hitting .342/.421/.624 (172 OPS+) with 51 doubles, 39 homers, 136 RBI, 134 runs and 18 stolen bases.
Also initially under consideration here were a few other Robinson seasons, 1985 Dave Parker, 1995 Reggie Sanders, 1991 Paul O'Neill, 1932 Babe Herman, some early 1900s Sam Crawford (MLB's all-time triples king!) and a few Ival Goodman seasons in the 1930s.
Oh, and not surprisingly, Pete Rose in 1968-70.
SPECIAL UTILITY MAN - Pete Rose, 1969
It goes without saying that Rose is one of baseball's most iconic figures. He's definitely unique, as are all human beings, but his case is particularly compelling because he ended up being among my final considerations at four different positions. His MVP season in left field was impressive, but I love the well-roundedness of his 1969 season as he led the majors in batting average while posting career highs in on-base percentage and slugging percentage.
He hit .348/.428/.512 with 33 doubles, 11 triples, 16 homers, 82 RBI, 120 runs and seven steals that season while walking more than he struck out.
STARTING PITCHERS - 1947 Ewell Blackwell, 1923 Dolf Luque, 1993 Jose Rijo, 1981 Tom Seaver, Jim Maloney, 1965
The Reds' pitching history isn't nearly as stellar as its position-player history. Then again, that was a ridiculously high bar we saw set above.
The numbers:
Blackwell: 22-8, 2.47 ERA (168 ERA+), 1.18 WHIP, 193 K, 273 IP, 23 CG, 6 SHO
Luque: 27-8, 1.93 ERA (201 ERA+), 1.14 WHIP, 151 K, 322 IP, 28 CG, 6 SHO
Rijo: 14-9, 2.48 ERA (162 ERA+), 1.09 WHIP, 227 K, 257 1/3 IP, 2 CG, 1 SHO
Seaver: 14-2, 2.54 ERA (140 ERA+), 1.12 WHIP, 87 K, 166 1/3 IP, 6 CG, 1 SHO
Maloney: 20-9, 2.54 ERA (148 ERA+), 1.17 WHIP, 244 K, 255 1/3 IP, 10 CG, 5 SHO
The W-L record makes Rijo's season incredibly underrated, but it's still one of the most productive in Reds history. In 13 of his 36 starts, the Reds provided him with two runs or less in support. In 12 of his starts, he allowed two or fewer runs while taking either a no decision or loss. He could have very easily been 22-5 with better luck (and for that he'd likely have gotten a Cy Young).
Most interesting to me here is Seaver, because that was the strike-shortened 1981 season. Seaver only started 23 games that season, so it's worth wondering what he could have done in a full slate. That, however, isn't why it's interesting to me. Instead, I want to point out how much the Reds got jobbed that season by a flawed system of determining the playoffs.
Due to a strike in the middle of the season, the league decided to divide things into two halves. The winner of each division for each half went to a divisional series round. The Reds finished second in both the first and second half, missing the playoffs. The problem? Put those halves together and the Reds win the NL West by four games (the Cardinals were similarly screwed, though the Reds had the top overall record in all of baseball).
Anyway, just wanted to mention that.
Some of the other names encountered in our research: Mario Soto, Noodles Hahn, Jim O'Toole, Johnny Vander Meer, Aaron Harang, Danny Jackson and, of course, Joe Nuxhall.
RELIEF PITCHERS - 2012 Aroldis Chapman (closer), 1967 Ted Abernathy, 1990 Rob Dibble, 
Real crowded field here. From the Nasty Boys to John Franco to Jeff Shaw, the Reds haven't been strangers to dominant relief. They haven't been low on relievers racking up saves, either, such as Danny Graves, Francisco Cordero, Jeff Brantley or even David Weathers.
But I'm comfortable with this trio.
Aroldis in 2012 was dominant enough and recent enough we don't need to rehash it.
Though Dibble only got 11 of the saves allotted to the aforementioned Nasty Boys, he was the most effective in a completely dominant season. He went 8-3 with a 1.74 ERA (229 ERA+), 0.98 WHIP and 136 strikeouts in 98 innings. In those 98 innings, he coughed up only 62 hits and three homers, as opposing hitter managed a pathetic .254 slugging percentage against him. 
Abernathy may be less known in most circles because his best relief work came as the save was just beginning to come into its own. He led the majors with 28 saves in '67 with a 1.27 ERA (299 ERA+), 0.98 WHIP and 88 strikeouts in 106 1/3 innings. Need a late-inning homer? Good luck. Abernathy faced 426 batters that season and allowed a single home run.
---
THE LINEUP
(Let's pretend it's a World Series and just use Rose as a DH in a special exception)
1. 1976 Joe Morgan, 2B
2. 1987 Eric Davis, CF
3. 2010 Joey Votto, 1B
4. 1977 George Foster, LF
5. 1962 Frank Robinson, RF
6. 1970 Tony Perez, 3B
7. 1972 Johnny Bench, C
8. 1996 Barry Larkin, SS
9. 1969 Pete Rose, DH
Go ahead and pretty much use a dartboard with this bunch. That's a freaking stacked lineup. Well done, Reds.
Coming Thursday: We Are Family ... The Pittsburgh Pirates
CBS Sports HQ Daily Newsletter
Get the best highlights and stories - yeah, just the good stuff handpicked by our team to start your day.
Please check the opt-in box to acknowledge that you would like to subscribe.
Thanks for signing up!
Keep an eye on your inbox for the latest sports news.
Sorry!
There was an error processing your subscription.
Keep up with all the latest trade rumors around Major League Baseball

Hand has turned into one of the best left-handed relievers in baseball

Trout, the Angels, and Manfred have all taken turns throwing in their two cents
Our advanced computer model simulated Thursday's Cardinals-Cubs game 10,000 times

SportsLine's Mike McClure, a DFS pro with nearly $2M in winnings, gives optimal lineup adv...

Arenado is set to become a free agent after the 2019 season