All-Time Single-Season Team: Seattle Mariners
It's time for the Mariners entry into our all-time single-season team series. Griffey, Martinez, Hernandez, Johnson, Suzuki, et al? Yeah, there's some star power here.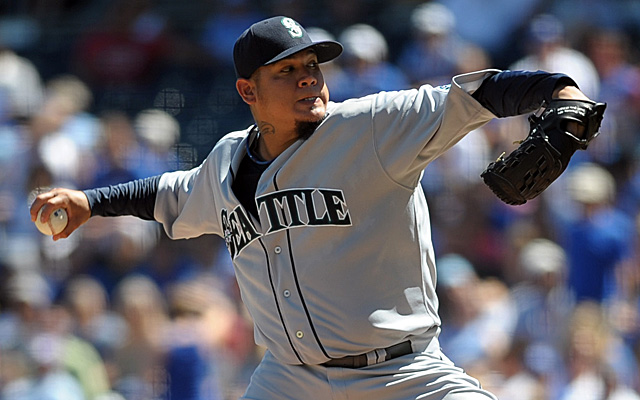 ALL-TIME SINGLE-SEASON TEAMS: CHC | STL | MIL | CIN | PIT | CHW | DET | KCR | CLE |MIN | ARI | COL | SD | LAD | SF
We're past the halfway point in our series. All that remain are teams in the current AL West, NL East and AL East. This installment in the All-Time Single-Season Team series is the Seattle Mariners, who were hatched in 1977.
The odds say this will be a relatively bad team. After all, the Mariners are a young franchise and have a pretty terrible history. In a stretch from 1995-2003, they were very good -- but otherwise have only managed four winning seasons. In all, they've had 11 winning seasons out of 37 total.
It is essential before moving on that we note a few reminders.
1. This is only looking at the best single season in franchise history. Thus, don't think about "who is the best shortstop in franchise history" but instead "who had the best season at shortstop in franchise history." There's a difference.
2. This is subjective. That means that it's, like, our opinion, dude. We can have differences in opinion without one of us being a moron. Trust me, it's possible.
3. Just for the sake of variety, we've installed a rule that one player can only be used once per team.
On to the Pacific Northwest.
CATCHER - Dan Wilson, 1996
Not a whole lot of great here. Kenji Johjima had some good seasons and John Jaso's .394 OBP campaign in 2012 was pretty stout.
Wilson gets the nod on his all-around play, though, as he hit 18 homers, drove home 83, worked very well with his pitching staff and threw out 39 percent of opposing basestealers -- besting the league average by nine percent.
Wilson actually had a handful of seasons under consideration, with 1997 being particularly close.
FIRST BASE - Alvin Davis, 1989
This was actually a more crowded field than I expected, but it came down to four guys: Alvin Davis, Tino Martinez, John Olerud and Richie Sexson. Let's throw them side-by-side to see if it helps.
Davis '89: .305/.424/.496, 156 OPS+, 30 2B, 21 HR, 95 RBI, 84 R
Tino '95: .293/.369/.551, 135 OPS+, 35 2B, 31 HR, 111 RBI, 92 R
Olerud '02: .300/.403/.490, 140 OPS+, 39 2B, 22 HR, 102 RBI, 85 R
Sexson '05: .263/.369/.541, 144 OPS+, 36 2B, 39 HR, 121 RBI, 99 R
It's a real tough call, but Davis was hitting in a much better atmosphere for pitchers than the others -- in terms of the league, not the ballpark -- and his average/OBP are enough to mitigate the difference in power from Martinez and Sexson, for me. His 1984 season is pretty strong, too.
Obviously, this is a matter of opinion on a very close call and Martinez is probably the best defender of the bunch -- though Olerud must be considered there as well. Arguments for any of the four have great merit.
SECOND BASE - Bret Boone, 2001
We had to know it wouldn't take long to see an entry from that 2001 season, in which the Mariners won a whopping 116 games. Boone led the AL in RBI that season and finished third in AL MVP voting. He hit .331/.372/.578 (153 OPS+) with 37 doubles, 37 homers, 141 RBI and 118 runs while playing a slick second base.
Harold Reynolds had some good seasons and Jose Lopez exhibited some power, but the only real choice here was Boone's huge '01 season. His effort in 2003 was actually the runner up.
SHORTSTOP - Alex Rodriguez, 1996
Oh boy. It's history's greatest monster: Alexander Emmanuel Rodriguez.
Is it possible to remember what we thought of A-Rod in 1996 and forget everything since? He was an innocent kid we all loved. He was the next great hope in baseball -- a phenom at the age of 20 posting MVP-caliber numbers in a juiced up game where video-game numbers were becoming the norm.
In that season, A-Rod's first as a full-timer, he hit a major-league leading .358 with a 161 OPS+, 54 doubles (also MLB best), 36 homers, 123 RBI, 141 runs (AL best) and 15 stolen bases -- he also led the AL with 379 total bases. He was a very gifted defensive shortstop and lost out on MVP by three points. I'd argue he should have won -- go take a look.
You can talk about Omar Vizquel or Carlos Guillen if you want, but that's so misguided. A-Rod was unbelievable in his time in Seattle and boasts at least the top five shortstop seasons in franchise history.
THIRD BASE - Adrian Beltre, 2007
Beltre was rather maligned during his time in Seattle due to failing to live up to his huge 2004 season that came with the Dodgers, but he was far from bad. In 2007, he hit .276/.319/.482 (112 OPS+) with 41 doubles, 26 homers, 99 RBI, 87 runs and 14 stolen bases in addition to winning a Gold Glove for his typically outstanding defense. Spacious Safeco Field really hurt him, too, as he hit .288 with a .538 slugging percentage on the road as opposed to .264 and .426 at home.
A few Jim Presley seasons in the '80s got a look, just as the past two seasons we've seen from Kyle Seager. David Bell wasn't bad in 2001, either.
As for a certain Hall of Fame candidate, please note the rule about only using a player once on a particular team and also note our entry at DH. Thanks.
LEFT FIELD - Tom Paciorek, 1981
Some very tough omissions here in Phil Bradley (1985) and Raul Ibanez (2006), but Paciorek put together a great effort in the strike-shortened 1981 season.
In only 104 games, Paciorek hit .326/.379/.509 (151 OPS+) with 28 doubles, 14 homers, 66 RBI, 50 runs and 13 stolen bases. Remember, that's in about 2/3 of a full regular season. He would finish 10th in MVP voting that season behind an impressive group that included five Hall of Famers.
CENTER FIELD - Ken Griffey Jr., 1997
Sorry, Mike Cameron, Ruppert Jones and Franklin Gutierrez, but this was only a matter of which Junior season to grab.
Let's go with The Kid's MVP season, in which he hit .304/.382/.646 (165 OPS+) with 34 doubles, 56 homers, 147 RBI, 125 runs and 15 steals while also winning his annual (at the time) Gold Glove. He paced the AL in home runs, RBI, runs, slugging percentage, total bases and intentional walks.
Perhaps the most defining stat as to how feared Junior was that year is the intentional walks, because he was protected in the batting order by Edgar Martinez, who hit .330/.456/.554 that year. Teams would have rather faced him with a man on base (or two on) than Junior with the bases empty (or one on), generally speaking. That's pretty telling.
More: Junior's awesome new iPhone case
RIGHT FIELD - Ichiro Suzuki, 2004

Before Ichiro came along, this would have been a matter of which Jay Buhner season to choose. I'll let the immortal Frank Costanza explain why:
Alas, Ichiro came along in 2001 and started writing the Mariners record books in a few ways.
Picking his best season isn't easy, but he's a hit and batting average machine, so 2004 -- when he achieved career-highs in each -- is the pick. He led the majors in both, hitting .372/.414/.455 (130 OPS+) with 24 doubles, five triples, eight homers, 60 RBI, 101 runs and 36 stolen bases. He also won a Gold Glove and recorded 12 assists from right field. I also find it amazing that he led the AL in intentional walks, considering he's not a power threat.
Oh, did we mention his 262 hits? That's the most ever in a single season. No one other than Ichiro has racked up more than 240 in a season since 1930.
DESIGNATED HITTER - Edgar Martinez, 1995

Martinez had an outstanding career and even would have been our third baseman above if not for our self-imposed rule limiting the selection of one player to one position. By the strike-shortened 1995, though, Martinez was a full-time DH and an unbelievable hitter. He led the AL in average (.356), on-base percentage (.479), OPS (1.107), OPS+ (185), doubles (52) and runs (121) while also hitting 29 homers with 113 RBI. He walked 116 times against only 87 strikeouts.
This also happened to be the season in which Edgar saved baseball in Seattle:
STARTING PITCHERS - 1995 Randy Johnson, 2010 Felix Hernandez, 2013 Hisashi Iwakuma, 2003 Jamie Moyer, 2001 Freddy Garcia

His first of five Cy Youngs, Johnson was 18-2 with a 2.48 ERA (193 ERA+), 1.05 WHIP and 294 strikeouts in 214 1/3 innings in '95. He made just 30 starts due to the strike, but completed six of them with three shutouts. He also did quality work in the first postseason in franchise history.
King Felix was another easy choice. He won the AL Cy Young in 2009 despite a 13-12 record and it was well-deserved. The Mariners went 17-17 in games he started and 44-84 when he didn't. You can't possibly argue against the substantial impact he had and that's why judging solely on his 13-12 record is folly. He led the majors in ERA (2.27, good for a 174 ERA+) while also leading the majors in batters faced and the AL in innings pitched (249 2/3). So he did the most work and was best at limiting damage. That's a Cy Young, record be damned.
Iwakuma's line from this past season, in which he finished third in Cy Young voting: 14-6, 2.66 ERA, 1.01 WHIP, 185 K, 219 2/3 IP.
Moyer, at the tender young age of 40, won 21 games in 2003 with a 3.27 ERA (132 ERA+) in 215 innings of work.
Garcia led the AL in ERA (3.05, good for a 135 ERA+) and innings pitched (238 2/3) while going 18-6 with a 1.12 WHIP and 163 strikeouts. He also paced the AL in allowing only 0.6 home runs per nine innings pitched.
Some other names that surfaced: Mark Langston, Erik Hanson, Mike Moore, Jeff Fassero, Aaron Sele and Dave Fleming.
RELIEF PITCHERS - 2007 J.J. Putz, 1991 Bill Swift, 2000 Kazuhiro Sasaki

Putz is our closer for his incredible 2007 season in which he saved 40 games in 42 chances with a 1.38 ERA (319 ERA+), 0.70 WHIP and 82 strikeouts -- against only 13 walks -- in 71 2/3 innings.
Swift was a jack-of-all-trades through his career, starting 220 games but also saving 17 games in 1991. He also had 13 holds and only blew one lead while posting a 1.99 ERA (207 ERA+). Opposing hitters managed a paltry .276 slugging percentage against Swift that season.
Sasaki was one of the better closers in baseball for a three-year run. In 2000, he won Rookie of the Year while closing down 37 of his 40 chances with a 3.16 ERA (146 ERA+), 1.17 WHIP and 78 strikeouts in 62 2/3 innings.
Some other names worth mention: Bill Caudill, Arthur Rhodes, Mike Schooler, Norm Charlton, David Aardsma, Brandon League and Mike Timlin.
---
THE LINEUP
1. 2004 Ichiro Suzuki, RF
2. 1996 Alex Rodriguez, SS
3. 1997 Ken Griffey Jr., CF
4. 1995 Edgar Martinez, DH
5. 2001 Bret Boone, 2B
6. 1989 Alvin Davis, 1B
7. 2007 Adrian Beltre, 3B
8. 1981 Tom Paciorek, LF
9. 1996 Dan Wilson, C
Relative to the aforementioned franchise history, they've actually had some nice star power.
Up next: The Houston Colt .45s/Astros
CBS Sports HQ Daily Newsletter
Get the best highlights and stories - yeah, just the good stuff handpicked by our team to start your day.
Please check the opt-in box to acknowledge that you would like to subscribe.
Thanks for signing up!
Keep an eye on your inbox for the latest sports news.
Sorry!
There was an error processing your subscription.
The Red Sox, Astros and Yankees remain the "Big 3" with the Cubs the best of the rest

Adam Thompson has a three-way parlay that could pay off huge on Monday

Keep up with all the latest trade rumors around Major League Baseball
Plus, the Pirates are red hot, the Rays got a walk-off grand slam and much more

The disease is short term and treatable, but usually only occurs in children

Hader has since apologized since the racist and homophobic tweets surfaced during the All-Star...