Congratulations, 2013 World Series champion Boston Red Sox
For 29 other teams, we did an "R.I.P." at the end of their season upon elimination from either playoff contention or the playoffs. For one team, we can't call it that because it won the World Series. So, instead, it's congratulations Boston Red Sox.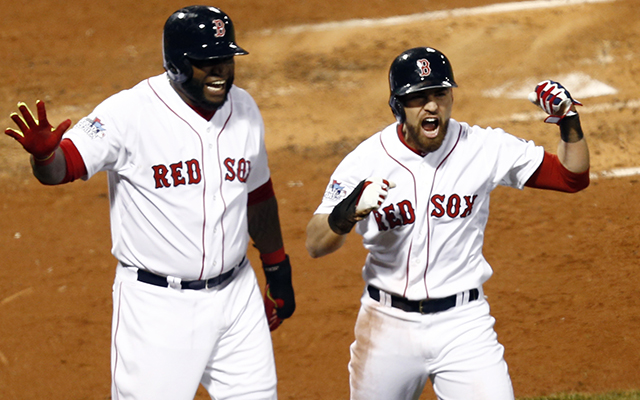 RIPs: Astros | Marlins | White Sox | Cubs | Brewers | Mets | Giants | Rockies | Twins|Phillies | Padres | Mariners | Blue Jays | Diamondbacks | Angels | Nationals | Orioles|Royals | Yankees | Rangers | Reds | Indians | Braves | Rays | Pirates | A's | Dodgers | Tigers
BOSTON -- For 29 other teams, we did an "R.I.P." at the end of their season upon elimination from either playoff contention or the playoffs. For one team, we can't call it that because it won the World Series. So, instead, it's congratulations Boston Red Sox. You are the World Series champions for the third time in the past decade. This coming just one year after finishing in last place and two years after a historic collapse in September.
Let us still run through every category like we did with the other 29 teams.
What went right
Nearly everything, obviously, as they went worst-to-first and won it all.
It all started in the offseason, when general manager Ben Cherington acquired John Farrell from the Blue Jays to replace Bobby Valentine as manager. He also decided to spend money on short-term deals instead of making one huge splash. As a result, he added Mike Napoli, Shane Victorino, Jonny Gomes, David Ross, Ryan Dempster and Koji Uehara, among others, via free agency.
Clay Buchholz was outstanding when healthy and Jon Lester came on as an ace down the stretch. Dustin Pedroia, David Ortiz and Jacoby Ellsbury starred. Jarrod Saltalamacchia had a good offensive season, coming through with 40 doubles. Victorino was outstanding and Napoli brought good power. Uehara ended up being possibly the most dominant closer in the American League by the end of the season, too, with Junichi Tazawa and Craig Breslow forming an excellent setup duo.
John Lackey, Mike Carp and Daniel Nava also had good seasons worth mentioning.
Finally, we can't forget about the early contributions of rookie Jose Iglesias, making him an attractive enough trading chip to land Jake Peavy, and it's not even going to hurt moving forward as Xander Bogaerts looks to be the shortstop of the future in Boston.
This is only some of what went right, because it was a wildly successful season and one of the more remarkable turnarounds in recent memory.
What went wrong
Pretty much everything that went wrong led to a right, as often is the case with a champion.
Will Middlebrooks had a pretty terrible sophomore slump, though it cleared the way for extra Iglesias playing time pre-trade and Bogaerts to play a big role in the postseason. Plus, Middlebrooks hit pretty well after returning from the minors.
Also, the injuries to closers Joel Hanrahan and Andrew Bailey -- plus setup man Andrew Miller -- cleared the way for Breslow, Tazawa and Uehara to become the back-end trio in the bullpen. Though Peavy hasn't been great, his presence cleared the Red Sox from having to use Dempster in the playoff rotation and made Felix Doubront available in the bullpen, where he excelled in the World Series.
MVP: Cherington. As much as the Valentine hire and a few moves in his first season as GM were a disaster, Cherington fixed everything rather perfectly with a change in approach. It started in August of 2012, when he unloaded Adrian Gonzalez, Josh Beckett, Carl Crawford and Nick Punto. This isn't to say all of those guys were a negative influence, but the trade cleared the way for Cherington to add all the aforementioned parts this past offseason. And then all those smaller signings instead of throwing money at a big-ticket free agent (Josh Hamilton?) paid off in a big way, rounding out the roster.
LVP: I'm gonna pass on this category. There's no reason to focus on anything negative when they win the World Series.
Free agents to be: C Jarrod Saltalamacchia, 1B Mike Napoli, IF John McDonald, SS Stephen Drew, CF Jacoby Ellsbury, SP Jon Lester ($13M club option), RP Joel Hanrahan, RP Matt Thornton ($6M club option)
Game plan heading into the offseason
As can be seen above, a significant part of this team's core is set to hit free agency. Expect the Red Sox to stick with the gameplan of not spending huge on a single player, which means Ellsbury is probably as good as gone.
Due to Middlebrooks and Bogaerts, I believe they'll let Drew walk, too, and there's little reason to bring back Hanrahan or Thornton.
Otherwise, my guess is Cherington goes with a "keep the band together" approach, picking up the option on Lester. They'll probably try to keep Napoli and Saltalamacchia, too, though the latter might command more years and/or dollars then the Red Sox are willing to spend.
Without Ellsbury, center field needs a solution. Victorino is a stellar right fielder but in his later years isn't suited for center anymore. Will Jackie Bradley be ready to step in? I'd bet he gets the shot and they don't do anything drastic in free agency or trade. It's feasible if he fails to use Victorino in center with Carp, Nava and Gomes as corner outfield options. They could always try to acquire someone at the deadline, too.
If Salalamacchia walks, Ryan Lavarnway and David Ross are in-house options, so, again, I don't think the Red Sox would do anything drastic.
Basically, there will be some tinkering, but I believe the 2014 Red Sox strongly resemble the 2013 Red Sox, which makes sense considering what the latter accomplished.
Ridiculously premature prediction for 2014
No repeat in my opinion, but they'll definitely be in contention for the playoffs and are likely to make it again. But who cares about that now? It's time for celebration in Boston.
Marcell Ozuna figures to be the next Marlins star on the move

Several relievers have signed in the last two days

Several teams are interested in the switch-hitting first baseman
Neshek and the Phillies are closing on a two-year contract

And the team that first drafted Cole is interested

This scout was SUPER into Jeter