Core Values: Toronto Blue Jays
Our 'Core Values' series continues Friday with the Toronto Blue Jays.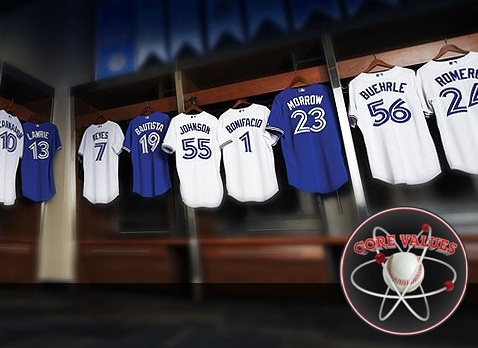 There will be new faces and big expectations in Toronto this year. (Blue Jays)
Our "Core Values" series marches on with the Toronto Blue Jays , who underwent baseball's biggest facelift this winter. Injuries played a major role in their 89-loss season last year, and the response was to go out and make one of the largest trades in recent history. That wasn't enough, so they then acquired the reigning NL Cy Young Award winner as well.
The roster overhaul was accompanied by a new manager. John Farrell was essentially traded to the Red Sox after two years of running the Blue Jays and his replacement, John Gibbons, is a familiar face. Gibbons managed the club from 2004-08 and general manager Alex Anthopoulos preached the need for accountability when discussing the hire. The inmates had begun to run the asylum under Farrell in 2012.
Core Values series
Previous posts
If you haven't been with us throughout the series, I recommend the following explanation of our methodology. For those who have been with us all along, feel free to skip ahead.
What's a core? For our purposes, a team's core comprises a "cornerstone player," a "face of the franchise" and then the "future face of the franchise."

So what's a "cornerstone player"? For starters, it's one of the best players on the roster and perhaps the very best player on the roster. Beyond that, though, it's the player whom the organization has identified as the talent around which to build by signing him to a long-term deal. In other words, they've backed their faith in the player's abilities with the most powerful statement of all: lots of redeemable U.S. currency. Not only do they see this player as central to their current aims but also to their designs on future contention.

What's a "face of the franchise"? He -- and we're getting subjective here -- is the player who most prominently embodies the franchise in question. He's that player whom you think about when you think about this team. Is he the same guy as the "cornerstone"? Sometimes. But the cornerstone is primarily a financial designation. The "face" is, for lack of a better term, a cultural identifier. They're not mutually exclusive, but they're not not mutually exclusive, either. What about the word "values" that you see in the headline above? After we identify and evaluate the three elements of the core, we're going to slap a letter grade on the whole thing.
And now, on to the core of the Blue Jays.
Cornerstone player: Jose Reyes
The Blue Jays absorbed roughly $160 million in payroll obligations as part of their massive 12-player trade with the Marlins, and more than half of that belongs the Reyes. The 29-year-old shortstop signed a six-year, $106 million contract with Miami last offseason, but the deal was front-loaded and he is owed $96 million over the next five seasons.
Fortunately for Toronto, Reyes is still in the prime of his career and remains highly effective. He won the NL batting title in 2011 and hit .287/.347/.433 with 11 homers and 40 stolen bases last season, his first 40-steal season since stealing 50-plus every year from 2005-08. He also brings excellent defense at one of the game's toughest positions. Reyes is a star -- a star with injury concerns, but a star nonetheless -- who will ignite the club as its leadoff hitter and cornerstone player.
Face of the franchise: Jose Bautista
There aren't many players more popular in their team's city than Bautista. He went from solid utility player to offensive juggernaut in 2010, a pace he has maintained in the two years since. A wrist problem effectively ended his 2012 season in mid-July, but before that he'd hit .241/.358/.527 with 27 homers in 92 games. Since breaking out three years ago, Bautista has hit .271/.400/.593 with the most home runs (124) in baseball. The Blue Jays wisely signed the slugger to a five-year contract two offseasons ago, and even as the club experienced massive turnover this winter, the face of the frachise remains the same.
Face of the future: Aaron Sanchez and Marcus Stroman
Toronto has been hording prospects for years, but it traded most of its top minor leaguers for big league upgrades this winter. The Blue Jays did manage to hold onto Sanchez, the 20-year-old right-hander who was the 34th overall pick in the 2010 draft. He pitched to a 2.49 ERA with 97 strikeouts in 90 1/3 innings for the team's Low Class-A affiliate in 2012, and his mid-90s fastball/power curveball combination give him a very high upside. Sanchez still has to work on his control (51 walks last year) and is several years from the big leagues.
Stroman, 21, was the 22nd overall pick in last year's draft. The right-hander reached Double-A while striking out 23 in 19 1/3 innings after turning pro, but he tested positive for a stimulant and has to serve a 50-game suspension. He's due to return in May. Stroman offers premium power stuff and if the Blue Jays decide to stick him in the bullpen, he could pitch in the majors in the second half this season despite the suspension.
Grading the Blue Jays' core: B+
Thanks to their busy offseason, Blue Jays are a team with a clearly defined window for contention. Even if Josh Johnson -- he came over with Reyes in the Marlins trade -- doesn't re-sign as a free agent next offseason, the team will still have Reyes, Bautista, R.A. Dickey , Melky Cabrera , Mark Buehrle , Brandon Morrow , Ricky Romero , Brett Lawrie , Sergio Santos  and 42-homer man Edwin Encarnacion under contract through 2014. Reyes, Bautista, Buehrle, Dickey, and Encarnacion are under contract through 2015 as well.
We have to acknowledge that Toronto did acquire some very risky players this winter. Reyes has battled hamstring trouble throughout his career, which can be very problematic for a speed player who will now play half his games on artificial turf. Johnson is no stranger to the DL himself, and it's been two years since his last full, ace-like season. Buehrle is a soft-tosser with a history of subpar performance against AL East opponents. I'm a big believer in Dickey, but how his knuckleball transitions to the tougher league remains to be seen.
That said, Anthopoulos gutted his system for good reason. He acquired players who are all established above-average (or better) big leaguers at a time when the AL East is more wide open than it has been over the last decade or so. The Red Sox are trying to recover from a last place finish, the Rays traded James Shields and lost Melvin Upton , and the Yankees are fragile due to age. There's a big-time opening and Anthopoulos pushed all his chips to the middle of the table.
For more baseball news, rumors and analysis, follow @EyeOnBaseball on Twitter, subscribe to the RSS feed and "like" us on Facebook. Also, individually interact with us on Twitter: @MattSnyder27, @daynperry and @mikeaxisa.