Dodgers' lefty Hyun-Jin Ryu solid but unspectacular in MLB debut
Dodgers left-hander Hyun-Jin Ryu made his MLB debut on Tuesday night and was solid at best.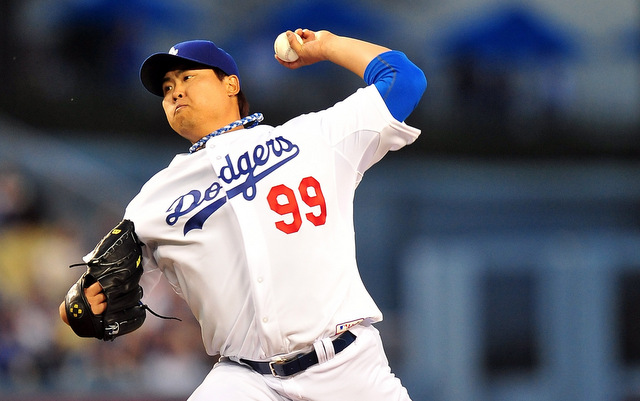 More MLB: Scoreboard | Standings | Probable Pitchers | Sortable Stats | Odds
The Dodgers spent more than $60 million (posting fee plus contract) to acquire South Korean left-hander Hyun-Jin Ryu this offseason, and on Tuesday night they finally got to see their investment in action. He allowed three runs (one earned) in 6 1/3 innings of work against the rival Giants in his MLB debut.
Unfortunate base running aside, the 26-year-old Ryu showed a well-rounded repetoire highlighted by a sinking changeup that averaged 80.8 mph and topped out at 85.2 mph according to Brooks Baseball. He threw 19 of 23 changeups for strikeouts, which is an insanely high rate. It might be too high since changeups are usually intended to get hitters to chase off the plate. His fastball averaged 89.2 mph and topped out at 92.3 mph and he also threw a handful of curveballs.
Ryu was far too hittable against San Francisco, allowing ten hits in those 6 1/3 innings. Six of those ten hits were true line drives as well, which was a common theme on the night; the Giants squared up plenty of pitches, including the balls that went for outs. It's worth noting that two of the three runs charged to Ryu came when he wasn't even on the mound -- Ronald Belisario inherited a second-and-third situation and both runners scored when shortstop Justin Sellers made a throwing error.
Overall, it was a solid debut for the left-hander, who was the most dominant pitcher in the Korea Baseball Organization over the last half-decade or so. There were probably some nerves and I'm sure unfamiliarity with the hitters played a part as well, so it's hard to hold the outing against him. Ryu showed some good offspeed pitches and a willingness to throw strikes -- no walks and 55 of 80 pitches were strikes (69%) -- which are encouraging signs.
The Dodgers were shutout by the Giants 3-0, who got eight brilliant innings from starter Madison Bumgarner.
Maxwell had not played the last few games due to concussion symptoms

L.A. manager Dave Roberts indicated that Puig's benching was related to more than one inci...
Manager Torey Lovullo said so on Monday

Let's see how SportsLine forecasts the race for MLB's 10 playoff spots

Monday kicks off the final week of MLB action. Let's take a look at everything that went d...