Franchise bests/worsts: Texas Rangers
We conclude our best-worst series with the Texas Rangers. Come take a look.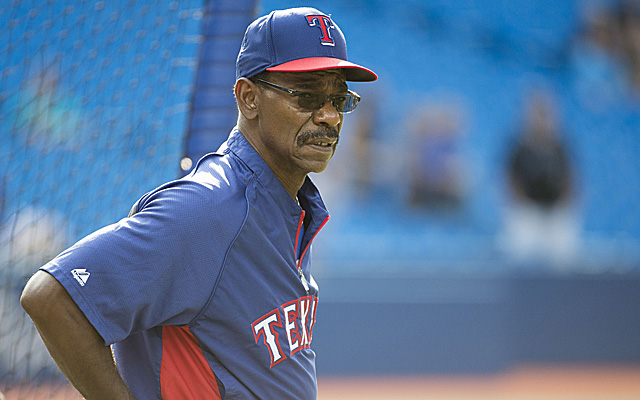 For the past month, we've been running through a series of "bests" and "worsts" for all 30 MLB franchises. The purpose has been a fun snapshot with the hopes of kickstarting even more discussion, especially among the fans of each particular team. Well, here we are, the last stop: The Texas Rangers. 
The Texas Rangers began as the second iteration of the Washington Senators before heading to Arlington in 1972. They've been to the playoffs six times and won two AL pennants. Let's take a look.
Best team: 2011
With a franchise-record 96 wins, the Rangers went through both the ALDS and ALCS en route to their second consecutive AL pennant. And they came within one strike of winning the World Series.
Behind the power of Josh Hamilton, Nelson Cruz, Adrian Beltre, Mike Napoli and Ian Kinsler (yes, he tied for the team lead in homers), the speed of Kinsler and Elvis Andrus, excellent team defense, a steady rotation and lock-down closer in Neftali Feliz, the 2011 Rangers were a very well-rounded ballclub. Manager Ron Washington and leader Michael Young also deserve mention.
Offensively, the Rangers ranked third in the AL in runs, second in hits, third in doubles, second in homers, fourth in steals, first in average, third in on-base percentage and second in slugging. The rotation had five pitchers with at least 13 wins and three (C.J. Wilson, Matt Harrison and Alexi Ogando) with an ERA+ of at least 125.
After securing the best AL record in the regular season, the Rangers took care of the Rays in four games in the ALDS and the Tigers and six games in the ALCS. They then had a 3-2 lead over the Cardinals in the World Series, too.
Worst moment: Game 6
Avert your eyes, Rangers fans.
Yes, this was easily the worst moment in the history of the franchise, at least in terms of things that happened on the field. They had this World Series won, basically. Inches away.
Best offense: 1999
The 1999 Rangers had the second-most wins in franchise history with 95, despite posting an ERA of 5.07, good for 11th in the 14-team AL. They did it by bashing the baseball.
Six players had at least 20 homers. Three -- Ivan Rodriguez, Juan Gonzalez and Rafael Palmeiro -- had at least 35.
Four players had at least 100 RBI, with two north of 125 and Palmeiro driving home a ridiculous 148.
The team batting line: .293/.361/.479. That's an All-Star these days at some positions.
The Rangers topped out at 18 runs in a game (June 30) that season. They'd score at least 15 runs four times and at least 10 runs in a game 21 times. They were only held to fewer than two runs eight times.
Best player: Ivan Rodriguez
He made a significant impression with both the Marlins and Tigers, but if Pudge goes into the Hall of Fame, it'll be with a Rangers cap. His initial stint with Texas was 12 seasons, in which he went to the All-Star Game 10 times and won 10 Gold Gloves. He was generally considered the best defensive catcher in baseball throughout nearly all of that tenure.
It wasn't just defense, though. Rodriguez hit .305/.342/.489 (113 OPS+) with 344 doubles and 215 homers in those first 12 seasons. He won the 1999 MVP and finished in the top 10 of voting two other seasons.
I know this causes some to complain, but Rodriguez is the franchise leader in career WAR.
Worst luck, injuries: 2014
We just went through it, so there isn't much reason to rehash. But, man, I can't remember a team ever having such awful luck with injuries. There's no way to judge how good or bad they should've been.
Worst lie: Tanner Scheppers
In 2013, Scheppers claimed he was just getting something to eat in Cleveland at 2:30 a.m. when he was jumped and "sucker punched" for no reason.
As it turns out, he was apparently involved in a bar fight instead. Tsk tsk.
Best trades: Mark Teixeira and Josh Hamilton
In December of 2007, the Rangers shipped Danny Herrera and Edinson Volquez to the Reds. Yes, Volquez had some productive seasons, but the Rangers got prime Josh Hamilton back.
In Texas, Hamilton became a superstar. He was an All-Star all five seasons with the Rangers, winning an MVP and finishing in the top seven of voting three times. He hit .305/.363/.549 (137 OPS+) with 162-game averages of 40 doubles, 36 homers and 127 RBI.
Most importantly, though, Hamilton was the backbone of the franchise during the most productive stretch in club history. Sans Hamilton, the Senators/Rangers have three playoff appearances in 49 seasons. With him, they went three times in five years, including the only two trips to the World Series. Sans Hamilton, they were 1-9 in the playoffs. With him? 18-15.
Obviously it wasn't just Hamilton, but he was as significant as any player the Rangers have ever had.
Still, the Teixeira deal must be mentioned as well. Along with Ron Mahay, the Rangers sent Tex to Atlanta in 2007 for Elvis Andrus, Neftali Feliz, Matt Harrison and Jarrod Saltalamacchia.
Those two trades helped shape the roster for consecutive World Series runs and, again, half the playoff appearances and all the playoff success in franchise history.
Best decision in free agency: Letting Josh Hamilton walk
A major problem in free agency is paying for what a guy has done instead of anticipating what he will do. In the case of Hamilton, the Rangers wisely allowed him to take the Angels' offer. He's now coming off two down years, including one injury-riddled one, is already hurt in 2015 and will turn 34 this season. The Angels still owe him over $80 million in the next three seasons.
Best/worst highlight: Jose Canseco
It always depends upon your point of view, right? Is this the best or worst? You decide.
Worst pitching outing by position player: Jose Canseco
Oh, Jose. On May 29, 1993, Canseco was brought in to pitch with his Rangers trailing 15-1. He walked three, gave up three hits and three runs and ended up blowing out his elbow. That's a rough outing.
Worst altercation: Frank Francisco
A rule of thumb for players on the road should be to always ignore the fans. No good can come from interacting with them in negative fashion. Instead, the Rangers bullpen locked horns with some Oakland fans on Sept. 11, 2004 and Francisco threw a chair into the stands, breaking a woman's nose.
Worst altercation, non-game action: Kenny Rogers
In 2005, Rogers was initially suspended for 20 games for going after two cameramen. The clip can be seen here. Ridiculous.
Best pitching performance: Tom Cheney
With all due respect to Rogers for his perfect game in 1994 and Nolan Ryan for his two no-nos, Cheney was insane in 1962 for the Senators, at least for one game.
The line? 16 IP (yes, that's true), CG, 10 H, 1 ER, 4 BB, 21 K
A 16-inning, complete-game victory with 21 strikeouts? Yeah, that's decent. I would, of course, accept votes for Rogers or Ryan here.
Worst pitcher's loss: Charlie Hough
Hough had a no-no himself going into the ninth inning on June 16, 1986. He was holding just a 1-0 lead. After a dropped fly ball, Hough allowed the first hit of the game, which tied things up at 1-1. After intentionally walking Reggie Jackson to move the winning run to second, Hough struck out George Hendrick for the third out, but catcher Orlando Mercado couldn't handle Hough's knuckler and Wally Joyner came home to win on a walkoff passed ball, thanks to Hough failing to cover home plate. Ouch.
Best back-to-back homers: Toby Harrah, Bump Wills
On Aug. 27, 1977, Harrah and Wills went back to back, but did so with inside-the-park homers. That's pretty cool.
Worst Gold Glove winner: Rafael Palmeiro
Palmeiro finished fifth in MVP voting in 1999 with an incredible offensive season. He was also given a Gold Glove, despite only appearing in 28 games at first base.
Best save, short version: Randy Flores
On June 14, 2002, Flores entered the ninth inning with the Rangers leading 9-6. There was a runner on base, so the tying was on deck, hence it was a save situation. He threw one pitch -- a ball -- and Ivan Rodriguez picked the runner off first. Game over. Save for Flores. What a beautiful stat, right?
Best save, long version: Joaquin Benoit
On the opposite end of the spectrum, Benoit set a major-league record with a seven-inning save in 2002. He actually almost completed a staff no-hitter, allowing a triple in the ninth inning that was the only hit all game for the Orioles.
Best friendship: Adrian Beltre and Elvis Andrus
What you need to know for this video is that Adrian Beltre has a "thing" about getting touched on the head. It's legitimate, just as is his seemingly brotherly-love for Andrus. I seriously freaking love this video.
Best fight: C'mon
It needs no introduction.
---
As I've mentioned with most teams, please keep in mind this is meant as a conversation starter, not ender, among yourselves, Rangers fans. Add with impunity. We didn't even get to mention Bobby Valentine, Yu Darvish, Buddy Bell, Jim Sundberg, A-Rod or the immortal Julio Franco.
And that's a wrap. We've covered all 30 franchises. Link set below!
>> Want more franchise bests/worsts? CHC | MIL | STL | CIN | PIT |CLE | DET | MIN | CHW | KC | NYY | BOS | BAL | TOR | TB | MIA | WAS | NYM | PHI | ATL | COL | LAD | SF | ARI | SD | OAK | SEA | HOU | LAA
CBS Sports HQ Daily Newsletter
Get the best highlights and stories - yeah, just the good stuff handpicked by our team to start your day.
Please check the opt-in box to acknowledge that you would like to subscribe.
Thanks for signing up!
Keep an eye on your inbox for the latest sports news.
Sorry!
There was an error processing your subscription.
Plus the NL clinched the season interleague series. Here's what you need to know about Monday's...

Breaking down what Matt Snyder got right, what he got wrong, plus a toast to a great finish...

Yelich collected his second cycle of the year Monday night, both against the Reds
The best thing MLB can do for baseball is make it more accessible

The series that could decide the NL West starts Monday night in L.A.

Tight races remain with less than two weeks to go in the regular season