Grading the weekend series: Pirates keep rolling
Let's hand out some weekend grades! Pirates, Mariners, Rockies, Red Sox and Orioles included.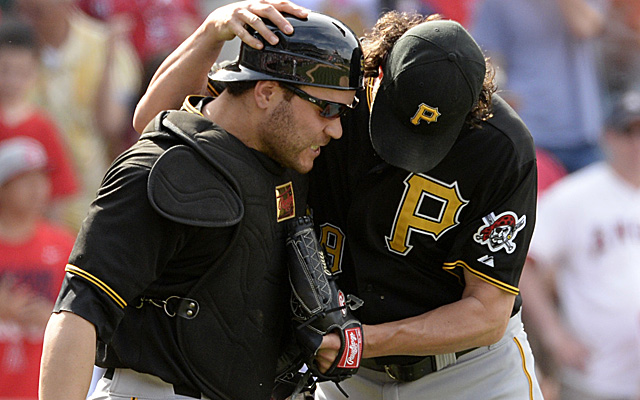 More MLB: Scoreboard | Standings | Probable Pitchers | Sortable Stats | Odds
It's time to grade the weekend series, where the "series" is plural and we hand out only one of each of the five traditional letter grades. Note that the Blue Jays have won 11 in a row and are an obvious A+++ at this point, so we'll look elsewhere here for the purposes of variety. Also, the Rangers sweep in St. Louis was impressive, but they got the A during the week. We gotta mix it up.
Team
Grade
Analysis
A
The Pirates won the first two games of the series with relative ease over the Angels, but in the second inning on Sunday they trailed 5-1. They went into the ninth inning trailing 6-3. All they did from there was go out and score seven runs in the ninth and 10th innings combined, completing the sweep and moving them to 16 games over .500 -- matching the most games they've been above water since 1992. If you aren't yet taking this team seriously, you're out of your mind.
B+
The Mariners entered their series against a very good A's team coming off a gut-punch of a loss Thursday night, when Felix Hernandez blew a seven-run lead in an eventual 10-9 loss. They then lost Friday night, so things could have gotten pretty ugly. Instead, the Mariners righted the ship and took the series, winning Saturday and Sunday.
C
In losing the first two games of the series to the Nationals, the Rockies had a five-game losing streak and had fallen below .500 for the first time since being 0-1. They then went out an won the last two games of the series to pull back above .500 and salvage a four-game split.
D
The Tigers scored 27 runs in four games off Red Sox pitching, and Boston lost three of four games. In the process, more teams were allowed into the AL East race and it's now a five-team affair. After Sunday's action, all five AL East teams are within five games. All of a sudden, the four-game series next weekend against the Blue Jays looms large.
F
Yes, the Blue Jays are red hot, but the Orioles are a playoff-caliber team and just got outscored 24-13 in a three-game series in Toronto. This included blowing a 6-4 seventh-inning lead in the first game of the series and

Freddy Garcia

getting worked over on Sunday. In all, it was a series to forget.