Jeffrey Loria update: Still a terrible owner
Marlins owner Jeffrey Loria continues to reportedly toy with the job of president Larry Beinfest.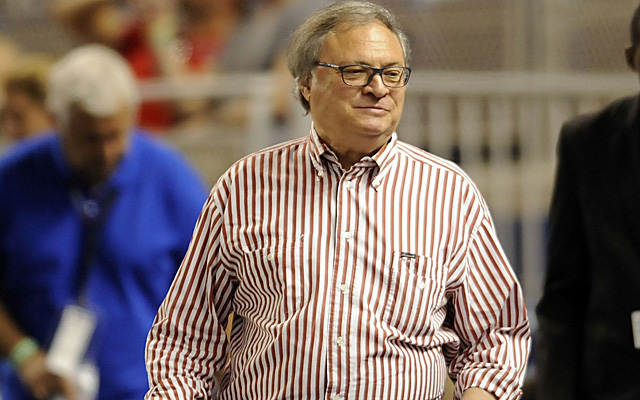 More MLB: Scoreboard | Standings | Probable Pitchers | Sortable Stats | Odds
Marlins owner Jeffrey Loria is unpopular among pretty much everyone who pays attention to baseball. He helped kill baseball in Montreal and now has Miami-area taxpayers on the hook for millions and millions of dollars due to his new -- and mostly empty -- baseball palace.
And now he's toying with the job of president of baseball operations Larry Beinfest, according to a column from Ken Rosenthal of Fox Sports.
From Rosenthal:
Beinfest is miserable, major league sources say. You would be miserable, too, if your owner over the past four years had gone from merely meddlesome to completely hands-on, even vetoing minor league call-ups for reasons unrelated to performance.

The Marlins' power structure, according to sources, essentially consists of Loria and VP of player personnel Dan Jennings on one side and Beinfest and general manager Mike Hill on the other. Loria's stepson, team president David Samson, has been all but invisible this season and also is on the outs with Loria, sources say.

The logical move -- the move that USA Today reported would happen at the end of last season -- would be for Jennings to replace Beinfest. Rival executives, as if on cue, again are predicting such a shake-up.

Beinfest, frustrated that his job security is again a matter of public discussion, confronted Loria last week and asked him to decide upon his status one way or the other, sources say.

But Loria, who did not respond to a phone call from FOX Sports seeking comment, has yet to signal his intentions.
Under Loria, the Marlins have become a laughingstock on a regular basis. They won the World Series in 2003 -- his first year as owner -- and then the roster was gutted. Since then, there have been cycles of gathering great young talent, like Jose Fernandez and Giancarlo Stanton on the current Marlins, and then gutting the roster once the talent becomes too expensive.
Principle in the gathering of good young talent has been Beinfest. Even when Jose Reyes and Mark Buehrle were traded against their will -- and against Loria's promises, per both players -- Beinfest was able to get an excellent return of young talent.
Still, to reiterate, the gathering of young talent never leads to much, as Loria is content to sell guys off once they are no longer under team control. Since the gutting of the World Series team, here's where the Marlins have finished in the NL East: 3rd, 3rd, 4th, 5th, 3rd, 2nd, 3rd, 5th, 5th and they'll be finishing 5th again this season.
Maybe Loria will finally free Beinfest to go do a good job with an owner actually cares about winning.
Then again, Loria pretty rarely does the right thing.
The Diamondbacks outfielder was not impaired, he was just going way too fast

MLB can unilaterally implement rule changes, which will also include limits on mound visit...

If the MLBPA wants to fix MLB's economic system, it should push for more money for young p...
Fans aren't happy Gerrit Cole and Andrew McCutchen have been traded away

Acuna is arguably the best prospect in baseball

Kent had a good career, particularly with the bat