Leaderboarding: Baseball's best hitting pitchers from 2011-13
Our latest weird leaderboard post looks at the best hitting pitchers over the last three seasons.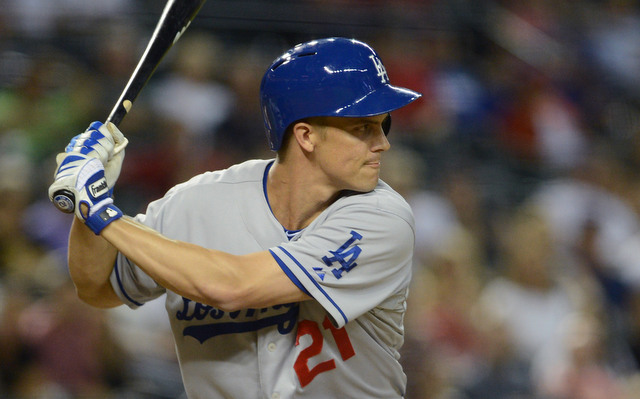 Leaderboarding: 100-mph pitches | Stranding runners | Quality starts | Hitters in 0-2 counts | RBI percentages | Taking the extra base | Looking strikeouts | Pitch-framers
I am very much a pro-DH guy. I don't find watching pitchers try to hit to be very entertaining, but it is part of the game and will remain that way for the foreseeable future. I do think it's only a matter of time before the NL adopts the DH, but that time is a long way off. Decades away.
No one in their right mind actually expects a pitcher to get a hit. It's just something that happens every so often. Are some pitchers better hitters than others? Absolutely. But even the best hitting pitchers are pretty bad. Mike Hampton was long considered to be one of the best hitting pitchers in the history of the game and he was a career .246/.294/.356 hitter in parts of 16 seasons. That's more or less what Emilio Bonifacio hit this past season (.243/.295/.331).
As a whole, pitchers put up a .132/.164/.169 batting line in over 5,500 plate appearances in 2013. Zack Greinke was by far the best hitting pitcher in the game, putting up a .328/.409/.379 batting line in 72 plate appearances for the Dodgers (thanks to a .396 BABIP). I'm guessing he won't be as successful at the plate again next year, but it happened in 2013 and he deserves credit for it.
Which pitchers have been the most productive hitters over the last three seasons? There are a few ways to look at it, starting with plain ol' batting average. Here are the ten best hitters for average among pitchers since 2011 (min. 100 PA).
Greinke, .236
Mike Leake, .229
Clayton Kershaw, .204
Yovani Gallardo, .198
Eric Stults, .198
Jhoulys Chacin, .196
Stephen Strasburg, .196
Cole Hamels, .186
Jason Marquis, .183
Cliff Lee, .181
That's it, only three pitchers have managed to top the Mendoza Line over the last three seasons. Leake was quite the hitter in college -- .325/.453/.538 during his sophomore and junior seasons at Arizona State before being drafted -- so it makes sense that he would do relatively well in the big leagues.
Batting average is one piece of the hitting pie, though. Hitting for power and getting on base via walks also matter. Here are the ten best hitting pitchers over the last three years in terms of OPS+, which combines everything and is adjusted for ballparks and what not.
Greinke, 69
Leake, 50
Strasburg, 43
Gallardo, 38
Kershaw, 37
Stults, 36
Travis Wood, 34
Hamels, 27
Chacin, 21
Jonathon Niese, 21
Greinke is tops again, and, just for reference, the best hitting pitcher in terms of OPS+ over the last three years was about as "good" as Jason Kubel (69 OPS+) in 2013. Kubel was designated for assignment and released by a non-playoff team at midseason.
Let's take it one more step further and look at oWAR, or the offensive component of WAR. Again, limiting ourselves to pitchers who batted at least 100 times since 2011, we get:
Greinke, 1.7
Kershaw, 1.6
Leake, 1.5
Gallardo, 1.2
Lee, 1.0
Strasburg, 0.9
Wood, 0.9
Jordan Zimmermann, 0.8
Tim Hudson, 0.8
Matt Cain, 0.8
Greinke managed to add almost two wins to his team's ledger with his bat over the last three seasons, and that's actually really good. Among the position players who failed to crack 1.7 oWAR in 2013 were Yoenis Cespedes (1.6), Brandon Phillips (1.6), Gerardo Parra (1.5) and Albert Pujols (1.3). Granted, Greinke did it over the course of three years, but it was still only 169 plate appearances. Those other four guys had several hundred more.
It's clear from our cherry-picked leaderboards that Greinke has been the best hitting pitcher in baseball over the last three years. It's not terribly close either when you consider he batted 84 fewer times than Kershaw and 35 fewer times than Leake. Pitchers are terrible hitters, but Greinke has been slightly less terrible than all of his peers.
Francisco leads the Dominican Winter League with seven home runs

Thome deserves enshrinement and here's why the case against him does not hold up

The Twins have already fortified the bullpen with Addison Reed, and now they want to address...
The Orioles likely want pitching, and the Indians have plenty of it

Halladay died in a November plane crash off the coast of Florida

The power-hitting outfielder is headed to Toronto