Leaderboarding: The best and worst at manager challenges
Which MLB skippers have the highest and lowest success rates when it comes to challenging calls on the field? Let's find out.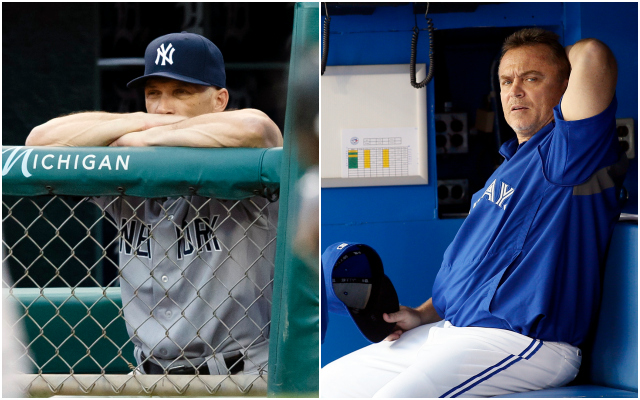 The 2014 season of course marks the first time that managers can challenge calls on the field and force a replay review. While doing so is ultimately the manager's decision, much depends upon the information he's given by the replay assistant and coach in the dugout. Challenges come with a potential cost, as an unsuccessful appeal means no more challenges for that game, while a successful effort yields an additional challenge. 
With all that in mind, let's take a quick look at which skippers (and their relevant lieutenants) have had the most and least success when it comes to challenging umpiring decisions this season. 
First up, the guys who are doing it right ... 
Highest percentage of successful challenges, 2014
Manager, team
No. of challenges
% successful
Joe Girardi, Yankees
24
79.2
Mike Redmond, Marlins
23
73.9
Bruce Bochy, Giants
32
65.6
Fredi Gonzalez, Braves
28
64.3
Bo Porter, Astros
25
64.0
Girardi is pretty well lapping the field, as you can see. Since replay-review decisions are sourced from New York, feel free to read into these numbers the conspiracy theory of your choosing. 
Now, for those who'd be better off just staying in the dugout and keeping quiet ... 
Lowest percentage of successful challenges, 2014
Manager, team
No. of challenges
% successful
John Gibbons, Blue Jays
40
30.0
Mike Matheny, Cardinals
23
30.4
Bryan Price, Reds
20
35.0
Rick Renteria, Cubs
48
39.6
Joe Maddon, Rays
39
41.0
 Data: Baseball-Reference.com
So Gibbons is somehow 12-for-40 when it comes to challenging calls. Maybe his replay assistant needs to sit closer to the monitor, or perhaps Gibbons needs to go over his signals with his coaches. Elsewhere, Renteria seems to take a preternatural delight in challenging calls, as his 48 grievances tops the loop by a comfy margin. Or maybe he's just grouchy.
As mentioned, I don't think this "skill" is reducible to the manager himself -- it's collaborative -- but some teams certainly do it better than others, at least thus far. 
Our Latest Stories
Boston wants to add two big bats to their lineup, not just one

Even more relievers signed on the final day of the Winter Meetings

Keep tabs on the top 50 free agents right here
The league is not happy Ohtani's medical information leaked

Kansas City and Baltimore were quite busy at the Rule 5 Draft

Piscotty's mother was diagnosed with ALS earlier this year