Marlins work to solve their Heath Bell problem
The Marlins were very well aware of the fact that Heath Bell was striking out fewer and fewer hitters over the past two years, and it still didn't stop them from handing him a three-year, $27 million deal last winter. But what they never saw coming, and what they are rapidly trying to fix now, is his sudden and inexplicable loss of the strike zone in 2012. ...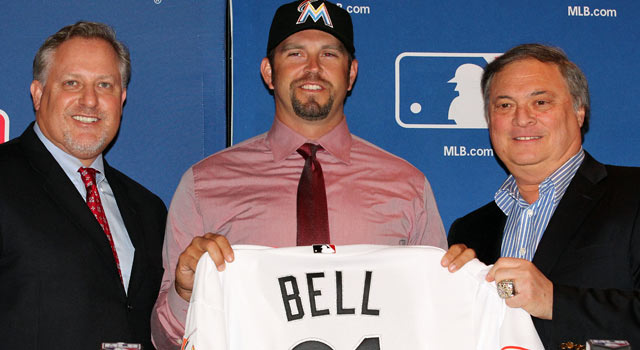 The Marlins signed Heath Bell to be their shutdown closer. He hasn't lived up to those expectations yet.
(Getty Images)
SAN DIEGO -- The
Marlins
were very well aware of the fact that
Heath Bell
was striking out fewer and fewer hitters over the past two years, and it still didn't stop them from handing him a three-year, $27 million deal last winter.
But what they never saw coming, and what they are rapidly trying to fix now, is his sudden and inexplicable loss of command in 2012.
Ninth innings unexpectedly have become five-alarm fires for the Marlins this season, and manager Ozzie Guillen is knee-deep into a dilemma he never dreamed he'd have to face: Exactly how much to shorten the leash on the Marlins' expensive new closer.
"We're going to be a better ballclub with him as the closer," Guillen said before Friday's series opener in San Diego.
But a couple of hours later, Bell blew his fourth save in seven opportunities this season -- and second in three nights. Though the Marlins won their fourth consecutive game, this one 9-8 in 12 innings, Guillen didn't sound like a manager riding a winning streak.
"We've gotta do something," he said regarding Bell a few minutes after midnight. "We can't be waiting anymore. Tomorrow we'll talk to him about it."
Bell now is 0-3 with an 11.42 ERA and four blown saves, and it's getting uglier by the day. Wednesday in San Francisco, Guillen hooked him after he surrendered three consecutive hits to open the ninth. Hard-throwing right-hander 
Steve Cishek 
replaced him.
In San Diego on Friday, Bell entered with the Marlins leading 8-7 in the ninth and it took just two batters for him to turn it into a tie game. Jesus Guzman led off with an opposite field double, and darned if Cameron Maybin didn't follow with an RBI double down the same right-field line.
Bell's growing struggles have the Marlins on edge, and if he doesn't reverse his course soon, Guillen might have no choice but to pull the plug and go with Cishek as closer.
"I hope it's not," Guillen had said before the game. "I will do everything I can to not."
But: "Heath will be the one to tell me how long he's going to be out there by what I see."
What Bell "told" Guillen again on Friday night was not good. Now, the only thing that may keep Bell in the job another day or two is that the Marlins' bullpen will be smoldering from Friday night's marathon in which they ripped throughs six relievers.
Through 11 appearances over the Marlins' first 26 games, Bell has more walks (10, including two intentional) than strikeouts (six). He's retired only six of 11 first-batters faced. Lefties are hitting .308 against him, and right-handers are scorching him to the tune of .409.
And his strikeouts-per-nine-innings ratio has declined from a career-high 11.1 in 2010 to 7.3 last year to 5.9 in 2012.
"He's not the same guy," one scout who has watched him recently said.
Bell's command is off. His velocity is down. A fastball that once touched 94, 95 is now 92.
Are these all indicators that, at 34, the three-time All-Star's best days are behind him?
Or is the combination of the pressures of a lucrative new contract with the fact that he's living across the country from his wife and four children until school lets out in June conspiring to throw him off course?
Some of the Marlins were hoping this week's trip West to the familiar parks in San Francisco and San Diego might be just the tonic to get him going.
"I didn't realize how hard it was going to be," Bell said of the split with his family, noting that this weekend's reunion "will be fun. I think that's what's been lacking, a little bit of fun."
Fun, and strikes, are what's been lacking.
Bell and pitching coach Randy St. Claire noticed a couple of mechanical issues about 10 days ago, a couple of bad habits that Bell said he fell into last season as well. He thinks those are fixed, and though he didn't walk anybody on Wednesday, he didn't retire a Giants batter, either.
But this is how bad he's been going: Even though all three Giants who faced him tagged him for hits Wednesday, Guillen says he liked what he saw much better simply because Bell finally was throwing strikes again.
As he and St. Claire continue to develop their relationship, Bell has been tempted to seek out familiar faces as his slump has deepened. He considered phoning his old pitching coach in San Diego, Darren Balsley, to see what he saw.
"But being here for three or four years, I don't want to step on anybody's toes," Bell said. "Plain and simple, out of respect.
"There've been numerous times when I wanted to pick up the phone. But out of respect, I didn't."
His current walks-per-nine innings rate (9.4) and WHIP (walks plus hits divided by inning pitched, and his is at 2.739) are a recipe for disaster. Thursday in San Francisco, Guillen called for
Edward Mujica
to preserve a 3-2 ninth-inning lead -- Mujica picked up his first save of the season -- but that was only because Bell had worked on each of the preceding two days.
Now, Bell appears to be hanging onto the ninth inning by a thread. A thread that could be snipped as early as Saturday.
"I think maybe it was just not being comfortable," Bell said. "New environment. You can't put it on one thing. You can talk to Albert [Pujols] up north in Anaheim and he's probably the same way.
"You've got a new city, you want to do well for that team, you've got new guys, new routines."
Bell says the only thing to do is to fight his way out of it. He jokes that if he puts his head down, "I've got
Carlos Zambrano
on my team, and he's going to beat me up."
"It's been really tough," Bell continued. "The simple fact is, I know I can pitch better than I have. I haven't done it. We're not winning.
"I think of the three blown saves, and our record could be completely different. We could be 14-11 right now instead of 11-14. So it's really frustrating for me."
There's still a long way to go, but with a new ballpark and a club-record $101 million payroll, the Marlins, now 12-14, are playing for keeps. And form their perch in last place in the NL East, five games behind the Nationals entering the weekend, they can't afford to allow many more ninth-inning leads to escape.
"I don't want to sit here like, 'Oh my God, should we bring in this guy?'" Guillen said of the idea of making a change. "[Bell] is going to be out there. I'm not the type of guy to worry about what people think or do. You solve your own problems.
"Hopefully, we solve this problem."