Miguel Cabrera ready for Tigers' run, Triple Crown encore
Even Triple Crown winners get the blues.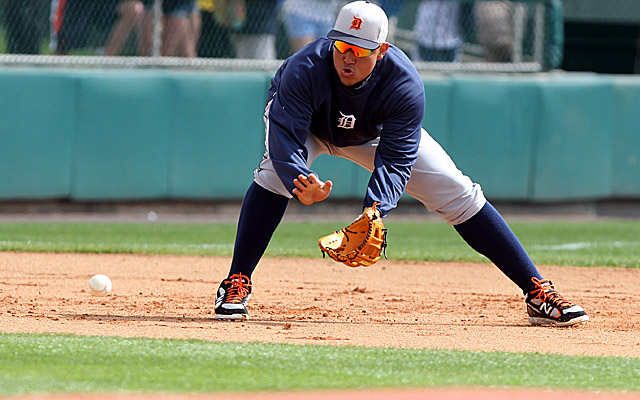 LAKELAND, Fla. -- Even Triple Crown winners get the blues.
Here is Miguel Cabrera, freshly back into the Tigers' camp following a detour to the World Baseball Classic.
Here he is after a winter of being the toast of Venezuela. First Triple Crown winner since Carl Yastrzemski in 1967, American League Most Valuable Player, all-around sledgehammer slugger.
"They feel the love and the passion," Cabrera said, speaking of his King-Is-Home visit to his native country for 10 days over Christmas and New Year's. "They have so much love for this game.
"They feel so proud."
He beamed. What a reception. What memories.
Then, with the precision timing of a world-class comedian, Cabrera grinned and continued: "They don't feel too proud now because we lost in the World Baseball Classic.
"That's baseball. You win some, you lose some."
While headlines in Venezuela blared screamers like "Worst Thing in the World", Cabrera skedaddled back to Detroit's camp to resume preparation for one of the most anticipated encore seasons in recent years.
Here's the thing: People around Detroit believe, and with good reason, that we still may not have seen the best from this growing, growling Tiger.
His AL-leading batting average last season (.330) was 14 points down from where it was in 2011 (.344). His on-base percentage (.393) was down 55 points (.448).
Expectations are outsized for the big man who crushed 44 homers and knocked in 139 runs -- both career highs -- for the AL champions.
Because of his intimidating size and wrecking-ball swing, there are a few things you may not know about him.
Because of a couple of ugly, well-publicized incidents with alcohol earlier in his career, there are a few wrong impressions you may have of him.
He's playful. He's funny. He's a team player. He is popular with his teammates (and not just because of his production).
Despite what you may have heard, his defense at third base is even a few ticks above acceptable.
"He's a better third baseman than I thought," new Tigers outfielder Torii Hunter said. "He's a good third baseman."
Owner of nine Gold Gloves, Hunter knows a few things about defense.
"He plays the game," Hunter said. "If anything, I see a better defensive player than I saw wheI played against him.
"He's a better defensive player than people think."
Cabrera also is an exceptionally hard worker, and not just in the batting cage. Though most of the heavy lifting was done for his move to third last spring, he is not slacking off this spring. He continues to take extra ground balls and work on his footing.
"I need to," he said. "I'm doing the same work as last year, trying to get better."
Then he rapidly moved his feet several times, as if dancing.
"Get quicker," he said, grinning.
Though he's more athletic than you would ever guess for such a big man, he'll never be confused with a speedster. But he does have terrific hands -- soft hands in scouts' parlance -- which allow him to handle things at third and, of course, with the bat.
He spent much of the winter at home in the Miami area, shepherding his 7-year-old daughter to school. There was the trip home to Venezuela for the holidays. A trip to New York in January for the Baseball Writers' Association of America's big awards dinner. A couple of appearances in Detroit at an autograph show and TigerFest.
"The winter was kind of busy," Cabrera said. "A lot of interviews, especially back home in Venezuela.
"But it was good. It was great."
Last year still has not completely sunk in.
"I never think in my life that I'd ever do that," he said.
It probably will not sink in anytime soon, either.
Because since he started preparing for '13, he says, he has not allowed himself even a few moments here or there to sit back and think about what he accomplished in '12.
"I don't want to," said Cabrera, who turns 30 on April 18. "I want to stay quiet and do my work."
Looks like it's working. Big surprise.
In Cabrera's first 42 at-bats this spring -- Grapefruit League games, WBC games, a Tigers' exhibition against Florida Southern University -- he blasted eight homers.
Even at that, he does not feel like he's quite ready for the season. Though he did get 12 at-bats in three WBC games, he would have liked more swings away from the games.
"It was hard" to get work in, he said, noting the lack of time in the batting cages because of multiple WBC teams descending on one facility in each of the pools.
"If you play early, you've got to get out of there quick because another team is coming in," he said. "Things happen quick."
One thing Hunter immediately noticed is Cabrera's penchant for working, and working smart. He stays inside the ball during batting practice. Stays disciplined in his routine. Takes what he does in batting practice into the games.
In that sense, he reminds Hunter of Albert Pujols, with whom Hunter played last season in Anaheim.
"Albert is really good with his power to right-center," Hunter said. "Miguel can hit it anywhere with power. He's amazing."
By the time spring ends, Cabrera figures, he will have taken all those extra swings that will have him ready for the grind of 162 games.
He will work on making his native Venezuela proud again, maybe help ease the sting of that lightning-quick WBC departure.
And he will leave 2012 to the historians as he chases a World Series ring for the city of Detroit.
"To be honest, a lot of people tell me that last year is over," Cabrera said. "Move forward, focus on what you can do this year.
"My mind is only concentrating on playing hard. Playing hard every single day.
"Stay healthy, be good, and see what happens."