Motus Global seeks to help cut down on pitcher injuries
Motus Global has a sleeve armed with technology to measure how much torque is placed on the arm on each pitch.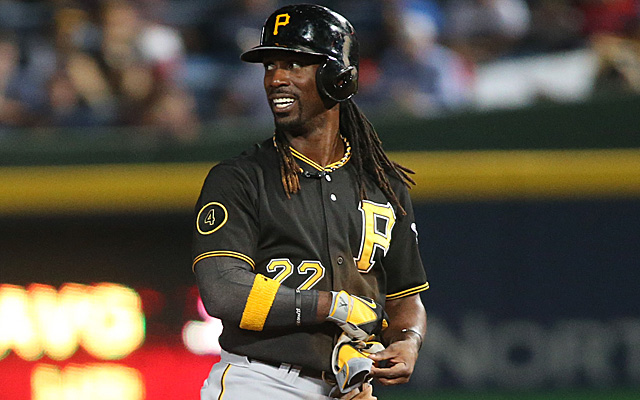 SAN DIEGO - In light of all the Tommy John surgeries we see on an annual basis, Major League Baseball teams are looking for every edge possible when it comes to monitoring the health of their pitchers. Nine teams last season enlisted the help of Motus Global and the company is courting others.
Motus Global uses technology that acquires motion data via a sleeve with a 3D motion sensor embedded. In meeting with the CEO Joe Nolan, director of business development Bryan Goelz and vice president Ben Hansen, I had the opportunity to see exactly how it works and tried on two different sleeve models.
Though you can definitely feel the sleeve, it isn't constrictive. I'd compare it to wearing something under your jersey like Under Armour. The company uses technology for all body parts, so athletes like Andrew McCutchen -- their MLB spokesman -- can see if their swing is changing from pitch to pitch, for example. The main focus moving forward, though, is tracking the motion of pitchers and hoping to help cut down on serious elbow injuries.
"We want to be a piece of the puzzle," Nolan said, regarding the hope to help cut down on pitching injuries.
The sleeve can measure such things as arm slot, torque and velocity. Thus, if a pitcher tires and his arm slot starts to drop, the pitching coach and manager could see it happening via the app in real time. It could only be a few inches and not easily visible with the naked eye, which is why the app is an improvement.
The data updates instantly with each motion. Preliminary findings have shown that long toss -- throws of over 180 feet -- places more stress on the elbow than game-action pitches. The data also found comparable stress levels in dry work/drills aside short-distance bullpen sessions, showing that every throw counts towards cumulative stress being placed on the arm. As such, pitch counts aren't nearly as important as total throws in a day, including pickoff throws and in-between inning warmups. The Motus app tracks all of this.
Nolan and his team have been meeting with ballclubs here at the Winter Meetings for the past two days. The hope is that by spring training, all 30 clubs are signed up with Motus. The company is moving toward having recommendations on when pitchers might be getting into the danger zone with workload, arm slot and torque, but ultimately each club will have their own guidelines.
Still, having a tool like the Motus app is yet another layer of guidance in hopefully avoiding catastrophic injury.
Then again, three trades in four days might be behind Jerry Dipoto's usual pace

Ohtani is arguably the best hitter and pitcher in Japan

The O's need rotation help, and Cobb is available for hire
The Red Sox and Cardinals are expected to make trade offers next

The free agent first baseman may be a fit in St. Louis

The front office changes in Atlanta continue