NL Cy Young Watch: Kershaw separates himself from the pack
Dodgers left-hander Clayton Kershaw has taken over as the clear favorite for the NL Cy Young Award.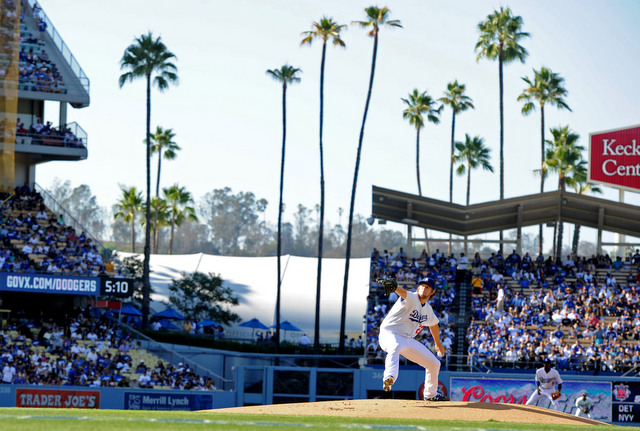 More Awards Watches: American League MVP | National League MVP
Our bi-weekly look at the various award races continues today with the two Cy Youngs, starting with the National League. We'll cover the American League later on. As a reminder, this is not who we would think should win each award. It's a look at who is most likely to win based on voter tendencies and all that stuff.
Clayton Kershaw, Dodgers: After twirling eight shutout innings against the Phillies on Saturday, Kershaw leads all of baseball in ERA (1.80), ERA+ (198), innings (190 1/3), WHIP (0.85), and hit rate (5.8 H/9). His modest 12-7 record has more to do with a shortage of run support than anything else -- he has six no-decisions in starts where he allowed two or fewer runs (four when he allowed one or fewer run). Kershaw is on pace to be the first pitcher with a sub-2.00 ERA since Roger Clemens in 2005 (1.87), and if that isn't enough, he also leads all pitchers with 7.0 WAR. The Dodgers lefty is in prime position to win his second Cy Young Award in the last three years (with another top-two finish in the voting), all before his 26th birthday.
Matt Harvey, Mets: Harvey leads the NL in strikeouts (187) and both his WHIP (0.89) and H/9 (6.4) are comparable to Kershaw's. His 9-4 record for a bad team is actually pretty good, and obviously a 2.25 ERA (160 ERA+) is excellent. Harvey might fade out of the Cy Young race in the coming weeks because of innings -- he's at 171 2/3 right now, and the Mets have made it clear they won't overwork him in his first full season as a big leaguer. If he gets capped at 200 innings or so while the other Cy contenders throw 230+, he'll be at a major disadvantage come voting time.
Adam Wainwright, Cardinals: Although he holds the dubious distinction of leading the NL in hits allowed (173), Wainwright is a legitimate Cy Young candidate because he leads the league in wins (14) while leading all of baseball in complete games (four), batters faced (743), walk rate (1.2 BB/9) and K/BB ratio (6.92). Waino is a classic workhorse who is just behind Kershaw with 189 2/3 innings pitched, but his still awesome 2.66 ERA (137 ERA+) and 1.04 WHIP are a notch below the Los Angeles southpaw.
Patrick Corbin, Diamondbacks: The first time All-Star has the flashy 12-3 record and strong 2.48 ERA (154 ERA+) going for him, though he lacks the strikeout rate (7.7 K/9) and bulk innings total (163 1/3) of the top Cy Young candidates. Corbin has been awesome this year, but right now he clearly lags behind the top three candidates.
Jose Fernandez, Marlins: After holding the first place Dodgers to one earned run in six innings on Monday night, Fernandez owns a 9-4 record with a 2.41 ERA (162 ERA+). He's also got a gaudy WHIP (1.02) and strikeout rate (9.7 K/9). Unfortunately, the 21-year-old's case is hurt by a relatively light workload (145 2/3 innings), and he figures to be shut down at some point soon to preserve his precious right arm. Fernandez threw 134 innings last season, his only full year in the minors, so he might not be allowed to throw much more than 175-180 innings this year.
Jhoulys Chacin, Rockies: Talk about a great season that has gone under the radar. Chacin actually ranks fourth in the league with 5.1 WAR, behind only Kershaw, Wainwright (5.7) and Harvey (5.5). Amazingly, he has allowed just six (!) home runs in 155 1/3 innings this year for an MLB-best 0.3 HR/9. Remember, this guy plays half his games in Coors Field. Chacin's record (11-7) and ERA (3.24 and 135 ERA+) are a notch below the usual Cy Young standards, however.
Cliff Lee, Phillies: Is there a more boring great pitcher in baseball than Lee? The guy goes out and logs elite innings every five days without much fanfare. He's 10-6 with a 3.19 ERA (119 ERA+), and believe it or not, that represents his worst season since 2007. Lee is showing some signs of slipping with age -- a three-year decline in strikeout rate, most notably -- but he's still better than most.
Francisco Liriano, Pirates: After striking out 13 across seven scoreless innings against the Padres on Monday night, Liriano is now sitting on a 14-5 record with a 2.53 ERA (139 ERA+) and a 9.4 K/9. He's pitched like an ace, no doubt about it. The drawback here is the lack of innings compared to the other Cy Young contenders. Liriano has thrown just 121 innings (19 starts) after missing the first six weeks of the season with a broken non-pitching arm. On a start-by-start basis, he's been as good as anyone. Unfortunately he's made fewer starts than everyone else.
No, you're not imagining things. This MLB offseason has been very slow compared to the last...

Francesa will retire from radio next month, so he'll have plenty of free time next summer

Get your sports fans something that they'll wear all year
Get 15 percent off any order of more than $75 at CBS Sports Shop

The Twins need help in the rotation, and they may look to the trade market to find arms

Here are the bullet-points of what went down Tuesday regarding MLB and the Braves' punishm...