Pirates' Jeff Locke unknowingly dragged into game-fixing hoax
Pirates lefty Jeff Locke was unknowingly dragged into a web of lies about games being thrown, according to a Sports Illustrated article.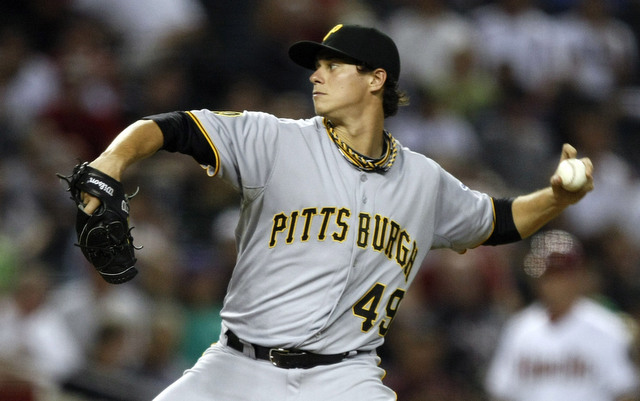 More MLB: Power Rankings | Expert Picks | Latest news & notes | Fantasy news
In a must-read article at Sports Illustrated, Lance Williams and Brian Tuohy of the Center for Investigative Reporting detailed a wild game-fixing hoax that occurred from 2012-13. Pirates' left-hander Jeff Locke was unknowingly dragged into the scheme by a childhood friend.
Here is a snippet of the story:
All over the country, people who bet on baseball in the fall of 2012 began hearing that Locke and a mysterious handicapper were fixing Pirates games. Like Congero, some complained. Those reports sent shivers through Major League Baseball, prompting a probe of unusual scope and intensity: MLB's own investigators and organized-crime detectives from the New York City Police Department were deployed to learn the handicapper's identity and unravel the plot.

Before it was over, their investigation would lead to a tense standoff by the side of an Arizona desert road, where more than a dozen armed officers confronted two frightened young women with a baby in an effort to track down James Hunter. The outcome would hinge on separating fact from fantasy in the interpersonal dynamics between two former youth-baseball teammates from a small New England town — one of whom grew up to become a major league pitcher, the other a sports gambler.
Long story short: a childhood friend of Locke's named Kris Barr was selling betting tips for a living, and at one point he was telling clients he and Locke were in cahoots and throwing games. Locke was struggling earlier in his career and Barr, who used the name James Hunter, told clients the southpaw was losing intentionally.
MLB launched an investigation into both Barr and Locke after receiving several tips. They studied Locke's outings to determine if he was intentionally making poor pitches or throwing with less velocity, and they monitored bets placed against the Pirates. There was no spike in bets placed, which is uncommon when games are being thrown.
The investigation determined the claim of game-fixing was a total lie born from Barr's jealousy of his friend's success. The league cleared Locke of any wrongdoing, which he reiterated on Tuesday:
Locke: "All I know is that I was 100 percent cooperative with MLB. They checked me out, 100 percent cleared, as far as I know."

— Bill Brink (@BrinkPG) August 13, 2014
Barr was not arrested or charged with anything since he technically did not break the law. The league instructed him not to contact Locke and continue to monitor him.
Needless to say, MLB has taken allegations of game-fixing very seriously given the lifetime bans of Pete Rose and members of the 1919 Black Sox.