Red Sox hire John Farrell as next manager
The Boston Red Sox have found their next manager, and it's former Blue Jays manager John Farrell. As part of the transaction, infielder Mike Aviles has been traded to the Blue Jays in exchange for relief pitcher David Carpenter.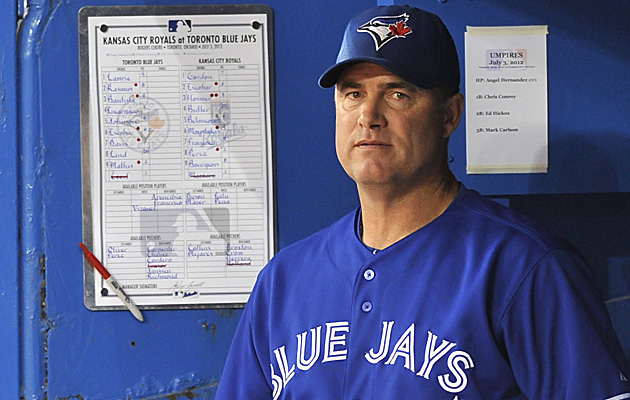 Farrell is the new Red Sox manager. (US Presswire)
The Boston Red Sox have found their next manager, and it's now-former Blue Jays manager John Farrell. The Red Sox acquired Farrell from the Blue Jays and signed him to a three-year contract. The move was made official Sunday morning.
"I'm extremely excited to be returning to the Red Sox and to Boston," said Farrell in a statement. "I love this organization. It's a great franchise in a special city and region, with great fans, and we want nothing more than to reward their faith in us."
Considering Farrell was still under contract with Toronto through the 2013 season, the Red Sox owed the Blue Jays compensation, and that'll come in the form of infielder Mike Aviles.
Aviles, 31, hit .250/.282/.381 with 13 homers, 60 RBI and 14 stolen bases this past season for the Red Sox. He can play second base, shortstop or third base.
Also, right-handed pitcher David Carpenter has been sent from the Blue Jays to the Red Sox. Carpenter, 27, had an 8.07 ERA and 2.07 WHIP in 33 appearances last season for the Astros and Blue Jays.
Farrell, 50, was the Red Sox pitching coach from 2007-10. He was then hired as the Blue Jays manager prior to the 2011 season. With the Blue Jays, Farrell went 154-170 in two seasons, finishing in fourth place both times.
The Red Sox were stable at manager from 2004-11 with Terry Francona at the helm, but a September collapse and some other behind-the-scenes nonsense led to Francona's departure from the managerial post.
Bobby Valentine was then hired to take over, but the 2012 season was an unmitigated disaster for Boston. The Red Sox finished 69-93, finishing last place in the AL East. It was the Red Sox's worst record since 1960 and first last-place finish since 1932. Valentine was fired Oct. 4. though he was pretty well considered "dead man walking" for the last six or so weeks of the season.
Farrell has pretty clearly been the Red Sox's top choice to take over, considering all the reports the past few weeks -- not to mention the fact they had to trade a player to get him.
"We are thrilled to name John Farrell as our new manager," general manager Ben Cherington said in a statement. "John has been a major league pitcher, front office executive, coach, and manager. His broad set of experiences, and exceptional leadership skills, make him the ideal person to lead our team. I have known him in various capacities throughout my career, and I hold him in the highest regard as a baseball man and as a person."
It's the fifth time in baseball history a manager has been moved for compensation. In 2011, Ozzie Guillen was sent to the Marlins while the White Sox received two minor-leaguers. In 2002, the Rays acquired Lou Piniella from the Mariners for outfielder Randy Winn. In 1976, the Pirates hired Chuck Tanner and sent catcher Manny Sanguillen to the A's. In 1967, the Mets acquired Gil Hodges from Washington and sent right-hander Bill Denehy and cash Also, in 1960, the Indians and Tigers traded managers Joe Gordon and Jimmy Dykes.
For more baseball news, rumors and analysis, follow @EyeOnBaseball on Twitter, subscribe to the RSS feed and "like" us on Facebook.
Gallardo spent the first eight years of his career in Milwaukee

MLB revenues are at a record high right now, but teams aren't spending it on players

Chicago added Tyler Chatwood earlier this offseason but might not be done adding to the ro...
The Dodgers and Braves pulled off a whopper on Saturday

Sabathia will reportedly spend a 10th season in the Bronx

Fowler suffered a knee injury at Chicago's Guaranteed Rate Field