R.I.P., 2013 Philadelphia Phillies
For the second straight year, the Phillies will not be heading to the postseason. Let's review their season now that they've been eliminated.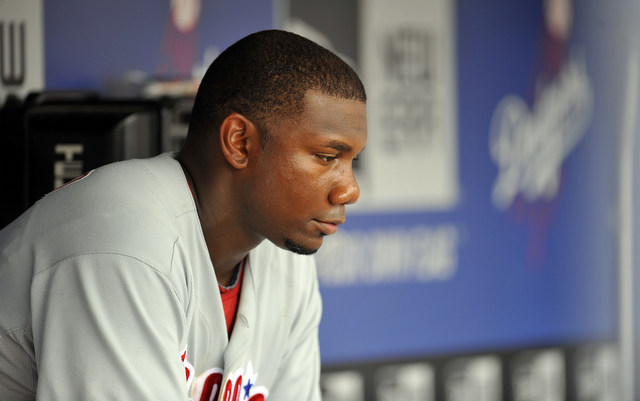 RIPs: Astros | Marlins | White Sox | Cubs | Brewers | Mets | Giants | Rockies | Twins
For the first time 2002, the Philadelphia Phillies will finish with a losing record. They come into Sunday at 69-79 and were eliminated from postseason contention just a few day ago. The team's run of five consecutive division titles (2007-11) is very much in the rear-view mirror these days. Let's pay our respects to the 2013 club.
What went right
Aside from more brilliance from Chase Utley (123 OPS+) and Cliff Lee (128 ERA+), the Phillies watched Domonic Brown finally start to deliver on his promise. He has hit .272/.318/.511 (125 OPS+) with a team-leading 27 home runs and was a first-time All-Star. Darin Ruf (13 HR and 123 OPS+) has impressed in his 60 games as well.
What went wrong
Geez, where to start? I guess with Roy Halladay, the best pitcher in the world as recently as 2011. He has a 7.28 ERA (53 ERA+) in 11 starts and missed a big chunk of the season following major shoulder surgery. Ryan Howard (11 HR and 113 OPS+) and Ben Revere (82 OPS+) missed significant time with knee and foot injuries, respectively. High-priced setup man Mike Adams (97 ERA+) was limited to 25 innings because of a shoulder problem.
As for the guys who stayed healthy, Jimmy Rollins saw his OPS+ continue to decline from 101 in 2011 to 98 in 2012 to 81 in 2013. It's not often 34-year-old shortstops reverse a trend like that. A sluggish first half and dynamite second half means Cole Hamels has merely been pretty good and not great overall (109 ERA+). He's in the first year of a six-year, $144 million contract. Carlos Ruiz (106 OPS+) has been good for a catcher but below what he was just last year. He also missed 25 games due to an amphetamine-related suspension. None of the club's young pitchers (starters or relievers) really stepped up an solidified their spot on the team going forward.
MVP: Lee over Brown and Utley, mostly because the two position players spent time on the DL.
LVP: Howard, whose power continues to decline even when healthy. He can't hit left-handers either and is owed a lot of money. A lot.
Free agents to be: RHP Roy Halladay and C Carlos Ruiz.
Gameplan heading into the offseason
Team president David Montgomery recently came out and said Ruben Amaro Jr. will remain the general manager heading into 2014. Amaro has shown a tendency to target big-name players whenever possible -- even if they're declining and/or unproductive like the Youngs (Michael and Delmon) -- but he can't really afford to do that with his team as constructed. Not if he wants to get back to the postseason, anyway.
The Phillies have already replaced manager Charlie Manuel with Ryne Sandberg and signed Cuban right-hander Miguel Alfredo Gonzalez to a three-year deal, plus they inked Utley to a contract extension. That's three pretty important pieces of offseason business already addressed. The team still needs to add some pitching -- the younger the better -- and add some more thump to the lineup, preferably in the outfield or on the left side of the infield. This club isn't one or two pieces away from contention as presently constructed.
Ridiculously premature prediction for 2014
Howard and Rollins continue to underperform relative to their career averages while Lee, Hamels and Utley remain among the game's elite. Amaro's parade of stopgaps isn't enough to jump some other teams in the divison -- the Nationals and Braves, primarily -- meaning another postseason-less season is on the horizon.
Get 15 percent off any order of more than $75 at CBS Sports Shop

Get your sports fans something that they'll wear all year

No, you're not imagining things. This MLB offseason has been very slow compared to the last...
Francesa will retire from radio next month, so he'll have plenty of free time next summer

The Twins need help in the rotation, and they may look to the trade market to find arms

Here are the bullet-points of what went down Tuesday regarding MLB and the Braves' punishm...