'Rock' solid: Breaking down Tim Raines' Hall of Fame case
Our look at each Hall of Fame candidate's cases for and against induction continues today with Tim "Rock" Raines.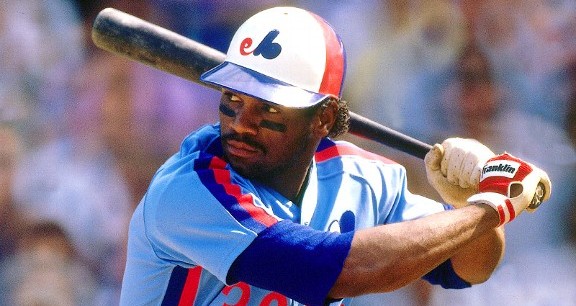 Hall of Fame cases: Luis Gonzalez | Moises Alou | Lee Smith | Fred McGriff | Don Mattingly | Jack Morris | Rafael Palmeiro | Sammy Sosa | Edgar Martinez | Jeff Kent | Alan Trammell | Larry Walker | Mark McGwire | Tom Glavine | Frank Thomas | Mike Piazza | Mike Mussina | Curt Schilling | Craig Biggio
The BBWAA Hall of Fame announcement is just three days away now, so our series analyzing each of the candidates individually is coming to an end. We've been breaking down each candidate's cases for and against induction -- not advocating for or against induction, mind you -- and letting you decide if a player is Cooperstown worthy.
At this point of the series, we've reached the players whose cases for induction are greater than the cases against. These are the guys with the best chances to get into the Hall of Fame this year.
Today we're going to cover outfielder Tim "Rock" Raines.
THE BARE ESSENTIALS
Raines played parts of 23 big league seasons from 1979-2002, 13 of them with the Expos. He also played for the White Sox, Yankees, Athletics, Orioles and Marlins. Raines retired as a .294/.385/.425 (123 OPS+) hitter with 2,605 hits, 170 home runs, 808 stolen bases, 69.1 WAR and far more walks (1,330) than strikeouts (966). He won World Series titles with the 1996 and 1998 Yankees.
This is Raines' seventh year on the Hall of Fame ballot. His support has steadily climbed from 24.3 percent of the vote in 2008 to 52.2 percent in 2013. As a reminder, a player needs to appear on 75 percent of the ballots to be inducted into Cooperstown.
THE CASE FOR INDUCTION
During his peak from 1981-87, Raines hit .310/.396/.448 (135 OPS+) while averaging 195 hits, 116 runs and 82 stolen bases per 162 games. During that seven-season stretch, he led baseball in hits (1,202), times on base (1,772) and triples (63), was second in runs (719) and steals (504), third in on-base percentage (.396) and doubles (296), fourth in WAR (38.4) and fifth in batting average (.310).
Raines stole 70+ bases six times -- second most in history behind Rickey Henderson's seven -- and he did it consecutively from 1981-86. He led the league in steals every year from 1981-84 and that includes his rookie year in 1981, when he swiped 71 bases in only 88 games. Raines finished second in the Rookie of the Year voting to Fernando Valenzuela that year.
Beyond the bulk stolen base totals -- he is fifth all-time with 808 steals -- Raines was also a historically efficient base-stealer. Those 808 career steals came in only 954 attempts, an 84.7 percent success rate. That is the eighth highest success rate in history among players who attempted at least 100 steals and the second highest among players who attempted at least 300 steals (Carlos Beltran is first at 86.5 percent).
By almost any measure, Raines is the greatest position player in Montreal Expos history. He is the franchise's all-time leader in runs (947), singles (1,163), triples (82), walks (793), stolen bases (635) and times on base (2,440). Raines is second in franchise history with 1,622 hits (Tim Wallach had 72 more hits in 1,146 more at-bats) and 48.7 WAR (Gary Carter had 6.8 more WAR in 50 more games).
Raines is also one of the game's greatest leadoff hitters ever. Among players with at least 5,000 career plate appearances from the top spot in the lineup, he ranks 12th in batting average (.294), eight in on-base percentage (.385), ninth in slugging percentage (.427) and fourth in OPS (.813).
THE CASE AGAINST INDUCTION
First and foremost, Raines was one of several players called before a Pittsburgh grand jury in 1985 as part of baseball's cocaine scandal. He testified that he used cocaine before and after games, and occasionally during games as well. He also admitted to keeping the drug in his pocket during games (so it wouldn't be found in his locker) and sliding only head-first so he wouldn't break the vial. Unlike several other players, Raines was not suspended as part of the scandal.
Raines' production really fell off in the latter half of his career. He put up a .308/.395/.446 (134 OPS+) batting line and averaged 81 steals per 162 games from 1979-87, but from 1988 through the end of his career, he hit .282/.378/.408 (115 OPS+) with 32 steals per 162 games. Raines was obviously very good from 1988-2002, but a 115 OPS+ with 30-ish steals per year isn't Hall of Fame caliber production. His case is built primarily around that 1981-87 peak.
Raines never did win a major award -- he was a seven-time All-Star and received MVP votes in seven different seasons, topping out at fifth in the voting in 1983 -- and he doesn't really have a "signature moment" that stands out in everyone's mind. If anything, becoming part of the second father-son duo to play for the same team in the same game -- Raines and his son Tim Jr. both played late in the season for the 2001 Orioles -- stands out as his signature moment.
It's also worth noting Raines was primarily a left fielder and not a particularly good defensive left fielder at that (career -9.5 dWAR).
---
Raines is one of the greatest leadoff men in baseball history but the timing of his career was unfortunate -- he played at the same time as Henderson, the unquestioned greatest leadoff man in history. Raines' production during the 1980s with the Expos was overshadowed a bit.
Monday: The cases for and against Jeff Bagwell.
The Twins have already fortified the bullpen with Addison Reed, and now they want to address...

The Orioles likely want pitching, and the Indians have plenty of it

Halladay died in a November plane crash off the coast of Florida
The power-hitting outfielder is headed to Toronto

Martinez could add some power to a Boston lineup void of it

It's almost that time of the year again, time for the Tebow madness to return