Rudolph (the reindeer) has a player page on baseball-reference.com
Baseball-reference.com created a fictional player page for Rudolph the red-nosed reindeer. It's excellent.
Tis the season ... for Rudolph the red-nosed reindeer to get a player page over on the excellent baseball-reference.com.
First the personal essentials, including his lucrative contract that includes a vesting option all the way in 2023: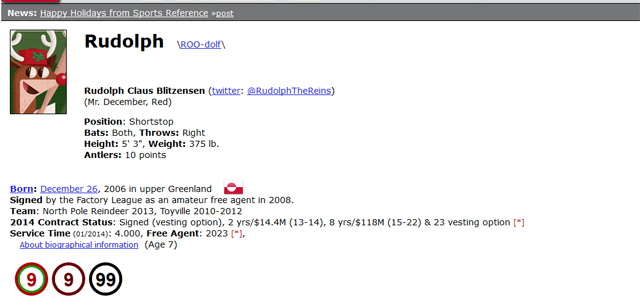 He's locked up with the North Pole Reindeer for a while and will be paid handsomely for it. Also note the size. We'll assume that he'd be taller than 5-foot-3 if he ever stands on his hind legs, so he should be able to get to a good amount of line drives to left-center from shortstop.
Now, onto the offensive stat line and similarity scores!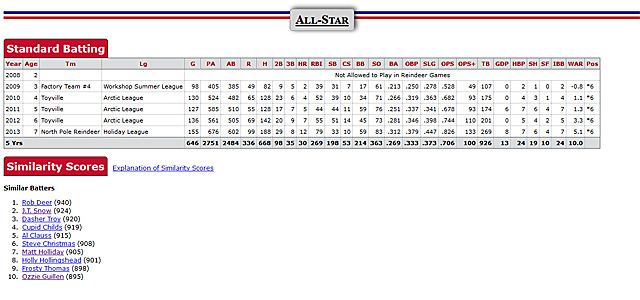 So the OPS+ went all the way from 93 to 133 in two seasons? He'll definitely be facing PED questions. As we all know, a player isn't allowed to just improve over the course of two seasons. It never happens without PEDs -- at least that's what I've heard from the masses. Also of note: 561 plate appearances in 2012 without hitting into a single double play is rather impressive. Well done, Rudolph (even though you're obviously a juicer. I don't have proof. I'm just saying. You are).
On the similars, all of them make good sense to me except Ozzie Guillen. Where does he come into play here?
Anyway, let's get a look at this chap. Onto his baseball card!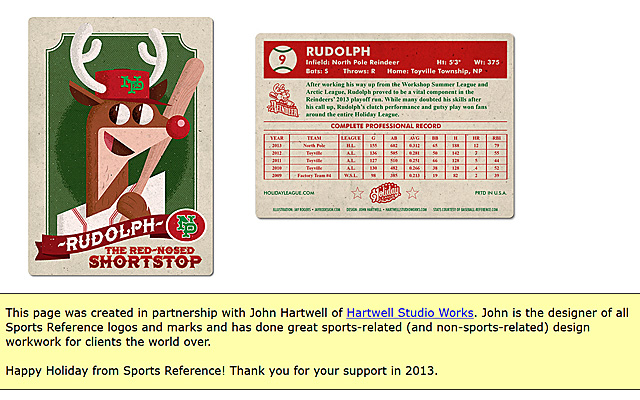 The text on the back of the baseball card reads as follows:
After working his way up fom the Workshop Summer League and Arctic League, Rudolph proved to be a vital component in the Reindeers' 2013 playoff run. While many doubted his skills after his call up, Rudolph's clutch performance and gutsy play won fans around the entire Holiday League.
Oh boy. He's a stud who is clutch and gutsy? Sounds like a polarizing figure.
The record of 38 previously belonged to Hall of Famer Frank Robinson

The report also says that Jeter had outgoing president David Samson do the firing

This wasn't a traditional hidden ball trick, but the Blue Jays pulled it off
The Tigers essentially fired Brad Ausmus on Friday, but things are going to be ugly for a...

The club made the announcement on Friday

Plus the Tigers will make a change in the dugout and all of Friday's action