Stadium Series: Detroit's Comerica Park
Next up in our stadium series is Comerica Park, home to the Detroit Tigers since 2000.
by

Eye on Baseball staff

• 3 min read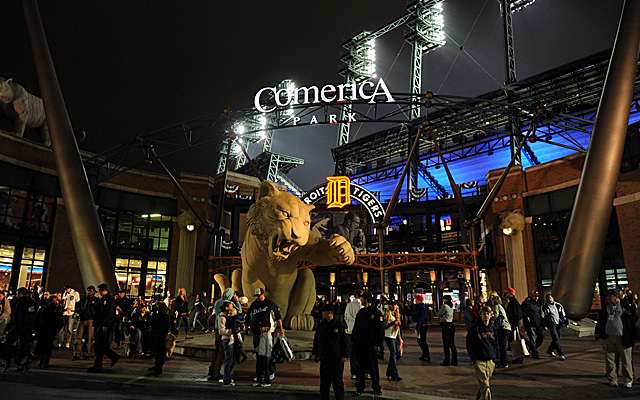 Stadium Series: Wrigley Field | AT&T Park | Busch Stadium | Yankee Stadium | Angel Stadium | Fenway Park
As part of a 10-week series, Eye on Baseball and Choice Hotels will be taking you around the major leagues, picking out the hits and highlights of some of the game's top stadiums. What to eat, what to drink and what to see both inside and outside the park will all be covered as part of the series. There's a lot to cover and uncover, so visit the comments section to let us know what we missed.
The Detroit Tigers moved out of famous Tiger Stadium to a new home in 2000, Comerica Park. It officially opened on April 11, 2000 and the Tigers have called it home ever since. The stadium seats 41,681 and the opinion here is that it's one of the more underrated venues in the majors.
Eats outside the park
There are several options within walking distance. Cliff Bell's is a nearby Jazz bar with very good food options. Don't go in there looking for a bunch of tank-tops and sandals, though. It's a bit more upscale. On the other end of the spectrum, how about Cheli's Chili (as in Chris Chelios)? Very cost-friendly options with good sandwiches and, of course, chili. Bucharest Grill is another quality, cost-friendly spot with plenty of familiar fare in addition to their speciality, the shawarma. Want some barbecue? Rub BBQ Pub is nearby with region-themed sauces and boasts "real urban BBQ."
Drinks outside the park
Hockeytown Cafe is a large sports bar that is within just a couple blocks of Comerica Park. Don't get caught up in the name, it's friendly to all sports within. The Elwood Bar and Grill has pretty typical bar food and encourages patrons to "congregate before, during and after games." The Park Bar is a good option with a decent craft beer selection, if that's your sort of thing. Rub BBQ Pub isn't a bad spot to take in some drinks, either.
What to see outside the park
Like giant sculpted tigers? You're in luck. They are all over the place. A few of the entrances (see above) are flanked by a combination of tigers and bats. Walking along the side of the stadium, you'll find a bunch of tigers heads with baseballs in the mouths on the brick walls, too. Some of this might sound kind of weird, but it's actually a real nice touch.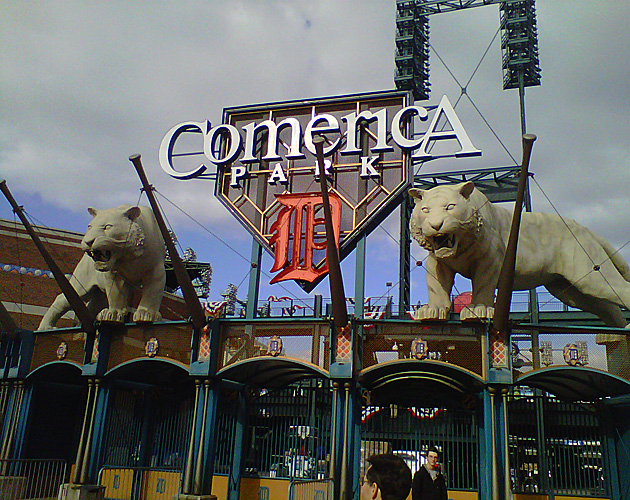 Food inside the park
No need to run through the obvious ballpark standards, because those are obviously present. Also, thanks to owner Mike Ilitch, there are obviously plenty of Little Caesar's pizza stands. What else?
How about some creative hot dogs like the pork and beans dog, late night dog (with eggs, cheese and bacon), or the poutine dog (with gravy and fried cheese curds)? The hot dog stand in Big Cat Court (near the home plate entrance) has them.
Staying in Big Cat Court, there's a Mexican stand with some nice burrito bowl options, too.
Around section 135, there's a taco cart with some excellent street tacos.
And, new for 2014, there's the Pepsi Porch sits high above the right field seats and offers up a seating and viewing area along with a variety of food and drink options.
What to see inside the park
Fans of team history won't have a shortage here. Walk around behind the outfield and you'll find statues of Tigers legends Ty Cobb, Al Kaline, Hank Greenberg, Charlie Gehringer, Hal Newhouser and Willie Horton. The names and numbers (if they had one, as Cobb didn't) are also listed on the brick wall that can be seen just over the center-field wall. There are also more names that don't correspond to statues, such as Mickey Cochrane, Sam Crawford, managing great Sparky Anderson and broadcasting legend Ernie Harwell (picture here). Speaking of Harwell, there's a statue of him on the first-base side of the stadium.
In all, the entire main concourse is a "walk of fame" with Tigers history. Those interested would be advised to arrive early and walk around, taking it all in.
The center field wall also features a large fountain that can be set to music and change color.
It's not a huge deal, but it's at least mildly interesting to see Ford Field (where the NFL's Lions play) past right field, as it is across the street.
Finally, for the kids, there's a Tigers carousel in a kids area and also a ferris wheel of baseballs.
Up next: Arlington, Texas' Globe Life Stadium
CBS Sports HQ Daily Newsletter
Get the best highlights and stories - yeah, just the good stuff handpicked by our team to start your day.
Please check the opt-in box to acknowledge that you would like to subscribe.
Thanks for signing up!
Keep an eye on your inbox for the latest sports news.
Sorry!
There was an error processing your subscription.
Rodriguez says he only has himself to blame if he doesn't get inducted

Here are the day's latest hot stove rumors

Mussina and Halladay will be inducted into the Hall of Fame come July
Utah State engineering professor and baseball junkie Barton Smith joins the podcast

The next unanimous Hall of Famer may not be as far away as you might think

Get familiar with barrels, xwOBA, Sprint Speed, DRC+ and more