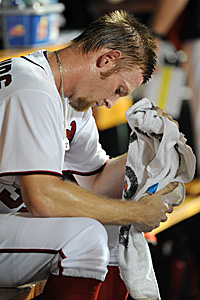 After 159 1/3 innings, Strasburg is done for the season. (Getty Images)
So the Nationals have shut down ace Stephen Strasburg for the season. This ends weeks -- actually months -- of speculation, reports and discussion as to when this would happen. The discussion as to whether or not this should have happened is sure to continue long into the offseason, unless the Nationals win the World Series. One angle that needs to be hit is the medical angle.
Is shutting down Strasburg now the medically sound thing to do? Maybe not, though there doesn't seem to be total agreement. 
"Innings (limits) should be based on symptoms and findings," said Dr. Jerome Enad, an orthopedic surgeon at West Florida Orthopedics in Pensacola, Fla. "He could have kept going without increased risk, assuming there were no (injury) symptoms found by team doctors."
Enad has performed a dozen Tommy John surgeries himself and trained under renowned orthopedic surgeon Dr. Frank W. Jobe. When I asked if Strasburg's injury risk would increase if he kept pitching deep into October, he said "unless there were symptoms, no."
Still, as we all know, injuries in sports are unpredictable.
"One of the main problems we have with pitchers who are returning after this injury is knowing what measures accurately predict the risk of tearing the ligament again," said Dr. David Geier, director of Sports Medicine at Medical University of South Carolina, who also has an excellent sports medicine blog. "We do know that the success rate -- meaning the chance of returning to pitch at the same or higher level -- is very high with Tommy John surgery. Some studies place that success rate as high as 88 to 92 percent. As surgeons, we just don't have enough data with pitchers who have retorn the ligament to know what specific risk factors correctly predict who will suffer the injury again. Is it 160 innings pitched in a season? Is it 180 or 200 innings? Is it limits just in the first full season back to pitching? Should limits be applied every season after surgery? Is it a decrease in velocity or ability to locate pitches that we should measure? We just don't have enough data yet."
The Stephen Strasburg Shutdown
There's a reason for that, and it's because there aren't a litany of cases where a big-league pitcher has retorn his UCL the season after having it repaired. Since I'm not a doctor, I always thought this meant the repaired ligament was now stronger and could deal with more use. I was wrong.
"The idea that the new ligament, and thus the elbow, is actually stronger after surgery is one of the biggest misconceptions of the surgery," said Dr. Geier. "The main reason that pitchers feel stronger after the surgery actually has little to do with the strength of the ligament. Remember this is an injury that occurs with overuse over time."
And there might be more to this.
"Players develop better habits after the surgery," Dr. Enad said. "The ligament is just as strong, but the player is now smarter. They generally work harder on mechanics and keeping their arm healthy."
One thing that is key here is that the success rate of returning from a second Tommy John surgery is much lower than the first time around. So, even if some believe the Nationals are misguided in protecting Strasburg with this kind of preemptive shutdown, being worried about him tearing the UCL again is legitimate, because it would put his career in jeopardy.
"The chances of returning to pitch at the same level would be much less than after the first
Tommy John surgery," said Dr. Geier. "Any effort to try to prevent reinjury is a step in the right direction."
Both Dr. Enad and Dr. Geier continually stressed that overuse and poor mechanics are the main factors in UCL injuries. Dr. Enad also noted that Strasburg's inexperience with heavy workloads in the big leagues could have also been a consideration for the Nationals. Remember, Strasburg threw 123 1/3 innings between the minors and majors in 2010 before tearing his UCL, so it makes sense to protect his arm from overuse this season on some level.
With the Nationals sporting the best record in baseball, though, this preventative shutdown of their ace isn't likely to be a very popular decision in D.C.
For more baseball news, rumors and analysis, follow @EyeOnBaseball on Twitter, subscribe to the RSS feed and "like" us on Facebook.