The All-Valentine's Day name team
From Pete Rose to Corey Hart to Ellis Valentine ... who had the best Valentine's Day names in baseball history?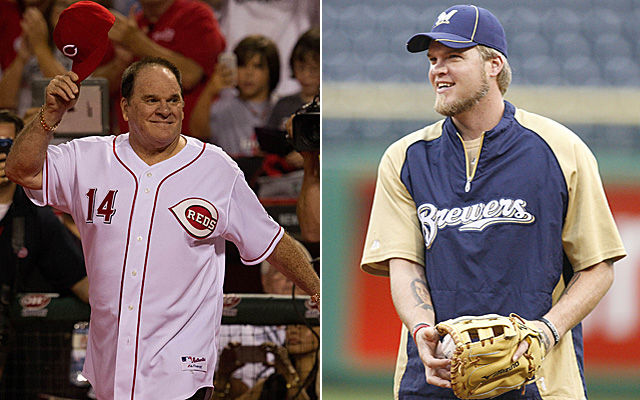 All-Thanksgiving Team | All-Christmas Team
The calendar on this fine Friday morning reads February 14, which means it's time for millions of people to show everyone else how much they're totally, head-over-heels in love by spending money in a show of public affection. That's right, it's Valentine's Day, the most annoying "holiday" on the calendar.
Just as we've done with Christmas and Thanksgiving before -- as the astute readers would have already noticed with the above links -- let's throw together an all-name team for this oh-so-momentous occasion. 
I didn't really have any rules, per se, though I did find it fun to attempt to use only one name per Valentine-related word. That is, we could have gone with many different players with some version of "Rose" in his last name, but instead I only stuck with Pete and moved onto different Valentine-related words. It lends the exercise to getting a better variety of terms.
Onward!
Catcher: Tyler Flowers
Flowers indeed. And if you think flowers will patch up a problem simply with their presence, your relationship is bound to be as much a bust as Tyler's big-league career to this point.
First base: Corey Hart
Had to have a "heart" derivative in here and the baseball registry contains zero players ever with a last name of "Heart." So we go to Hart and it's two-time All-Star and now Robinson Cano's protection, Mr. Corey Hart.
Second base: Cupid Childs
I get stupid, I shoot an arrow like Cupid ...
Sorry. There will be no Humpty Dance in this space.
Childs, by the way, had a great career in the pre-modern era, hitting .306/.416/.389 (119 OPS+) from 1888-1901. He also once appeared on our all-reindeer team, so he's versatile.
Shortstop: Leo Cardenas
Here's the pick for "card." And Leo is a fine selection, being a five-time All-Star.
Third base: Pinky Higgins
The three-time All-Star from the 1930s and 1940s had some very solid offensive seasons for the A's, Red Sox and Tigers and gets the nod as our "pink" selection.
Left field: Pete Rose
Easiest pick on the board here. What was great about Pete is I just needed to wait and see how the rest of the roster filled out before assigning him a position. He's helpful like that.
Center field: Candy Maldonado
He only played 97 of his 1,220 career games in center, but I needed a center fielder. Candy Cummings as a pitcher had a much better career (a Hall of Famer, is Mr. Cummings), but I have other choices at pitcher. In center, it was slim pickings -- so it's Maldonado as my "candy" choice.
Right field: Ellis Valentine
The former Expos All-Star had three straight 20-homer seasons in the late-'70s. I'm pretty sure his name doesn't need an explanation as to why it was included.
Left-handed starting pitcher: Frank Viola
I have no idea if anyone ever gives violets (the flowers ... I think?) for Valentine's Day, but I just searched for a close fit due to the old "roses are red, violets are blue ... " verse. As a three-time All-Star and Cy Young winner, Viola is a fine selection on merit. Is the name a stretch? I'm honestly not sure, but this isn't a scientific study. It's just a mindless, fun post. So we're using him.
Right-handed starting pitcher: Red Faber
We already had pink, so now we need a red. With that in mind, it's hard to top this choice. Faber is a Hall of Famer who anchored the White Sox rotation post-Black Sox scandal, winning 69 games from 1920-22 while leading the AL in ERA, WHIP and complete games in 1921 and 1922. He'd end his career 254-213 with a 3.15 ERA (119 ERA+).
Relief pitcher: Slim Love
Aww, how romantic. We round out our selections with "Love." Unlike the NBA's Kevin, though, Slim wasn't exactly contemporary. He pitched in the majors in 1913 and from 1916 through 1920 for the Senators, Yankees and Tigers. In 67 career relief appearances, he had a 3.48 ERA, 1.40 WHIP and three saves.
Underwhelming? Sure, but our choices both among relievers and Loves were far from plentiful.
I was going to name Bobby Valentine as my manager, but I needed Ellis for right field. So we're either breaking a rule or going manager-less. You make the call.
Now enjoy Valentine's Day and the ensuing breakup.
Chicago added Tyler Chatwood earlier this offseason but might not be done adding to the ro...

The Dodgers and Braves pulled off a whopper on Saturday

Sabathia will reportedly spend a 10th season in the Bronx
Fowler suffered a knee injury at Chicago's Guaranteed Rate Field

The lefty starter is coming off a terrible season

After acquiring Ian Kinsler and Zack Cozart in recent days, the Angels are trending upward