Our latest bobblehead highlights one of the most iconic images in baseball history. The date: July 24, 1983. The place: Yankee Stadium. The scene: The Royals trailed the Yankees 4-3 with two outs in the top of ninth when George Brett dug in against fellow future Hall of Famer Goose Gossage. Brett yanked a high fastball down the right field line and into the Yankee Stadium short porch for a go-ahead two-run homer. Or so he thought.
Yankees manager Billy Martin asked the umpiring crew to inspect Brett's bat. The crew determined the lumber had an excessive amount of pine tar -- the rule was put in place to cut costs because too many balls were being scuffed by the pine tar and discarded -- and ruled Brett out. As you surely know, he stormed out of the dugout like a madman and had to be restrained: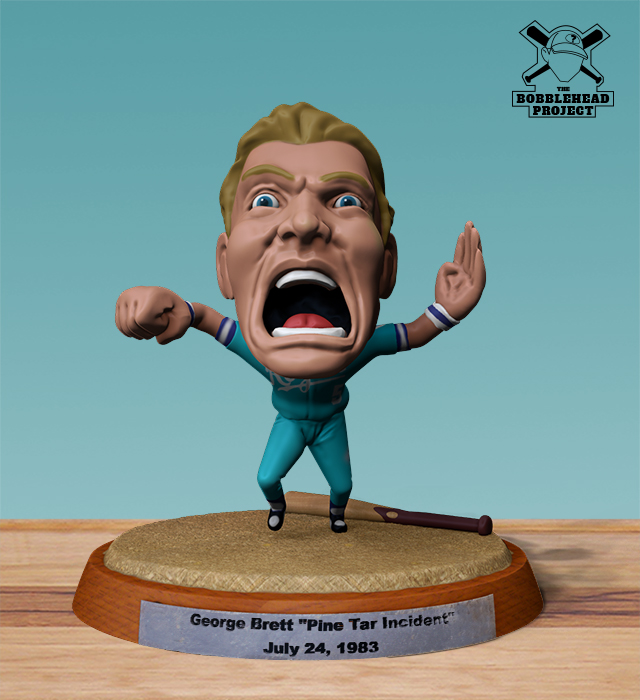 Kansas City protested the game, and what many people don't realize is that the protest was later upheld. AL president Lee MacPhail determined the pine tar did not aid Brett in hitting the homer, so it was allowed to stand and the game was to be resumed from that point. Twenty-five days later, the Yankees and Royals completed the game, which Kansas City's Dan Quisenberry closed out for the 5-4 win.
Martin was furious over the ruling and made a spectacle of the resumed game, playing ace left-hander Ron Guidry in center field and first baseman Don Mattingly at second base. The loss knocked the Yankees into fifth place. Brett did not attend the resumed game himself, instead flying ahead of the team to Baltimore for the upcoming series with the Orioles.
The imagine of Brett storming out of the dugout is one of the most recognizable clips in sports history -- you can watch it here if you haven't seen it. The look on his face was pure rage, something that is captured in the above bobblehead. I don't think the bobblehead would fly as a giveaway in the Bronx, but there would certainly be a market in Kansas City. Give that sucker away while the Yankees are in town and you've got some quality bobblehead trolling.
For those new to The Bobblehead Project, we're putting together a collection of would-be bobbleheads a) for fun, and b) in hopes that maybe someone actually makes one of these things one day. We'll post a new one each Friday until we run out of ideas, but our list is pretty long and continually growing. If you have a unique idea that you think we might have missed, feel free to hit up Eye on Baseball captain Matt Snyder at: Matt.Snyder@cbs.com.
Bobblehead Gallery (click on thumbnail) ...
Bobblehead Gallery (click on thumbnail) ...