Updating the Tigers' closer situation
Jim Leyland told reporters the Tigers will use Joaquin Benoit as the closer when he's available, but won't name a full-time closer. GM Dave Dombrowski told reporters he doesn't feel like the team needs a full-time closer.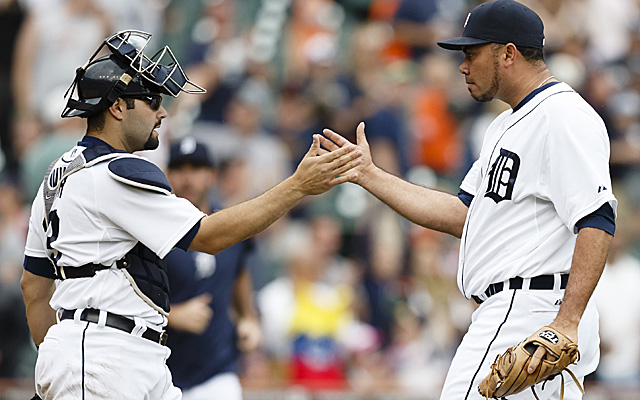 More MLB: Scoreboard | Standings | Probable Pitchers | Sortable Stats | Odds
The Tigers headed into Thursday with a 3 1/2-game lead in the AL Central and again have the look of one of baseball's best teams. Then again, things would be better if they could get the back end of the bullpen sorted out.
With the Jose Valverde experiment predictably failing, it's back to the drawing board.
For now, Joaquin Benoit will be the man, with a caveat.
"I'm going to try to close with Benoit when healthy and available," manager Jim Leyland said (Detroit Free Press). "So that means Benoit would be the closer if he's able to pitch, hasn't pitched too much, hasn't been overused, and we have a chance to win the game."
Leyland went on:
"I'm not naming a full-time closer, because I'm not sure who will be available or who would need a day off if they pitched two or possibly three days (in a row)."
So Benoit's basically the closer, but the Tigers are very wary of overusing him. It sounds like Drew Smyly could be a backup option, because Leyland told reporters he considers Smyly a "back-end" guy.
Also, general manager Dave Dombrowski weighed in on the situation, saying he doesn't feel like the Tigers have to have one specific full-time closer.
"I have not felt it was that important given the way the bullpen mixed from the very beginning," he said. "Some of our relievers are very capable. Some have good arms. Some of them have been very successful. We'll see how they do."
This is a bit surprising, considering the only real reason to sign Valverde was as a full-time closer. If this really is Dombrowski's mind set, maybe the Tigers won't go hard after a big-name closer (Jonathan Papelbon?) prior to the trade deadline. However, all reports indicate the Tigers continue looking for a closer on the trade market.
The Tigers' bullpen as a whole entered Thursday with a 4.03 ERA (23rd in MLB) with nine blown saves in 25 chances.
Benoit, 35, is 4 for 4 in save chances with a 1.80 ERA, 1.00 WHIP and 35 strikeouts in 30 innings this season. He should make a good closer -- when available.
MLB can unilaterally implement rule changes

If the MLBPA wants to fix MLB's economic system, it should push for more money for young p...

Fans aren't happy Gerrit Cole and Andrew McCutchen have been traded away
Acuna is arguably the best prospect in baseball

Kent had a good career, particularly with the bat

This would undoubtedly be the worst trade in Miami Marlins history