SAN FRANCISCO -- The numbers couldn't be more unambiguous: San Francisco's AT&T Park, home to Games 3, 4 and (if necessary) 5 of the 2014 World Series between the Royals and Giants, has long been one of the most pronounced pitcher's environments in all of baseball.
Speaking of the numbers, here's what StatCorner's park factors say about how AT&T cut down on the various offensive events in 2014 ...
AT&T Park, 2014 Park Factors
Batter handedness
Home runs
Doubles/triples
Strikeouts
Left
-33%
+5%
+1%
Right
-26%
+1%
+4%
This is the usual recipe for large ballparks -- cutting down on homers while enabling other flavors of the extra-base hit by virtue of all that outfield green space. However, in the case of AT&T doubles and triples are just modestly increased, while at the same time it plays as the toughest home run park in the majors. The upshot? Per FanGraphs, AT&T in 2014 was the stingiest venue in baseball when it comes to the scoring of runs. That's very much in keeping with recent history. 
So how does AT&T do it's pitcher-friendly thing? Let's have a closer look. 
First, the dimensions. Down the left field line ...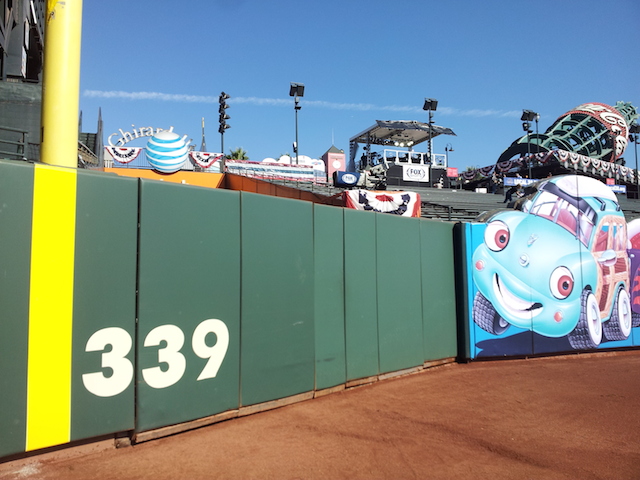 It angles to 382 feet on the center field side of the left-center gap, cuts a corner at 404 and then comes back to dead center ...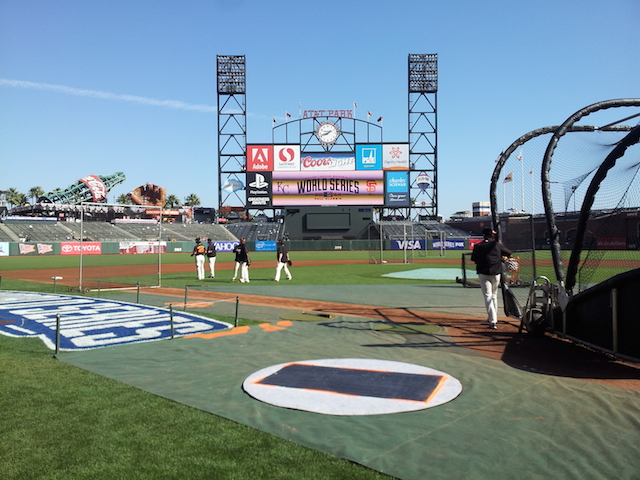 Hmm. Perhaps a closer look is in order ...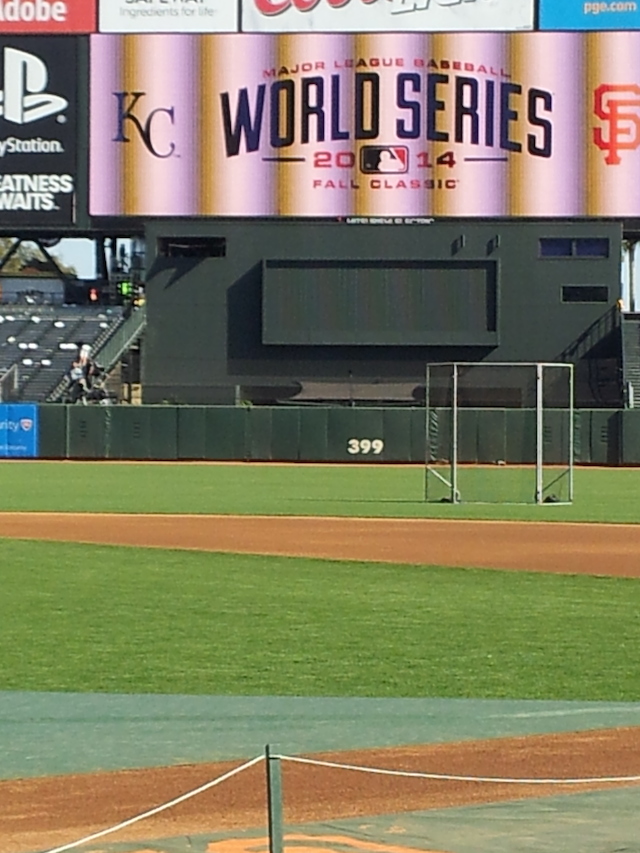 399! As you can see, the batter's eye in center isn't exactly uniform, which may have a little something to do with those slightly elevated K rates at AT&T Park. Hitter visuals are certainly a factor when it comes to ballpark tendencies. 
Now the center field wall runs straight and cuts a corner at, well, a long way from the plate ...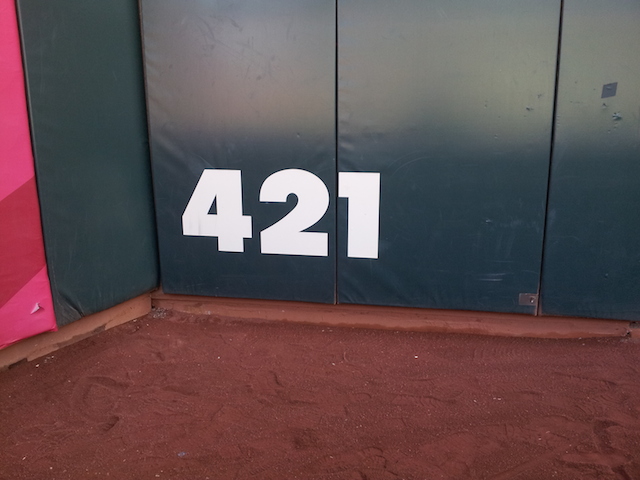 So how far away does home plate look from that far-flung cranny?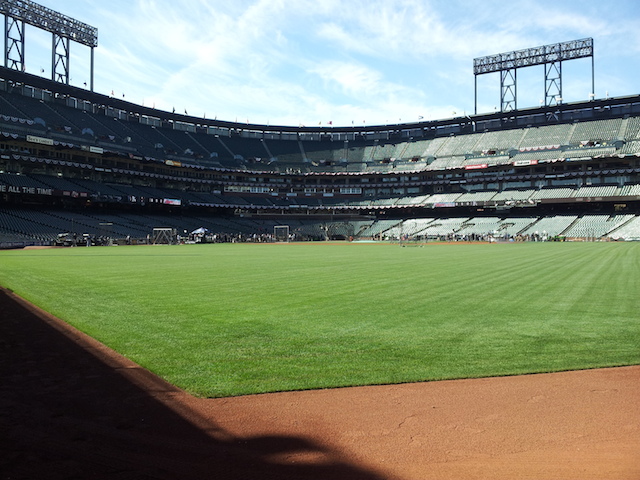 Hitting it out in that particular spot is not easily achieved. It is, however, occasionally amenable to this sort of thing ... 
From there, the AT&T Park wall tucks in to 365 feet at the right-center alley before sharply angling toward the foul line ...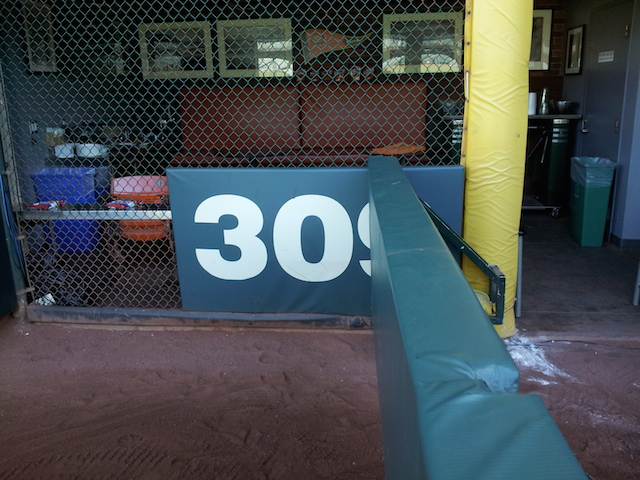 Partially obscured, but that's a cozy 309 feet. Of course, that's not all of the story insofar as right field of AT&T Park is concerned ...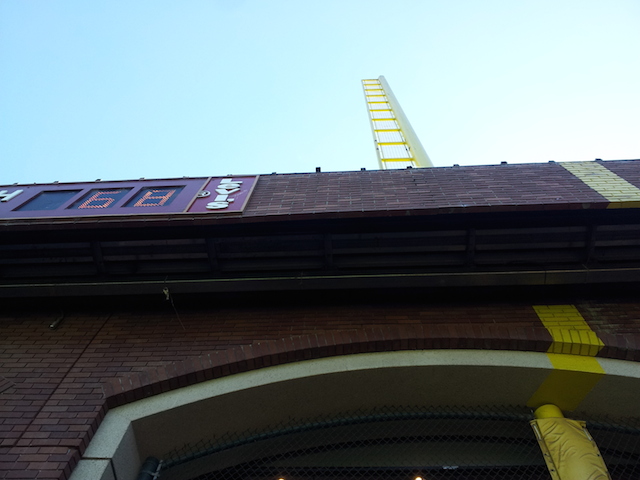 And now the top-down view ...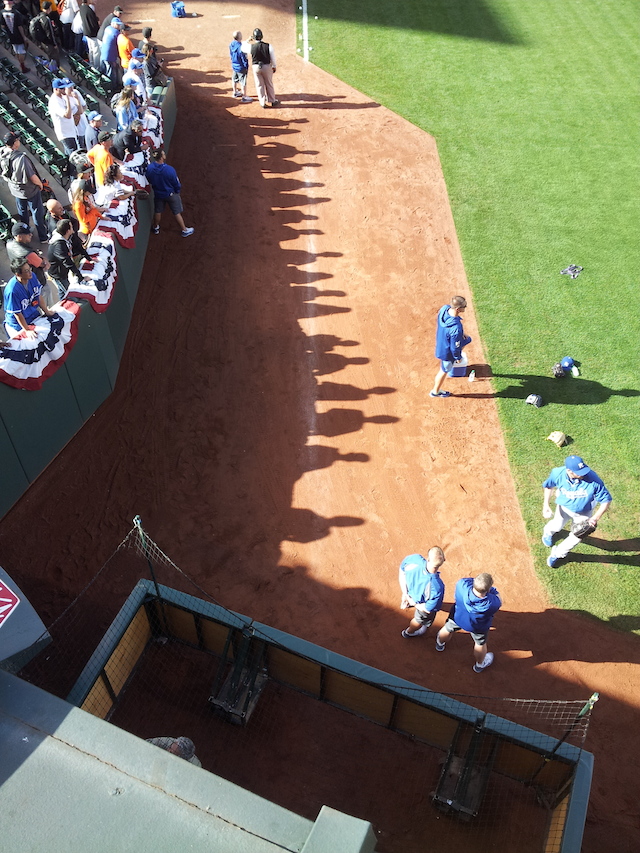 The outfield wall is a steady eight feet tall until it reaches right field, whereupon it vaults to 25 feet. Sure, we've all seen balls plop into the lovely and talented McCovey Cove ...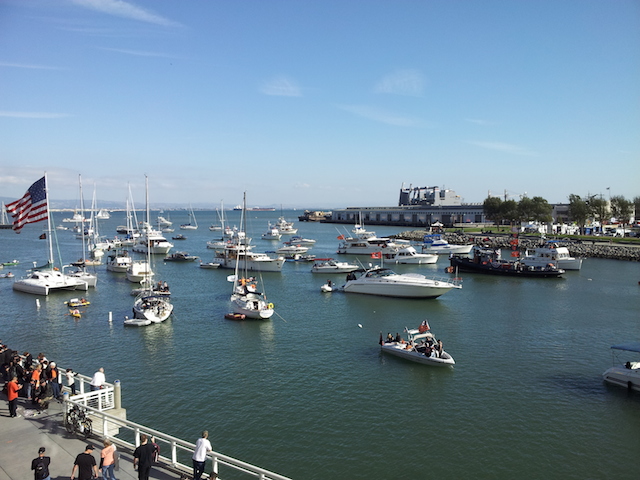 But doing so requires the (very often left-handed) batsman to loft the ball over that 25-foot speed bump. As well -- and as mentioned above -- that 309-foot down-the-line distance travels at a steep angle to that 365-foot power alley. 
According to Clem's Baseball -- a truly wonderful resource -- AT&T Park has roughly 110,800 square feet of fair territory. That means it's above average in terms of the amount of fair territory, but it's not among the most spacious parks in baseball (Kauffman, for instance, has 117,800 square feet of fair territory). In part, that's why you see an increase in double and triple rates at AT&T but not a large one. 
So how does it cut down on homers to such an extent? As mentioned, it's a big park, but that's not the entire story. It's a cooler climate and that 25-foot wall plays a significant role, but there's also the wind patterns. 
Nestled against the Bay, you'd certainly expect AT&T to be prone to the famous winds of San Francisco. Yet it's really not. As the San Francisco Chronicle explained back in 2007, there's a reason for that ... 
Before construction began on the Giants' new stadium in 1997, designers decided to rotate the ballpark by a quarter turn. Wind-tunnel studies had suggested the initial orientation favored by the architects would have been a windblown disaster -- quite possibly twice as windy for fans as Candlestick Park.

Turning the new ballpark's back to the wind cost fans the best views of the city skyline, but the payoff turned out to be a remarkably effective windshield -- for everyone concerned. Those skirt-lifting, hat-stealing gusts so typical of summer in San Francisco barely raise eyebrows inside AT&T Park, particularly in the pricey and best-protected seats nearest home plate.

...

Instead of a lot of cheap, wind-fueled home runs, though, AT&T Park in the 7 1/2 years since the ballpark opened has turned out to be one of the toughest venues in baseball for hitters. If anything, wind seems to veer off the edge of the right-field stands and blow across the foul line, sending fly balls into the deepest recesses of the outfield where they can be caught.
One groundskeeper on Friday had a similar impression. "All summer the wind just rips out of the northwest any time after 2:00 [pm, local time]," he said. 
That indeed would mean the wind would be blowing in from the third baseline and, as described above, pushing balls foul down the line. 
Another factor is that AT&T ranks near the top of the league with roughly 25,500 square feet of foul territory (again, per Clem's Baseball). That's not Oakland across the bay (you could probably play a concurrent game of baseball in O.co's foul grounds), but that's sizeable. 
In all, you've got a park that suppresses home runs to a tremendous degree without a simultaneous big leap in the rate of non-HR extra-base hits. All of it adds up to a ballpark that's pretty tough on power hitters and the offense as a whole. Of course, the Royals' offense, which gets by on speed and power to the gaps, may not mind so much.