Anthony Davis to replace Blake Griffin on Team USA
Anthony Davis will be added to the Team USA roster once Blake Griffin withdraws due to injury.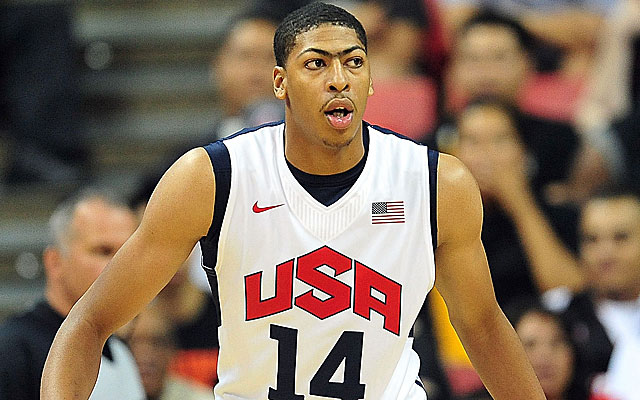 Anthony Davis, this year's No. 1 overall pick, replaces the injured Blake Griffin on Team USA.
(US Presswire)
When Blake Griffin went down with what the Clippers have announced as a tear of the mensicus in his knee, Team USA knew they had to add a big. They'd already gone light down low with their roster, they couldn't afford to go any more shallow with bigs. But instead of DeMarcus Cousins, they chose No. 1 overall pick in the 2012 Draft, Anthony Davis. 
Davis hardly practiced the first two days because of an ankle injury and was left off the final cuts. He took Griffin's place in Las Vegas for Team USA's exhibition romp over the Dominican Republic. But there was no word whether he'd be an official Team USA member with Griffin out for the Olympics. 
Jerry Colangelo told reporters after the game Thursday that once Blake Griffin withdraws from Team USA, the team would add Davis. 
The Unibrow is going to London.
Davis will get a chance to play alongside the world's best and earn his NBA superstar stripes early. He'll see the best of the best up close and personal and witness their intensity and work ethic. And he'll get to see the world and represent his country. It's a shame for Griffin, who despite all the dunk jokes, really was a worthy addition. But for Davis, it's a huge honor and fasttracks him toward superstardom. Already an Olympian, already a contributor, already a star. 
That said, get ready to carry some bags, rook. 
The 2018 NBA All-Star Game introductions were just too much for Twitter to handle

Twitter roasted Fergie's rendition of the national anthem, and even Draymond couldn't contain...

The NBA All-Star Game is here. Follow our live updates to keep up with the action
Cousins is out for the season with a torn Achilles tendon

Bryant says he was looking at schools in Chicago and was ready to meet Jerry Reinsdorf and...

The 76ers guard is in hot water after a controversial video surfaced showing him using a racial...