Breaking down Daryl Morey's comments on Reddit's AMA
Daryl Morey asked fans to "Ask Him Anything" on Friday and his answers provided insight to the Rockets' future.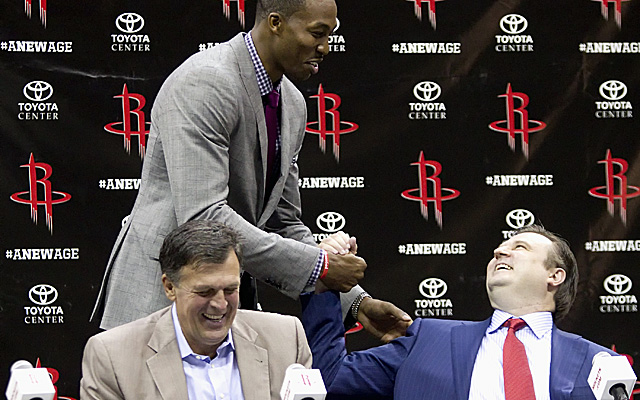 On Friday, Houston Rockets GM Daryl Morey held another "AMA" (Ask Me Anything) on popular social media/message board/aggregation community Reddit. It was his first appearance on the site since signing Dwight Howard and re-establishing his position at the top of the "mastermind GMs" list. 
There's a lot of interesting stuff to take away, so we're going to break down his comments. 
Maybe the most interesting and relevant question Morey was asked about was how he pitched Howard in free agency. Morey replied:
1. You need multiple elite players to win titles and James Harden is an elite player. You will be on a contending team.

2. We have the most draft picks, free agency $$, and young players to improve the team going forward among the teams he was choosing from.

3. Coach (Kevin) McHale
via Iam the Houston Rockets GM, AMA off-season addition.
That first part is a drum Morey has been banging for years. He came up with that wording of a fairly simple idea ("multiple elite players" equals "a bunch of superstars") and has been using it as a pitch concept since at least 2010. 
No. 2 is kind of different, though. A lot of players don't want to grow into a winning situation. They don't want to hear about draft picks, or flexibility. All they care about is what's right in front of them. It's one reason Morey struggled for years to nab the "big fish," so to speak. It's honestly a little suprising that this would resonate with Howard. He's a smart guy, despite all his bad decisions, of that there's little doubt, but this is the same guy who wanted Orlando to bring in Glen Davis and Gilbert Arenas. Laying out the future with young pieces doesn't seem like his bag.
And No. 3 was kind of an underrated. If you paid attention to Howard's comments last year, he passively aggressively lamented the hiring of Mike D'Antoni and said he missed Stan Van Gundy. Howard has been looking for a coach he can connect with in the pros, it seems like he genuinely wants that relationship. McHale is a former NBA big man, the first coach who can honestly say he knows what Dwight is going through night in and night out. He's also been referred to as a "father figure" by multiple players and as a warm personality, can connect with Howard on an emotional level. 
Looking at it from this lens, it's really no surprise that the Rockets landed Howard. It's only surprising that Howard was the first star to realize what he can potentially get in Houston. 
Morey was asked about Omer Asik, who reportedly asked or a trade demand after Howard's acquisition. 
Omer would prefer to be a starter and is certainly a starter + quality player. That said, he is a winner first & likes being on a winning team.
A very diplomatic answer. "Hey, this guy I may have to trade is a really good player, but he'd also rather play for me than a worse team, so if you get him you need a lot of value! PS: I love you, Omer!" Morey was also asked about what the plan is with Asik going forward. And that's where things get a little more interesting. 
Coach McHale plans to experiment with Dwight at PF and Omer as C in training camp. If it works and helps us win, obviously we would look at using it.
via dmorey comments on Iam the Houston Rockets GM, AMA (off-season addition).
There's a widespread belief that the two cannot co-exist in a lineup because of their size, speed, and style of play. The best way to look at this is to throw out positions, or at least eliminate the power forward position. The Rockets can throw out a point guard (Jeremy Lin/Patrick Beverley/Aaron Brooks), two wings (James Harden and Chandler Parsons/Francisco Garcia/et al) and then two centers. If you're going up against a team that plays with similarly big lineups, it can be extremely effective. The Spurs with Tim Duncan and Tiago Splitter are about as far out as you can get away with this lineup, and even then, if Duncan's mid-range jumper is falling, they're screwed. 
But on offense, it's a monster, just based on trying to box out the two of them at once. Unfortunately, they won't be able to peel out that lineup too often, due to the amount of stretch fours out there in the world. "It's kind of a problem when the easy way to dismantle a lineup that's giving you issues is "put someone on the floor who can hit a jump shot." 
Jeremy Lin has taken a lot of heat in the last year, largely on account of a rough start few took the time to follow up on, his hype and people's natural revulsion towards anyone people like, and the fact that the decision stands as a bellweather for the direction of the Temple of Melo in New York. Morey adamantly defended his young point guard. 
It is amazing to me that all the time I encounter people feeling negative about Jeremy's season with us. I have chalked this up to:

-- he started off slow, mostly do to getting 100 percent back from injury

-- very high, unrealistic expectations after his time in New York

-- had a rough ending in the playoffs, again due to injury

-- people generally remember starts & ends more than anything else

-- people generally compare things to their expectations when forming opinions versus look at the big picture

Last year was Jeremy's 1st full year in the league. Essentially his rookie year. If last season would have been his rookie year and he never would have played in New York, right now people would be appropriately talking about him incessantly as one of the top young rookie stars in the league. He was the starting point guard on a playoff team in West at age 24!!! Don't get me started on this. Too late...
From a relevance standpoint, it leads you to think there's a good chance Morey won't trade Lin. He still seems really high on him. Lin was injured in the playoffs, but he was also struggling a lot defensively. There will be other matchups he won't be as exposed in, but Morey's attachment to Lin is something to keep an eye on. Even analytical GMs develop favorites. 
Unrelated to anything, Morey is a big fan of the McRib. Get ready for NBA Fit! week! 
Morey said that OKC is still the best team in the West, a sentiment likely to be shared by GMs but not by the public, who for some reason think the No. 1 seed in the West last year slipped by some margin. 
Morey touched on what the best plan for an organization is to rebuild, specifically in regards to Charlotte: 
I think that given current CBA/draft rules that "bottoming out" is the highest probability strategy. We obviously had to be well prepared to make the moves to hopefully turn the corner this season but we also needed a healthy amount of good fortune that Harden would be available in trade & Dwight in free agency at the right times.
So a guy who gets analytical data to support many of his decisions took an approach that ouright needed good luck in order to pull off. It's a concerning sign that there really may not be a really viable alternative to tanking in order to get back to contention. And maybe that's the biggest reason so many GMs want adjustments to the lottery system. There's really no way around that approach. 
Morey had a stellar offseason, finally landing the superstar complements in the last year to make the Rockets a contender. They have a lot of work to do and won't win the title next sesaon in all likelihood, but he's got a path. It's still pretty cool that an NBA GM takes the time to come and do things like this, giving a little insight to the fans about his process. 
T.J. Warren gets paid big money by the Suns in a four-year deal

Melo didn't hold back on his feelings about President Donald Trump and urges for help in Puerto...

The Wizards star says the NFL won't change until important players like Brady and Rodgers speak...
Popovich spoke at length about sports, race, culture, and politics during Spurs media day on...

Carmelo Anthony finds the idea of coming off the bench very funny

Several teams spoke about Trump's recent comments about protests and the Warriors' White House...