Carmelo Anthony sets U.S. men's Olympic record for points
Carmelo Anthony sets U.S. record for most points in an Olympic basketball game.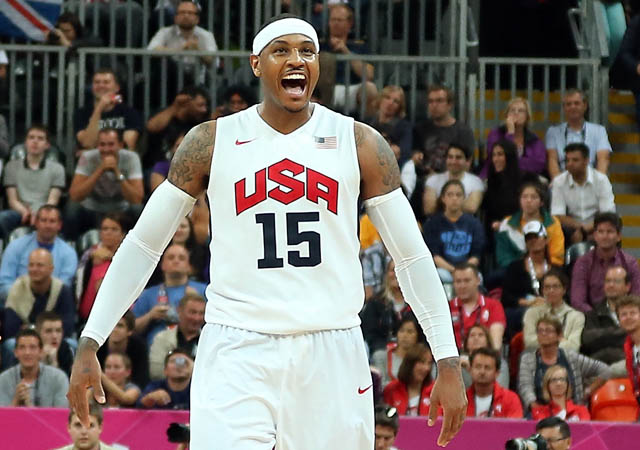 So Melo had a pretty nice day.
(Getty Images)
Carmelo Anthony is your all-time U.S. scoring leader in Olympic basketball history. Anthony scored 37 points in less than two and a half quarters of play vs. Nigeria Wednesday, breaking the record  for most points in a single game for one player. He had 37 before Coach K pulled him out, presumably to prevent the building from burning down. 
Melo shot 10-12 from the arc as the United States absolutely blistered Nigeria from the start, with Anthony leading the way. A remarkable performance for this team responding to a slow start vs. Tunisia on Tuesday, and for Melo, a reminder of just how good he can be, especially when he's in a catch-and-shoot mode. 
Oh, and Anthony scored 37 points in just 14 minutes. 
37 points. 
14 minutes. 
The United States record for most points in international play is 38 by Kevin Durant during the FIBA World Championships in 2010. Team USA won 156-73.
We've got all the scores, highlights and news from an NBA Monday

Leonard was recently shut down again to rehab the nagging quad injury

Durant, who joined the Warriors, says that Capela, the league's most efficient player, has...
Jason Kidd's firing gets the celebratory balloon treatment on Milwaukee's Twitter page

Milwaukee has parted ways with its coach in the middle of his fourth season

Larry Hartstein has his finger on the pulse of the Clippers and locked in a play for Monday's...