Carmelo Anthony sets U.S. men's Olympic record for points
Carmelo Anthony sets U.S. record for most points in an Olympic basketball game.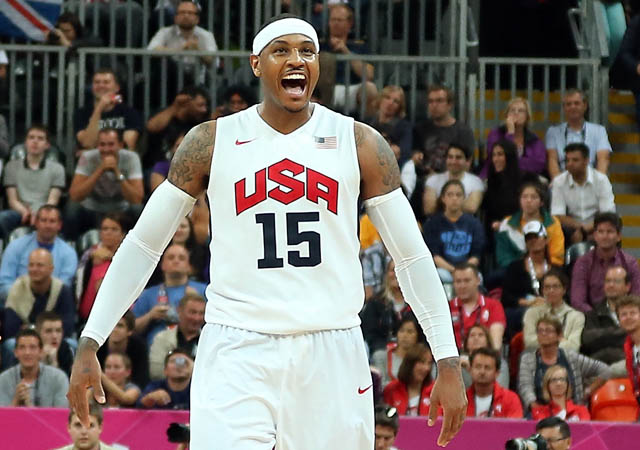 So Melo had a pretty nice day.
(Getty Images)
Carmelo Anthony is your all-time U.S. scoring leader in Olympic basketball history. Anthony scored 37 points in less than two and a half quarters of play vs. Nigeria Wednesday, breaking the record  for most points in a single game for one player. He had 37 before Coach K pulled him out, presumably to prevent the building from burning down. 
Melo shot 10-12 from the arc as the United States absolutely blistered Nigeria from the start, with Anthony leading the way. A remarkable performance for this team responding to a slow start vs. Tunisia on Tuesday, and for Melo, a reminder of just how good he can be, especially when he's in a catch-and-shoot mode. 
Oh, and Anthony scored 37 points in just 14 minutes. 
37 points. 
14 minutes. 
The United States record for most points in international play is 38 by Kevin Durant during the FIBA World Championships in 2010. Team USA won 156-73.
Victor Oladipo just wants to live his life and enjoy his breakout season with his new team

Keep it right here for all of the news, notes, scores, and highlights from around the Asso...

LeBron has a player option for next season, and is expected to opt out and become a free a...
The Pistons will be looking to snap a five-game losing streak when they host the Celtics on...

Bryant offers some advice for Ball and other rookies about having a sense of urgency in the...

Burks has stepped up in a big way for the Jazz, averaging over 20 points per game since Rodney...