Dwight Howard trying to spoil opponents' Hack-a-Dwight strategy
Free-throw shooting is still a problem for Rockets center Dwight Howard, but he's working on it. Practice makes perfect -- at least in practice.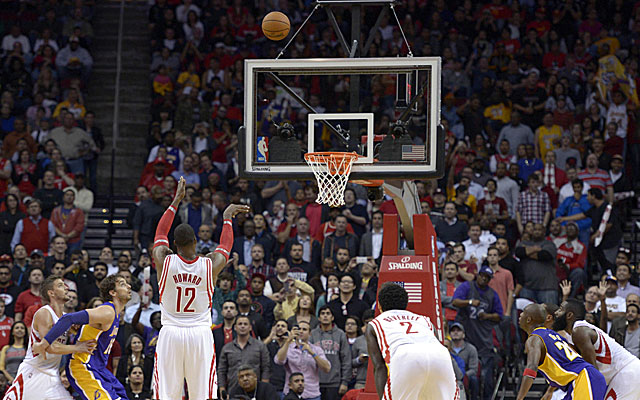 Dwight Howard steps to the line and sinks a free throw. Then another. An assistant coach signals for him to step off the line, walk to the other side of the floor, and then walk back to attempt another one.
Swish.
This was on the Rockets' practice court at the Toyota Center, of course. It couldn't have been in a game on the main floor upstairs.
In practice, Howard is as lethal from the line as Steve Nash, Mark Price or Ray Allen -- some of the best free-throw shooters of all time in the NBA. In the games, he's a liability -- a target, for both derision and for the dreaded Hack-a-Dwight strategy that is emerging in the early days of the dynamic duo he formed with James Harden as a serious Achilles' heel.
Howard is so bad from the foul line that it's embarrassing to him, and it gets in his head. Putting the ball in his hands with nobody guarding him 15 feet from the rim is this Superman's kryptonite.
And he knows it.
"In practice, I don't think about what I do when I'm at the free-throw line and I make them," Howard said in a recent interview. "In the game, I'm thinking so much that when I start missing, I start thinking about missing again -- or if I miss, what people are going to say."
Sitting on a leather couch in a lounge area not far from the Rockets' locker room last week, Howard could not have been more relaxed -- or conflicted. An hour or so earlier, he'd walked off the practice floor having made 24 of his final 25 free-throw attempts. Rockets assistant Kelvin Sampson, working with Howard on his stroke but mostly on his mental approach, reported that during one stretch, Howard made 43 out of 50.
"His mechanics aren't as bad as you think," Sampson said. "I told him, 'You don't have to change your shot. What you have to do us change your thought process.'"
I can vouch for this. Having spent many an afternoon at the Lakers' practice facility in El Segundo, Calif., last season -- Howard's one, ill-fated season in LA -- I often took note of a statistic the Lakers' coaches scrawled on a whiteboard outside the team's locker room. As the season went on, Howard had attempted thousands of free throws on that practice court, and the numbers written in black marker indicated he'd made almost 90 percent of them.
In 76 games last season, Howard made 470 of 813 free-throw attempts -- 57.8 percent. In 7,900 regular-season attempts in his nine-plus-year career heading into Thursday night's nationally televised game against the Knicks in New York, Howard has made 4,559 -- 57.7 percent.
"The games when I have good free throw-shooting nights, it's because I'm in a good rhythm and I take my time and my head is somewhere else instead of being so ..." Howard said, not finishing the thought. "There's focus and then there's too focused -- where you focus so much that you over-think your shot and yourself."
In other words, it's all in his head.
"I just get in the game and I over-think it because that's all I've heard was, 'You can't make free throws,'" Howard said. "On one hand, I'm trying to prove a point -- and I'm trying to prove it so bad that I just miss it. So that's something I need to work on."
Howard had been making so much progress lately, too. No, really.
At Utah on Nov. 2, he made 7 of 10 from the line. Three nights later in Portland, he made 9 of 12. Then came last Thursday's nationally televised and hyped game against his former team, the Lakers. As his former coach, Mike D'Antoni, employed the Hack-a-Dwight strategy in the fourth quarter, Howard unraveled. He finished the night missing 9 of his 16 free-throw attempts in a 99-98 loss to LA. He missed 7 of 12 in the fourth quarter alone.
As Howard's coach last season, D'Antoni had criticized the Hack-a-Dwight strategy as "not entertaining for anybody." But with Harden heating up in the fourth quarter last Thursday night, it was no secret that the scheme served its intended purpose. First, it messed with Howard's head. Second, and more important, it took Harden out of the game.
Afterward, Harden called D'Antoni's strategy "great coaching." And until Howard starts making free throws consistently for the first time in his career, Harden can expect more of it -- from everyone.
"Against the Lakers, I was just over-thinking and anxious," Howard said. "I always thought of it as like being in love. If you grasp at sand and you hold it too tight, you tend to lose a lot of the sand. But if you hold it just right, then you never lose it. It's just like a free throw. If you're too uptight, you're gonna miss. If you're too loose, you're still gonna miss. You've got to be just right."
Howard has a series of triggers he uses when he goes to the line to get himself in the right frame of mind. One of them, he said, is "when I sing a couple of songs in my head." Another one is to think to himself, "eyes, rim, follow through," before each foul shot. After the Lakers game, Howard made a beeline for Sampson and told him, "I know what I did wrong."
"He repeated one of the triggers to me that he did not do," Sampson said.
Howard has been a poor foul shooter everywhere he's been. He's shot 60 percent from the line only three times in the previous nine seasons. In five of those seasons, he's shot better from the field than from the foul line. It's a tossup so far this season, after Howard went 5-for-9 from the line and 9-for-20 from the field in the Rockets' 123-17 loss in Philadelphia on Wednesday night.
But given the disparity of his foul shooting in practice and in games, there's got to be a way to fix it. Right?
"There's probably not an idea that hasn't been tried," Sampson said. "I'm not smart enough to come up with any original ideas."
On this particular day in Houston last week, I thought I'd come up with one.
When Howard shoots free throws in practice, he does so in a quiet gym with nobody standing on either side of the lane. And he shoots many free throws in a row -- 10, 15, 25 at a time -- 100 or more in a single practice. These conditions allow him to "put my mind in a different place," he said.
Those conditions don't exist in games, when Howard shoots at most two free throws at a time. After practice, Howard is fatigued, but not necessarily winded. In the games, he's both.
So here is what I proposed to Howard and Sampson: Run a sprint, shoot two free throws. Run a sprint, shoot two free throws. Keep doing it until he's shot 100 free throws that way. You could take it to the next level and have Howard wear a heart-rate monitor. If he can get used to shooting free throws two at a time with his heart rate even higher than it would be in a game, he might have something.
Much to my disappointment, my brief career as a free throw-shooting coach lasted all of about 30 seconds.
 "I did that this summer and I was the same," Howard said. "I was like 90 percent. I wasn't missing anything at all."
Further proof that no one can understand what's going on inside the mind of Dwight Howard better than Dwight Howard.
"There's so much negativity and scar tissue from so many Hack-a-Dwights that he goes up there and it's embarrassing for him and humiliating for him," Sampson said. "He knows everybody's watching him, and instead of focusing on the process or his routine, he lets those things slip in."
So when Howard faces the Knicks at Madison Square Garden on Thursday night, you'll know if his mind is in the right place. You'll know if he's singing a song in his head and repeating those triggers to himself.
And you'll know if he's not.
Our advanced computer model simulated Friday's Jazz-Knicks game 10,000 times

There was some explosive guard play this week in the NBA's rookie class

With half of the season in the books, there were some clear favorites for our Midseason Aw...
SportsLine's Mike McClure, a DFS pro with more than $1M in winnings, gives optimal lineup...

Zack Cimini is 12-3 on picks for or against the Pistons ATS and locked in a play for Frida...

Both Washington and Detroit will try to snap losing streaks Friday night