LeBron James does right by troops
LeBron James did something nice for a group of servicemen on a layover. Maybe he's not the devil!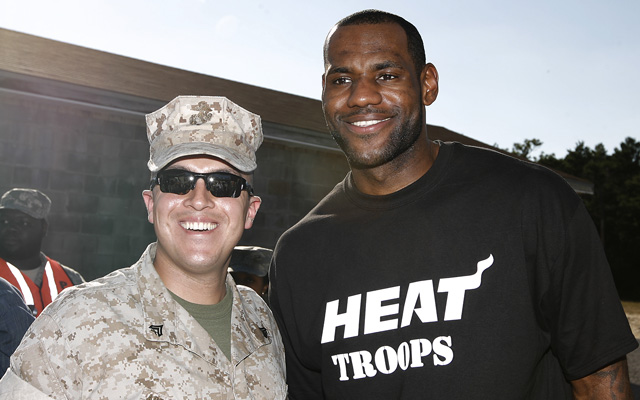 LeBron James posed for pics with some servicemen in Oklahoma, as he did above at Heat training camp in 2010.
(Getty Images)
A typical description of LeBron James from the average person would say that he's self-absorbed and self-centered. It comes with the whole "Decision/Heatles/People will have their lives tomorrow" thing. But there's a story out of the Daily Oklahoman Sunday which shows that, like most things we see from celebrities, the stories that shape the narrative aren't the whole story. 
The Heat were stopped for a plane refuel at Will Rogers airport in OKC this year and hanging out while the plane was serviced. Their security detail was doing its job, keeping the mere mortals away from the club for security reasons. There was a group of military helicopter pilots stopped in OKC for the same reason, and they approached the detail to ask if they could get a picture. Security rebuffed them, because, well, not entirely sure why security would rebuff them without asking, but according to the tale, they did.
That's when someone stepped up for the soliders. LeBron.
Wait, what?
From the Oklahoman: 
Maybe LeBron could overhear the conversation, or perhaps he could just tell by their body language what was going on. Either way, he piped up.

"Hey, hey," he said, "any of these military guys can take a picture with us."

He turned to his teammates.

"You guys get up," he told them.

He turned to the servicemen.

"Get your camera up," he said.

He started to wave the servicemen over but noticed that some of the players weren't yet on their feet.

"Hey, everybody get up," he said. "Get in a circle here. Anybody that wants their picture taken with us, we'll do it."
via LeBron James the nice guy? Run-in with servicemen makes Miami Heat star harder to dislike | NewsOK.com.

There's talk this morning about whether we should reward James for what is a pretty obvious thing to do. A group of servicemen want some of your time when you have absolutely nothing to do, you do it. You can even make the argument that if they're not doing anything else, anyone wanting to get a photo should be able to, that it's just"human decency." (Nevermind that I think the bar for human decency should be used in relation to elements which are not photos and autographs, but whatever.)

But it's that James took a leadership role. He didn't, pardon the phrase, "shrink from the moment." James is given enough fan and community engagements by Heat PR and his publicist. He has pre-arranged events where he does things like this. But he went above and beyond here, and that's worth noting. 

There's been a slow and quiet move towards James actually seeming like the kind of person who isn't, you know, the epitome of everything wrong with professional sports.

Either way, it's just a nice story. I feel like a slow clap.

(Matt slow claps. Alone. Awkwardly.)
Kobe the rookie had no fear facing off against Michael Jordan the legend. Then he gave up a...

Once again the Jazz will be without Rudy Gobert due to injury. How will they fare?

Lorenzen Wright's ex-wife has been charged with his 2010 murder
Hayward, free of his walking boot as of Wednesday, says his mind is open to a return before...

The former Knicks star returns to New York for the first time since joining the Thunder

Former longtime Knick Carmelo Anthony makes his return to New York