Mike Miller amnestied by Heat
The Heat have amnestied guard Mike Miller, despite Pat Riley saying that wouldn't happen.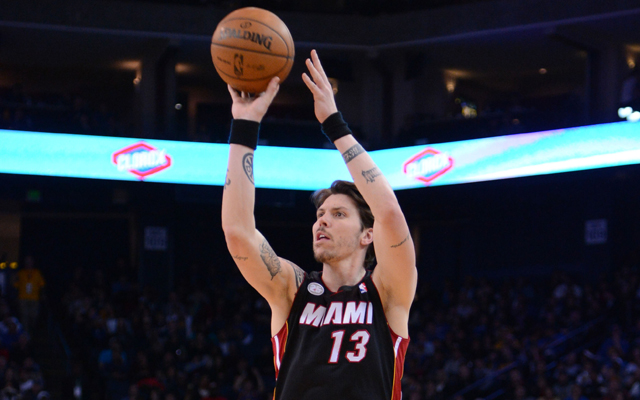 Pat Riley said just a few days ago that the Heat weren't going to use the amnesty provision.
"Right now, we're not using amnesty, no," he said.
Key words there, apparently: right now, as in exactly in that present moment. Because the team announced Tuesday that guard Mike Miller has been waived via the amnesty provision.
"After many discussions internally and a sincere effort to explore the trade market, we made a very difficult decision to use our amnesty provision on Mike Miller," said Riley said in a release. "Mike had an incredible impact on the Miami Heat, helping us to three Finals appearances and winning back-to-back world championships. This was a very difficult decision for me personally, the Arison family, Erik and the entire Miami Heat organization. Mike was one of the best we have ever had here and will be sorely missed. We wish Mike, his wife Jennifer and their family nothing but the best."
Per the clause, Miller will be placed on waivers as teams under the salary cap can place bids on him. Once he clears waivers, he'll be an unrestricted free agent. 
Teams that could be interested in Miller likely include the Grizzlies, Thunder, Clippers, Spurs and basically any other contender who could use another shooter.
Miller is owed about $12.8 million over the next two years, with a $6.6 million player option in 2014-15, which puts the Heat well over the new more punitive luxury tax. By axing Miller, the Heat are going to save somewhere around $15 million this season.
The fact that Miller is getting cut means there's a bit of a disconnect in Miami's front office, most likely between owner Micky Arison and Riley. 
Consider that Riley said this a few days ago:
"We want to win and we want to win again next year and we're going to try to do everything we can to do that. What I said at the end of the season is what I meant. I want to try to keep this team intact as long as we can because we have a championship basketball team here and continuity being, I think the most important thing to when it comes to winning championships ... I would hate to break it up."
In the end, Arison is the one writing checks. Because of that, he appears to be the one who made the final call. 
Miller, 33, averaged 4.8 points in 59 games last season but came up huge for the Heat in the playoffs, hitting 44 percent of his 3s while eventually moving into the team's starting five for the last few games of the Finals. 
Keep it right here for all of the news, notes, scores, and highlights from around the Asso...

LeBron has a player option for next season, and is expected to opt out and become a free a...

The Pistons will be looking to snap a five-game losing streak when they host the Celtics on...
Bryant offers some advice for Ball and other rookies about having a sense of urgency in the...

Burks has stepped up in a big way for the Jazz, averaging over 20 points per game since Rodney...

Nooooooo James Harden don't do Noah Vonleh like that