NBA Free Agency: Team needs
Position and role player needs for all 30 NBA teams as the NBA's free agency period begins.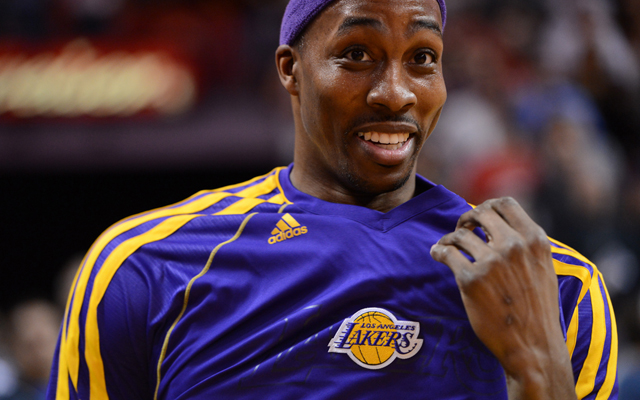 NBA Free Agency 2013: Free Agent Tracker | Trades | Latest rumors and news
The 2013 NBA free agency period kicks off Monday at 12:01 a.m. ET. Dwight Howard headlines a class full of question marks but exciting talent, with several teams boasting top space to make big signings.
We profiled the teams with the most space here. 
We also broke down the top free agents at each position
For a guide to what your team should be looking to pick up, here's a comprehensive breakdown of positional and role needs for all 30 teams. 
Atlanta Hawks: The Hawks are going for the home run ball but will likely miss with Dwight Howard. After that, they're unlikely to go for bringing back Josh Smith. So small forward and power forward are going to be the big needs, or center if they want to move Al Horford over. They have to re-sign Jeff Teague unless they want to start Dennis Schroeder, who they drafted Thursday. Oh, and they have to either re-sign Kyle Korver or sign a shooting guard.
Basically, Atlanta has to either re-sign or sign guys at every position except the one they want Al Horford to play at.
Boston Celtics: Well, technically they have team needs at every position except point guard with Rajon Rondo and small forward. Whoops, nope, Rondo's out with ACL recovery, so that's a position of need, too. But the Celtics don't honestly care. They want to tank, and will be looking to move Rondo, Gerald Wallace, and maybe Jeff Green. They want to hit bottom and then rebuild or aim for a top draft pick.
They don't need anything because they don't want to win anything.
Brooklyn Nets: Is "long-term sustainable growth" a team need? No? Then they're fine. They're pretty well set at each position after the trade for Kevin Garnett and Paul Pierce. Their bench will again be short, but with Andray Blatche, C.J. Watson and Reggie Evans, they're pretty good. They need shooters, though, and that will be a priority in the offseason.
Charlotte Bobcats: Their team need is talent. Any position, any style, any skill set. They need talent.
Chicago Bulls: The Bulls cleaned out their bench last offseason and the results were not great. They have to decide whether they want Nate Robinson back at an accelerated price. Beyond that, they need to find shooters and rebounders. Moving Korver really hurt them and they need someone to produce some offense from the perimeter. Taj Gibson lost some effectiveness without Omer Asik, so a backup center might be in order, though they're in short order on the market.
Cleveland Cavaliers: Small forward remains their biggest need, with No. 1 pick Anthony Bennett unable to stay with the faster wings. They have needed an upgrade there for several seasons, and that could be their biggest target. Their bench was terrible in general, and they decided not to tender a qualifying offer to Wayne Ellington, so they need some shooters.
Dallas Mavericks: Anyone to prop up Dirk Nowitzki's career for a few more years. The Mavs are likely third in the Dwight Howard race behind Houston and LA. They need upgrades all over, starting at point guard and shooting guard, and with Shawn Marion trade bait, you have to consider small forward one, too. Their biggest need is at center, however, as Chris Kaman was a disaster last season. As always, any team with Dirk Nowitzki is phenomenally better with a good center.
Denver Nuggets: With Andre Iguodala and Corey Brewer free agents, shooting guard and small forward are places they need a pickup. But their biggest need is shooters. The Nuggets couldn't stretch the floor at all last season, so how they decide to go in that direction will determine a lot.
Detroit Pistons: They're reportedly targeting Josh Smith and Andre Iguodala, so it's clear wing is where they want the bump up. They have Jose Calderon, Brandon Knight and Kentavious Caldwell-Pope in the backcourt (if they re-sign Calderon), so they're good there, and Greg Monroe and Andre Drummond work well together down low. So it's just the wing, where they need shooters, and rebounding depth. They'll also need some depth in the backcourt with Will Bynum probably moving on.
Golden State Warriors: Small forward continues to be the position they want an upgrade, no matter how well Harrison Barnes played last season. But with Jarrett Jack and Carl Landry free agents, and with their limited cap space, they have other needs. The problem is, as I mentioned, that cap space. They have really no means to make significant upgrades and will have to get inventive next month to stay competitive.
Houston Rockets: They want Dwight, and have cleared out the decks beyond Jeremy Lin, Omer Asik, and James Harden, to get there. They need a small forward, shooters, backup point guards, power forwards, and backup centers if they don't land Dwight. Everything depends on Howard, and all of their decisions will have to come after the Howard question is answered.
Indiana Pacers: They have to get David West back. That's priority No. 1. After that, it's about fixing that terrible bench. Danny Granger is a big factor here, as he improves both reserve forward positions. Ian Mahinmi was fine at center, but the backup backcourt is kind of a mess, particularly point guard. They need someone who can produce his own offense off the pine.
Los Angeles Clippers: They're reportedly getting back the biggest free agent of them all, Chris Paul, so that's taken care of. They want an upgrade on the wing, and have been exploring upgrades involving a trade of Eric Bledsoe. But a wing upgrade means a shortening of their point guard rotation, so there's a cost. And they'll have piece together a backup frontcourt rotation for the third year running with vet minimums.
Los Angeles Lakers: Dwight. A bench. A season that isn't mired in mediocrity, terrible luck, failure and mockery. This is what the Lakers need. They need bench strength at every position.
Memphis Grizzlies: They're looking at a pretty significant bind in terms of cap space. Tony Allen is a free agent, while Jerryd Bayless opted in. So Memphis will have to get creative. They already upgraded a position of need at backup center by trading for Kosta Koufos.
Miami Heat: They're fine.
Milwaukee Bucks: They have a confusing situation in their backcourt and no one seems to know what they're going to do. Re-sign Brandon Jennings? Re-sign Monta Ellis? Re-sign J.J. Redick? Sign J.R. Smith? Invent a new form of basketball that involves multiple guards having multiple balls at the same time? It's a confusing time. They're good in the frontcourt, with good depth at multiple positions. They're still looking to ugrade at small forward, but really, the backcourt is the big priority.
Minnesota Timberwolves: Andrei Kirilenko opting out leaves them with a massive gap at small forward, and Shabazz Muhammad isn't enough to fill it. Nikola Pekovic is their other big free agent they have to worry about, and they need shooters like a man in the desert needs water.
New Orleans Pelicans: They're targeting a small forward upgrade over Al-Farouq Aminu, and are going to have to make a call about Eric Gordon and his health in regards to their shooting guard spot.
New York Knicks: They're cap strapped, but will look to get J.R. Smith back as their 1B Gunner to Melo's 1A. They also need point guard depth very badly, with Pablo Prigioni a question mark and Jason Kidd coaching the Nets. And at some point, a big man under the age of 40 might be nice.
Oklahoma City Thunder: Kevin Martin is a free agent and unlikely to come back, so they're going to need some bench scoring on the perimeter. They are probably going to keep looking for center depth as well, and power forward is a question mark, too.
Orlando Magic: They're still rebuilding, but it would appear shooting guard is set with Victor Oladipo and Arron Afflalo (if they don't trade him). They're good at the forward spots with Tobias Harris and down low with Nikola Vucevic and Andrew Nicholson. They're still a work in progress so there's no rush, but eventually, they're going to want to do something about point guard. Jameer Nelson is expensive and getting older.
Philadelphia 76ers: They just tore their entire franchise apart. Don't expect them to go chasing any player of significant value. They're looking to bottom out for the 2014 draft. Short-term solutions will be the answer this summer.
Phoenix Suns: Um, I guess they solved center with Alex Len? And, um, yeah. OK, so pretty much everything else needs an overhaul. Goran Dragic is just good enough to start and be their best player, but not good enough to build an entire team around. Kendall Marshall really hasn't shown long-term promise, either. They badly need a shooting guard, and are desperate on the wing. Power forward's not bad, with Luis Scola and the Morris twins.
This roster's pretty much a train wreck.
Portland Trail Blazers: They just need bench depth, really. They're good everywhere else. Unless they trade LaMarcus Aldridge, in which case all bets are off. Biggest priority has to be backup point guard and center. They do need a starting center, with J.J. Hickson likely being released back into the wild.
Sacramento Kings: They could really use more guards. Kidding. They need a small forward and a big to pair with DeMarcus Cousins. What they don't need is more guards. They're likely to sign-and-trade Tyreke Evans.
San Antonio Spurs: Tiago Splitter being a free agent is complicated. He seems good enough to warrant a big contract on the open market but isn't actually worth it. Can the Spurs use their magic to get him back for cheap, or will the Spurs have to shell out for him? Maybe they can just get a replacement. Anyone next to Tim Duncan looks pretty good. The Spurs are never big free agency players.
Toronto Raptors: Masai Ujiri is desperately trying to swing deals to clear some cap space, but it's tough going. They can't make many moves despite having gaps at power forward, reserve guard, and center. Going to take some imaginative maneuverings to get Ujiri the space to do his thing. They're tied up pretty heavily, which is why everyone's on the trade block.
Utah Jazz: Mo Williams gives them a tricky situation, which we outlined on Saturday. They're OK down low, but need upgrades on the wing at small forward and shooting guard. They really need to go young and not get over-anxious in free agency.
Washington Wizards: They're actually surprisingly set, with good players 1-5, and some good depth. Small forward could use a bump, and maybe a few more shooters. But overall, they just need to get healthy.
Shaquille O'Neal and Sir Charles cruise to an easy victory over some hot peppers

If Charlotte indeed moves its star guard, there's going to be more people impacted than just...

Trading Kemba Walker (and dumping salary in the process) may be harder than expected for C...
Our advanced computer model simulated Friday's Jazz-Knicks game 10,000 times

There was some explosive guard play this week in the NBA's rookie class

With half of the season in the books, there were some clear favorites for our Midseason Aw...