Nets' Paul Pierce open to returning to Celtics
Paul Pierce said he wouldn't rule out a possible future return to the Boston Celtics to finish his career with the team that drafted him.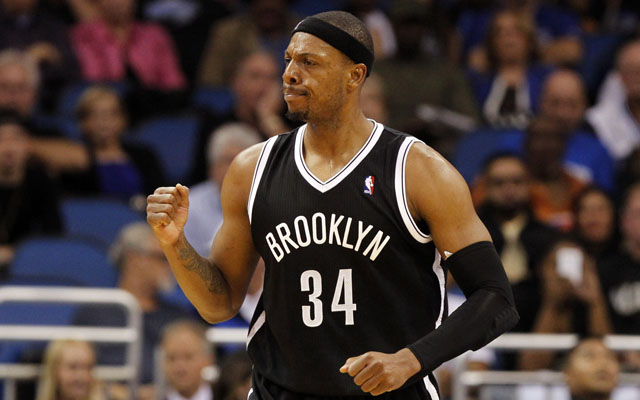 More NBA: Power Rankings | Expert Picks | Latest news, notes
Paul Pierce is, and will always be a Celtic. 
He's a team legend, someone that spent 15 years with the organization and was an integral part in hanging a championship banner. 
So when he was dealt to the Nets along with Kevin Garnett last summer, things didn't feel right about it. But Pierce didn't want to be part of a rebuilding team in the twilight of his career as he hunted a second NBA title. 
Pierce returned to Boston for the second time this season, and as an unrestricted free agent this summer, he didn't rule out a possible return to the Celtics. Via CelticsBlog:
"Yeah, why not?" Pierce said when asked if he would possibly play for the Celtics again. "Maybe as a player, maybe as a coach. Who knows what the future holds?"

The 36-year-old Pierce scored 10 points in 33 minutes in a game in which the Nets trailed by a large margin for most of the night. But with the possibility that an injured Kevin Garnett will retire, Pierce could see himself looking for a new home again when he becomes a free agent this summer. 
[...]
"I am going to still have relationships here. I'm always going to come to this city. Every year, when I'm done, I'm going to have a reason to come here."
An answer of "Yeah why not?" isn't exactly an "I'm really interested and want that to happen," but Pierce at least could consider it. 
But let's face the reality here: Pierce is 36, and even though the Celtics appear to be moving in a positive direction, it's hard to imagine him returning to a rebuilding situation there. 
Being a free agent, Pierce is going to be looking for a team that gives him the best chance to contend, and if that's the Celtics, the Nets or someone else, he'll likely look that way. Plus: The Celtics are moving in another direction, and they might not have much use, or feel like paying, a 36-year-old forward. 
Would be pretty nice though if Pierce could end things in Boston. Just seems right.
The restricted free agent has a deal in place that will keep him with the Bulls after a st...

James' support continues his trend of social activism on social media

The newly-acquired All-Star thinks the addition of Anthony boosts the Thunder in the NBA's...
The Knicks were asking for the house in discussions for Carmelo Anthony

Steve Kerr has given his response to Donald Trump in writing

Trump rescinded Curry's invitation to the White House after Curry said he wasn't interested...