Phil Jackson says he likes 3-pointers, before criticizing their usage
Zen master is not a fan of the long ball.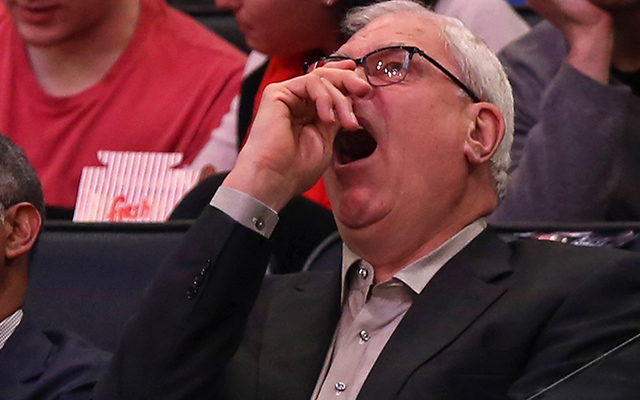 Phil Jackson took to Twitter again on Sunday to "correct" some things he had said recently. During the conference semifinals, when the Warriors, Rockets, and Hawks were down 2-1, Jackson tweeted the following:
NBA analysts give me some diagnostics on how 3pt oriented teams are faring this playoffs...seriously, how's it goink?

— Phil Jackson (@PhilJackson11) May 10, 2015
The Hawks, Rockets, and Warriors went on to win their series and advance to the Conference Finals. The Cavaliers, meanwhile, have used a barrage of 3-pointers to make their way to a 2-0 series lead vs. Atlanta. So on Sunday, Jackson backtracked adjusted his hot take a little bit.
Some corrected thoughts:1)like 3pt shooters, check it out, but to play for 3pt shot is an error. Penetration, first principal of offense.

— Phil Jackson (@PhilJackson11) May 24, 2015
2)we are glad for JR,Shump,Pablo,etc...players have comfort zones that they need to play their best...we want them to find that in NBA

— Phil Jackson (@PhilJackson11) May 24, 2015
3)the 3pt shot is not the be all end all of basketball. WNBA is taking their exhibition game to extremes-do not disvalue the 2pt shot.

— Phil Jackson (@PhilJackson11) May 24, 2015
On the one hand, Jackson's got a point. Any basketball expert (which I would not qualify myself as) would tell you that the only shot more efficient than a corner three is a layup/dunk or free throw. By driving and kicking, you increase your odds of one of those shots, and if the defense is there to contest, it usually means there's help, which leads to an open 3-pointer, which is a great shot.
That's a perfectly reasonable position.
But Jackson positioned himself pretty strongly with his "how's it goink" comment and how it's goink isn't really in-line with this. The Warriors are blasting their way through the toughest conference in basketball. They have the highest rate of 3-point attempts in the playoffs, followed by the Cleveland Cavaliers, who are on pace to win the East. Behind them are the Atlanta Hawks, the likely Eastern Conference runners-up, and the Houston Rockets, the Western Conference runners-up. The NBA's final four is entirely 3-point heavy teams.
Jackson's argument stands with the Cavs. They use LeBron James' drive and kick penetration to open the floor and knock down shots with Kyrie Irving, J.R. Smith, and Iman Shumpert. The Hawks use pick and roll (which Jackson's vaunted triangle offense is sorely lacking in) to create open looks. But the Warriors and Rockets are different. They search for those threes.
Typically a pick-and-roll is designed to free up someone. Attack with the guard off the pick and get a layup. If they hedge or show, throw to the roll man. If they sink back on both, that 3-pointer exists as a way to punish the defense for backing off. But both the Warriors and Hawks, and actually the Cavs most of all, it turns out, have high rates of 3-pointers off pull-ups in the playoffs. The whole of the Warrior's offense starts with the threat of Steph Curry pull-up 3-pointers.
However, the Warriors aren't really a sustainable model for others, because in truth, no one is like Steph Curry. His ability to hit those shots off the dribble is unlike anything we've ever seen. That's part of why he's the MVP. Kyrie Irving does come close, though, and he's a big reason why the Cavs are knock, knock, knocking on heaven's door. Beyond that, though, it becomes harder to go down that path. So again, there's some truth to what Jackson's saying.
Here's where he goes wrong: The reality is that every team should tailor its offense to the personnel it has, and work within those elements to create efficient shots. If you are blessed with a low-post presence, you should hammer the ball inside like the Grizzlies do. If you have superb mid-range shooters, you should give them free reign to work over teams with that (while also balancing that with outside shooters like the Blazers have done). If you have exceptional 3-point shooters, you should shoot 3-pointers.
Forget the word analytics, basic math shows us the value of 3-point shots vs. 2-point shots, and since mid-range jumpers fall as frequently or often less so than 3-point shots, it's generally good practice to create those. However, to say that an offense needs to try and hammer away at any one priniciple just isn't true anymore. The game has evolved. The players and their skills have evolved. This is maybe what has to be most concerning for Knicks fans with Jackson at the helm.
The constant response is "yeah, but he's won rings." And he has. Eleven of them, a feat that's earned him a Hall of Fame entry and notoriety as one of if not the best coach of all time.
His last title was five years ago, and the year after he was swept from the second round... in large part due to the Mavericks' 3-point barrage. One would think that someone as wise as the Zen Master would pick up on a few things from his defeats.
Jackson's Knicks finished 17-65, one game back of the Minnesota Timberwolves who secured the No.1 spot in the lottery. The Knicks pick fourth next month. New York finished 29th out of 30 teams in points per possession last season.
CBS Sports HQ Daily Newsletter
Get the best highlights and stories - yeah, just the good stuff handpicked by our team to start your day.
Please check the opt-in box to acknowledge that you would like to subscribe.
Thanks for signing up!
Keep an eye on your inbox for the latest sports news.
Sorry!
There was an error processing your subscription.
There were eight games on Friday's docket

The Warriors apparently aren't thinking about retaining Anthony's services

James got the car as a gift from his mom for his 18th birthday
Bird has played 16 seasons with the Seattle Storm that includes three WNBA titles and 11 All-Star...

One of the biggest questions for Philly will center around Ben Simmons and whether he commits...

The Philadelphia 76ers will look to bounce back after falling to the Orlando Magic in Jimmy...