Report: Knicks considering signing Lamar Odom
The Knicks are looking at signing the former Laker. Why? Well, that's a great question.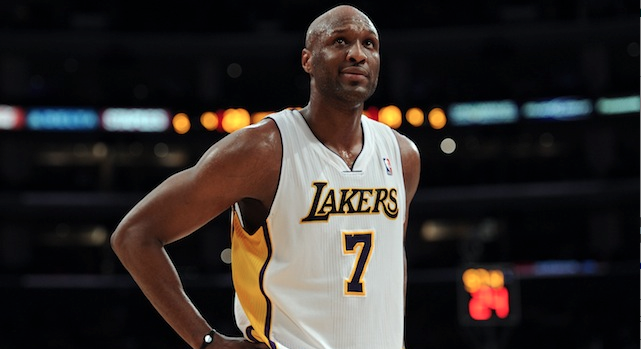 More NBA: Power Rankings | Expert Picks | Seasons in Review | Playoff Picture
ESPN reports that the New York Knicks are considering signing Lamar Odom for the remainder of the season next week. 
Going online now: ESPN sources say Knicks weighing whether to sign Lamar Odom before regular season ends next week

— Marc Stein (@ESPNSteinLine) April 11, 2014
Among options being considered by Knicks is signing Odom to deal w/team option for next season that would give them summer to evaluate him

— Marc Stein (@ESPNSteinLine) April 11, 2014
Odom of course played several seasons under Phil Jackson who just took over the Knicks with the Lakers. He was traded to the Mavericks in 2011, and then struggled through the year before being waived. He spent last year with the Clippers. 
Last summer, he was under significant scrutiny for what was reportedly a drug addiction. He was not signed this season, eventually going to Spain. He returned to the United States recently to rehab an injury. 
Would Odom help the Knicks? 
Usually this is where I hedge and say what he can bring while also bringing up the downsides. The point is to present both sides. I can't do that here. No, no he can't. They need youth, athleticism, and guys in good mental spaces to contribute. Odom hasn't shown any of that in the last four years. It would be great to see Odom land somewhere with stability and finish his career, but it's just not likely he can contribute. 
Odom will be 35 next season. 
KD is still battling online critics, while the new Celtics guard is openly disregarding LeBron...

Collins has been working as a broadcaster, and previously coached the Bulls from 1986-89

Before accounting for revenue-sharing payouts, 14 of league's 30 teams reportedly lost money...
Howard considered calling it quits after his second season with the Houston Rockets

Bogut, coming off a broken leg he suffered with the Cavs last season, reunites with Luke Walton...

The incident occurred in Phoenix when the twins were both playing for the Suns