Reports: Brandon Roy agrees to 2-year contract with Timberwolves
Brandon Roy has reportedly agreed to a 2-year contract worth $10 million with the Minnesota Timberwolves.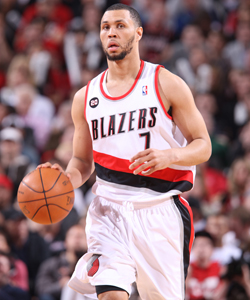 Brandon Roy is reportedly heading to Minnesota. 
(Getty Images)
Call it a comeback.
Former Portland Trail Blazers guard Brandon Roy has reached a verbal agreement with the Minnesota Timberwolves on a two-year contract, according to The Oregonian and Seattle radio station KJR. NBA.com reports the deal is worth $10.4 million.
"I'm excited to be back," Roy said, according to KJR. "I'm a T-Wolf!"
Roy, 27, was originally drafted by the Timberwolves but was traded to the Blazers on the night of the 2006 NBA Draft.
He was waived by the Blazers using the amnesty clause in December 2011 after dealing with problems in both of his knees for multiple seasons and did not play during the 2011-12 season. A three-time All-Star, Roy unofficially retired and cleared the amnesty bidding process, becoming an unrestricted free agent. He began to make noise about a possible comeback in February and immediately drew interest from multiple teams when the July free agency moratorium opened last week.
Roy reportedly had five suitors in addition to the Timberwolves: the Chicago Bulls, Cleveland Cavaliers, Dallas Mavericks, Golden State Warriors and Indiana Pacers.
Contract agreements cannot go official until July 11, when the NBA's 10-day moratorium comes to an end.
Roy holds career averages of 19.0 points, 4.7 assists and 4.3 rebounds over five seasons with the Blazers. He was a lottery pick in 2006, the 2007 Rookie of the Year, second-team All-NBA in 2009 and third-team All-NBA in 2010.
The Rockets are gunning for their 10th consecutive win

Victor Oladipo just wants to live his life and enjoy his breakout season with his new team

Keep it right here for all of the news, notes, scores, and highlights from around the Asso...
LeBron has a player option for next season, and is expected to opt out and become a free a...

The Pistons will be looking to snap a five-game losing streak when they host the Celtics on...

Bryant offers some advice for Ball and other rookies about having a sense of urgency in the...